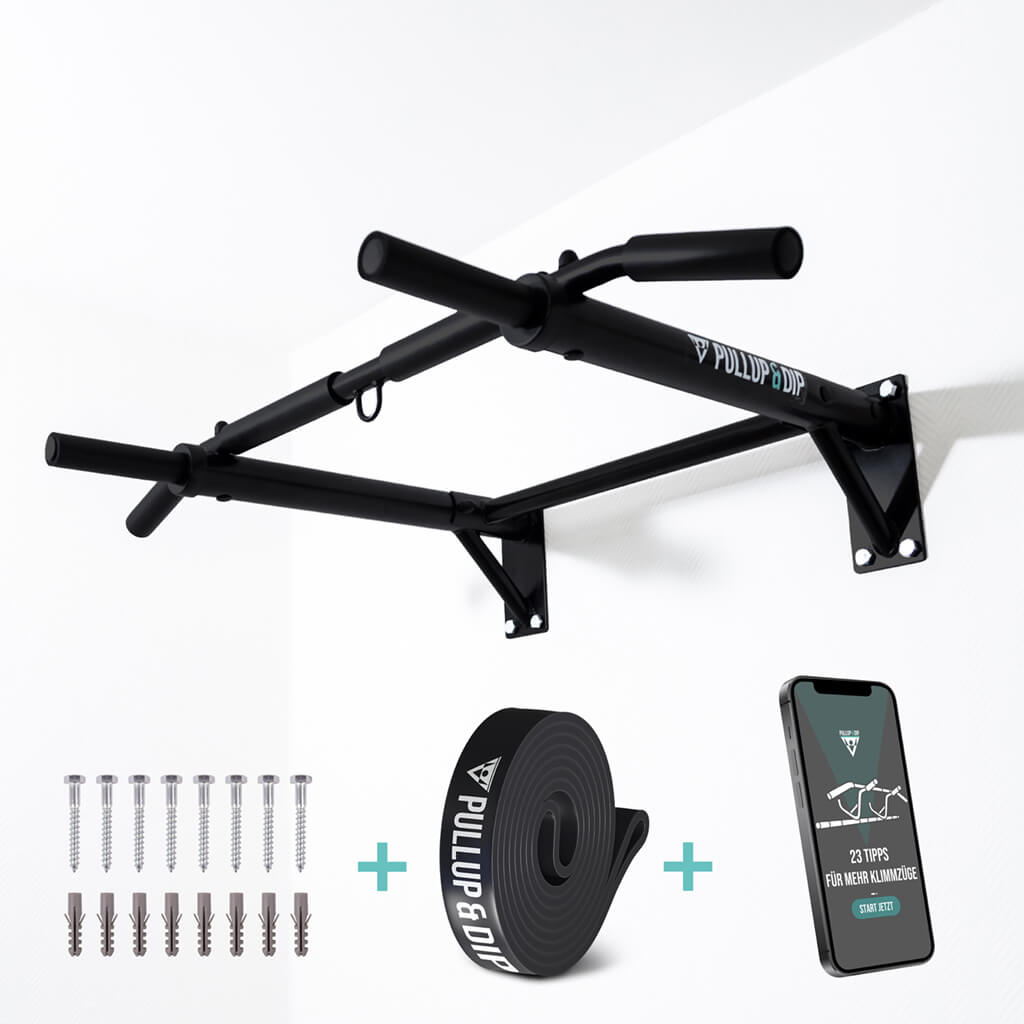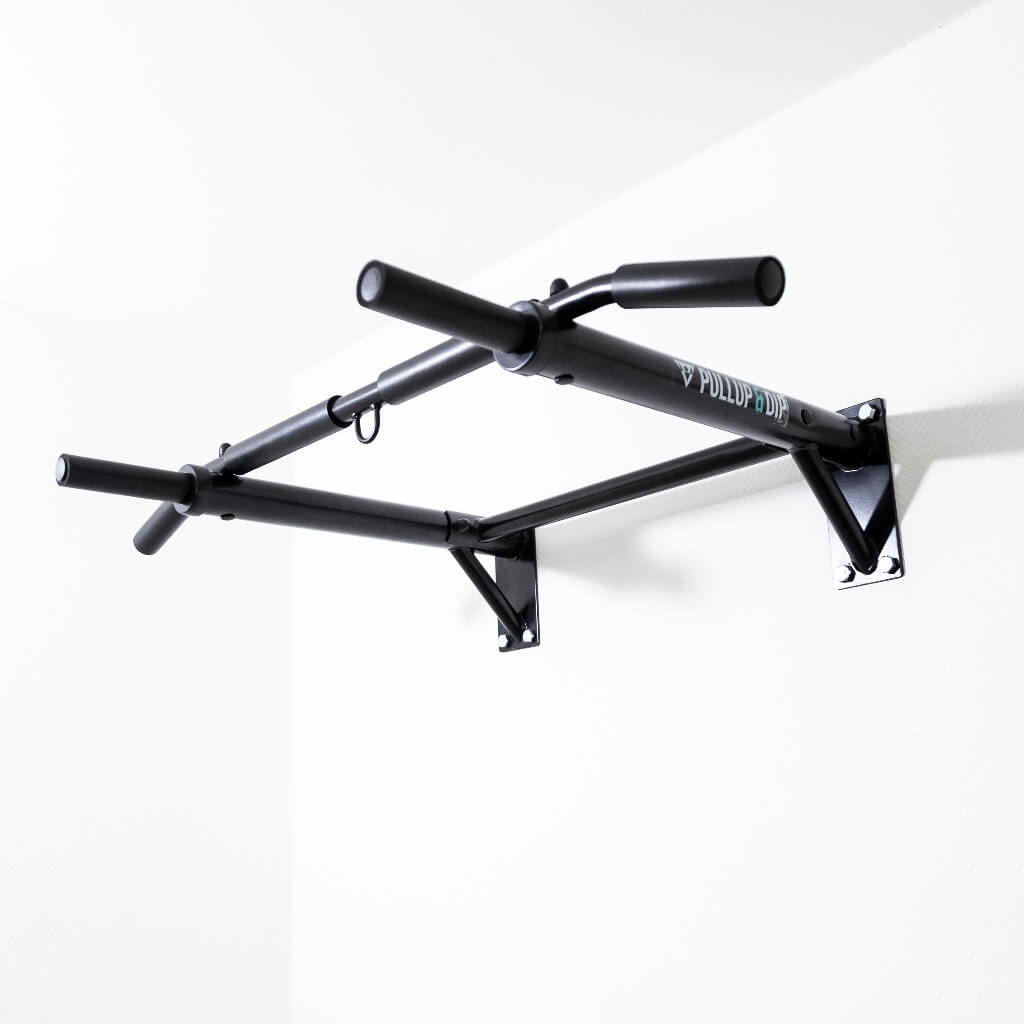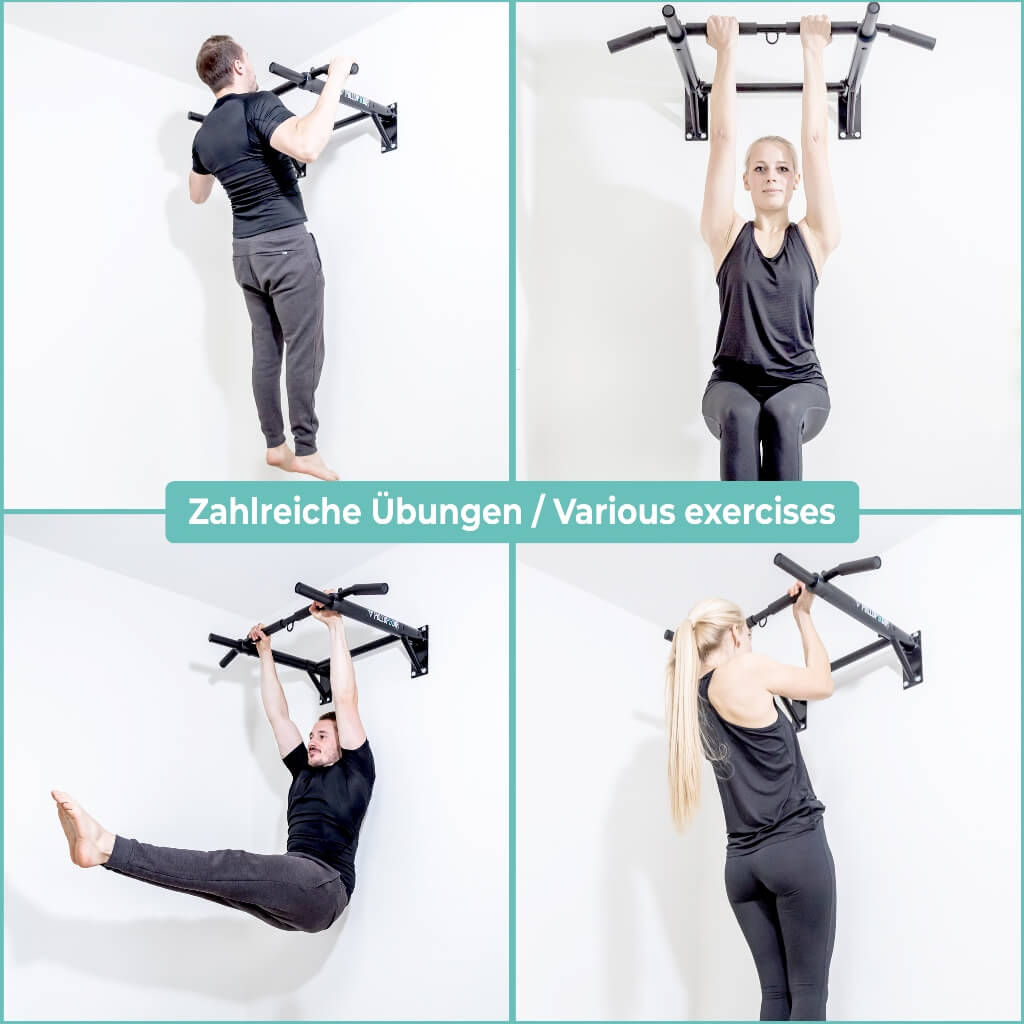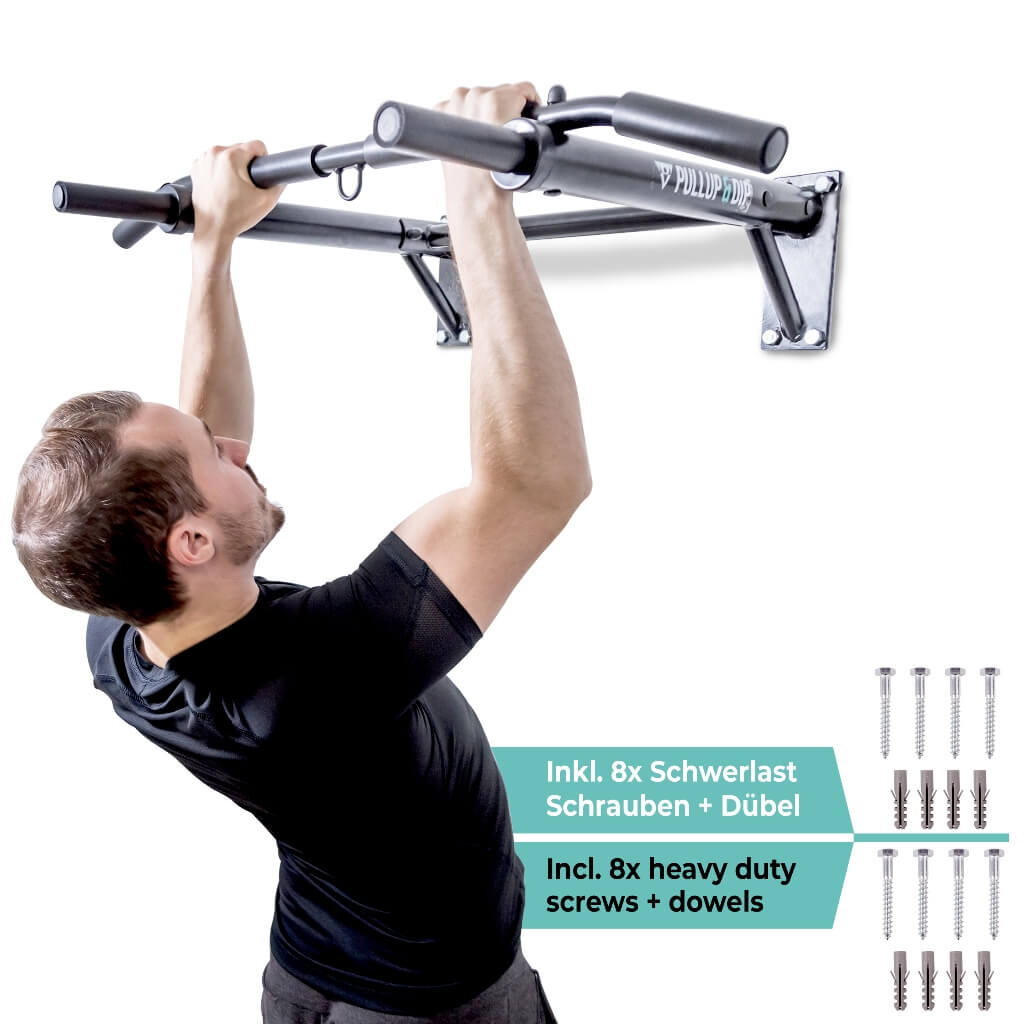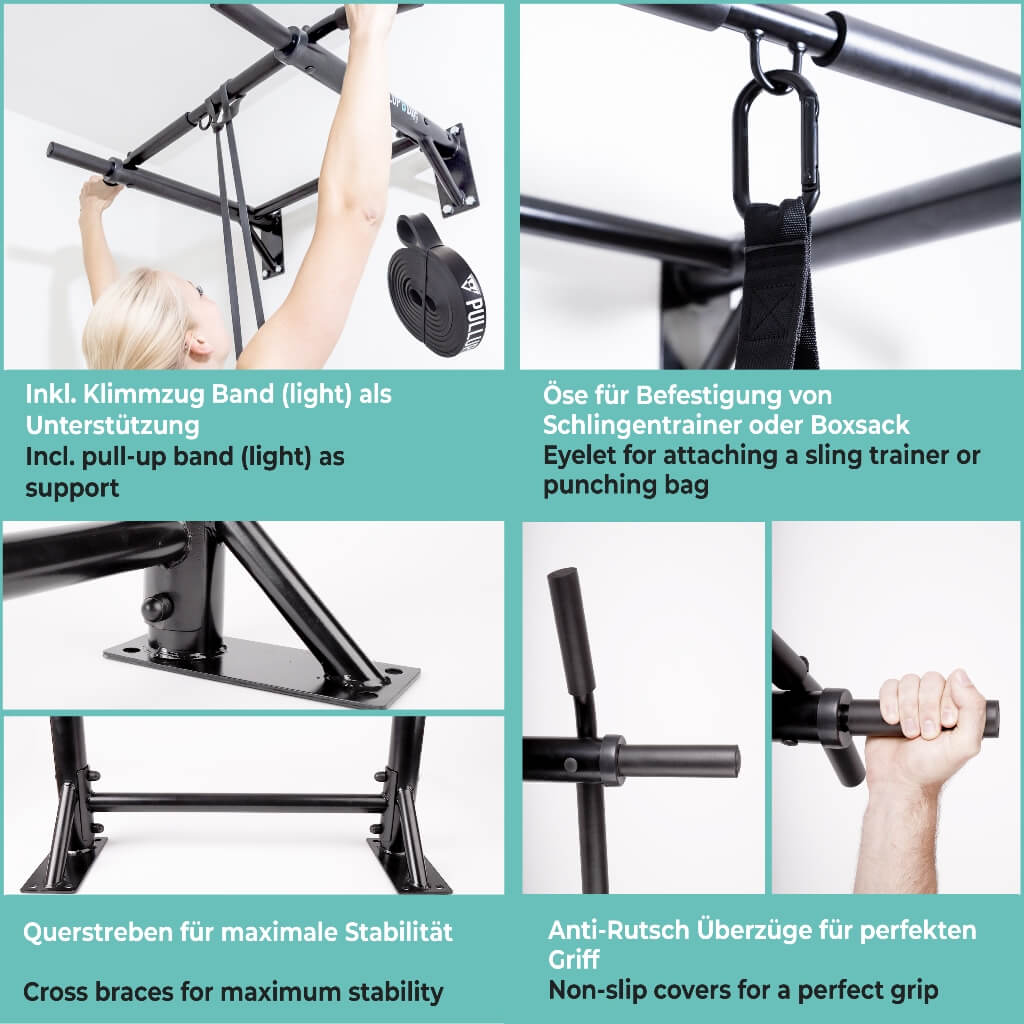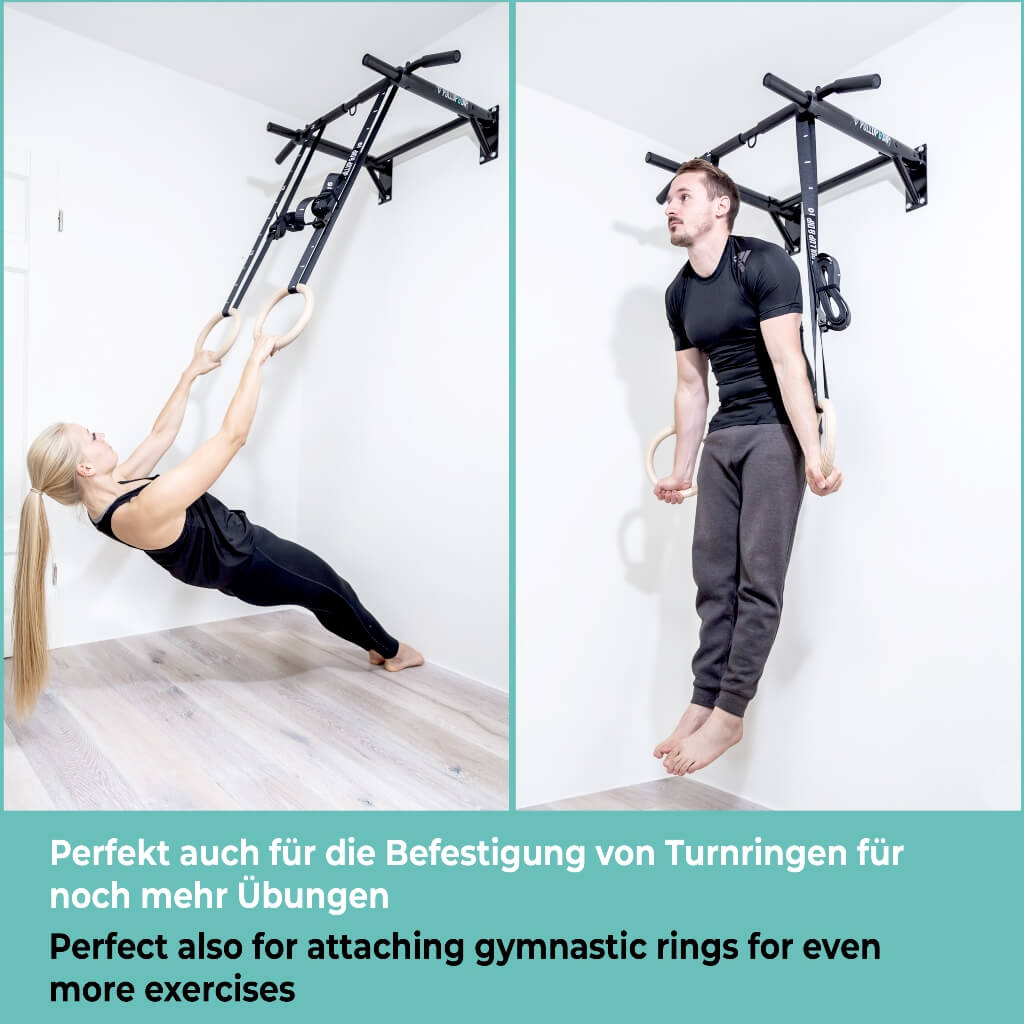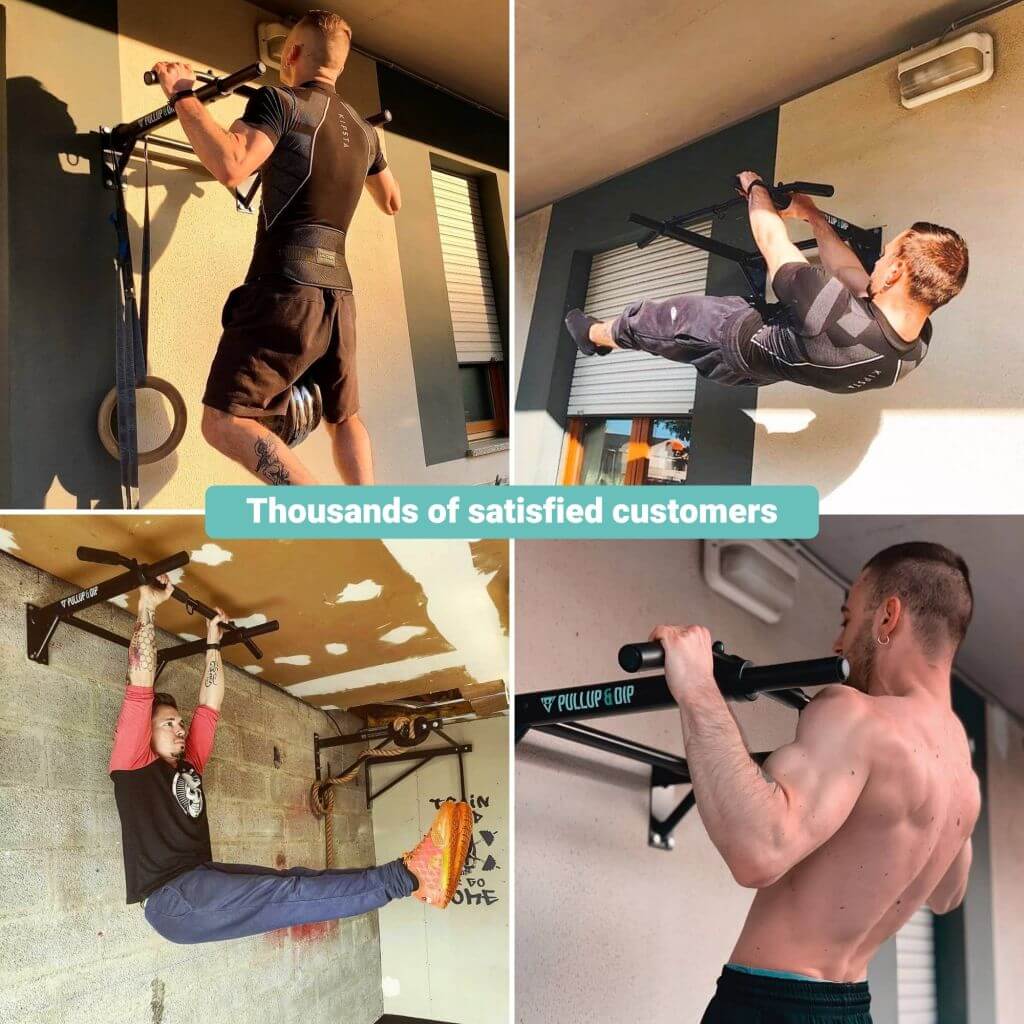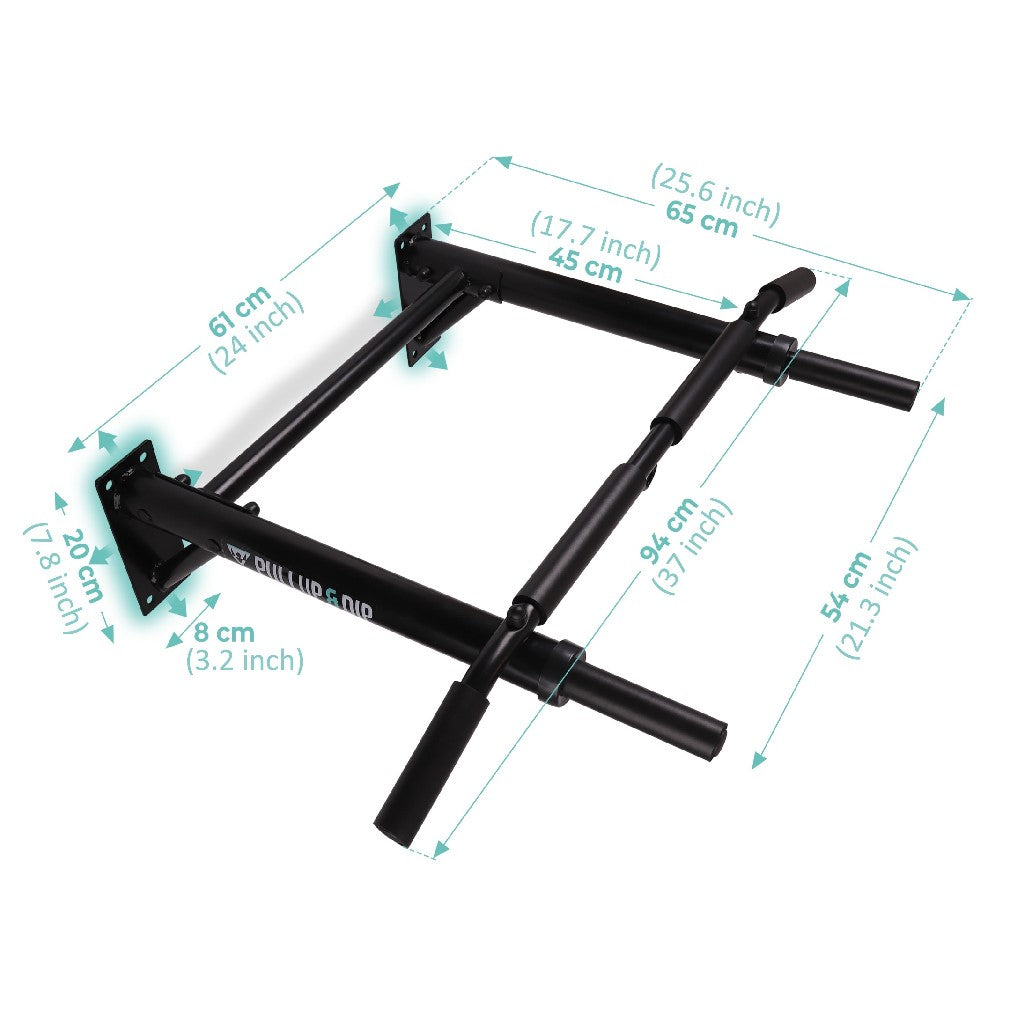 Wall Mounted Pull-up Bar incl. Pull-up Assist Band
Product advantages at a glance
Multifunctional incl. eyelet for punching bag holder & accessories
Incl. pull-up band + eBook as support
Incl. screws + dowels
Ready to ship, in 2-3 business days with you.
Wall mounted Pull-up bar for at home
The pull-up bar for the wall is quickly & easily bombproof mounted on the wall, so that you can turn your home into a personal gym into a personal gym. Train so numerous exercises like pull-ups, leg lifts, knee lifts, toes to bar and make your training 100% flexible independent of the crowded gym.
The pull-up bar in premium quality incl. eyelet for punching bag holder or sling trainer is the perfect accessory for the home gym for a varied full body workout.
Advantages & features of the wall mounted pull-up bar
✔️ Multifunctional: extremely versatile as chin-up bar or thanks to the eyelet as punching bag holder and receptacle for gymnastic rings or sling trainer usable.
✔️ Numerous exercises: Train a wide variety of exercises such as pull-ups, chin-ups, leg lifts and many more and train your complete arm, shoulder, abdominal and back muscles.
✔️ Different grip positions: The multi-grip pull-up bar for the wall offers you four different grip positions (wide, narrow, chin-up or parallel) for a varied workout.
✔️ Incl. pull-up band: Also included in the scope of delivery is a pull-up band (strength: light) as support for pull-ups or for numerous other exercises worth 14,90€. Ideal for beginners to get started with pull-up training. See also our other pull-up bands in different. strengths.
✔️ Anti-Slip Grips: The anti-slip covers offer you a perfect grip even with sweaty hands, so you won't slip and manage one or two more repetitions.
✔️ Extremely safe: thanks to wall mounting and steel construction with V and cross braces, so you can load it with up to 200 kg without any problems andexercise 100% safely.
✔️ Incl. screws: Incl. 8 extremely stable screws + heavy-duty dowels for a safe wall mounting.
✔️ Free eBook: After your order, we will also send you our popular eBook "
Product details of the wall mounted pull-up bar
Material
steel (powder coated)
Color
black
max. width
94 cm
wall distance

45 cm at handle bar

65 cm at parallel handle

Distance between parallel handles
54 cm
Weight
5,5 kg
Handle positions
4
Screws
included (8x screws + dowels)
Mounting

Wall mounting on inner wall

(brick or concrete wall)

Max. Load capacity

200 kg

Warranty
5 years, see warranty conditions
Fast worldwide shipping
Your order will be shipped within 24h (Mo - Fr). All orders are shipped from Germany with tracking link. Fast worldwide shipping incl. tracking between 3-5 working days within Europe and 5-14 working days outside of Europe. If your country is not yet among our shipping countries in the checkout, please reach out to us at info@clevo-climbing.com and we will try to add it!
The exact shipping costs for your order and country you can calculate in the shopping cart with our shipping costs calculator. Simply add the products you are interested in into the cart and use the shipping costs calculator in the shopping cart.
Special case Switzerland:
Orders to Switzerland and Liechtenstein are shipped with meineinkauf.ch and already include 7.7% Swiss VAT and customs duties, i.e. you will receive your order from Switzerland already duty paid and no additional costs!
Save 19% VAT from outside the EU
Stated prices are gross prices including 19% German VAT. For orders from outside the EU you pay only the net price and save 19% VAT. Once you choose the shipping country in the checkout process you will be shown the final price without VAT. For non-EU countries, local taxes and customs may apply.
Customs duties:
All orders are shipped directly from Germany. For deliveries to non-EU countries (except Switzerland, Lichtenstein), additional duties and taxes may apply. We have no influence on these additional costs and can not provide more detailed information about this. We ask you to please inform yourself about this topic before your order.

The amount of duty depends on the net value of goods, the shipping costs, the gross weight of the package (including the packaging) and the type of goods. The customs fees can be obtained from your local tax office. The HS code for our products is 95069190.
What if I do not like the product?
If you do not love the product for any reason, you have the right to revoke the purchase contract and return the product within thirty days without giving any reason. If you don't love your products, send them back. It's that simple! Further information can be found on our return page or cancellation policy.
Do you have further questions? Then just write us a message to info [at] clevo-climbing.com or just call: +49 89 215300-747