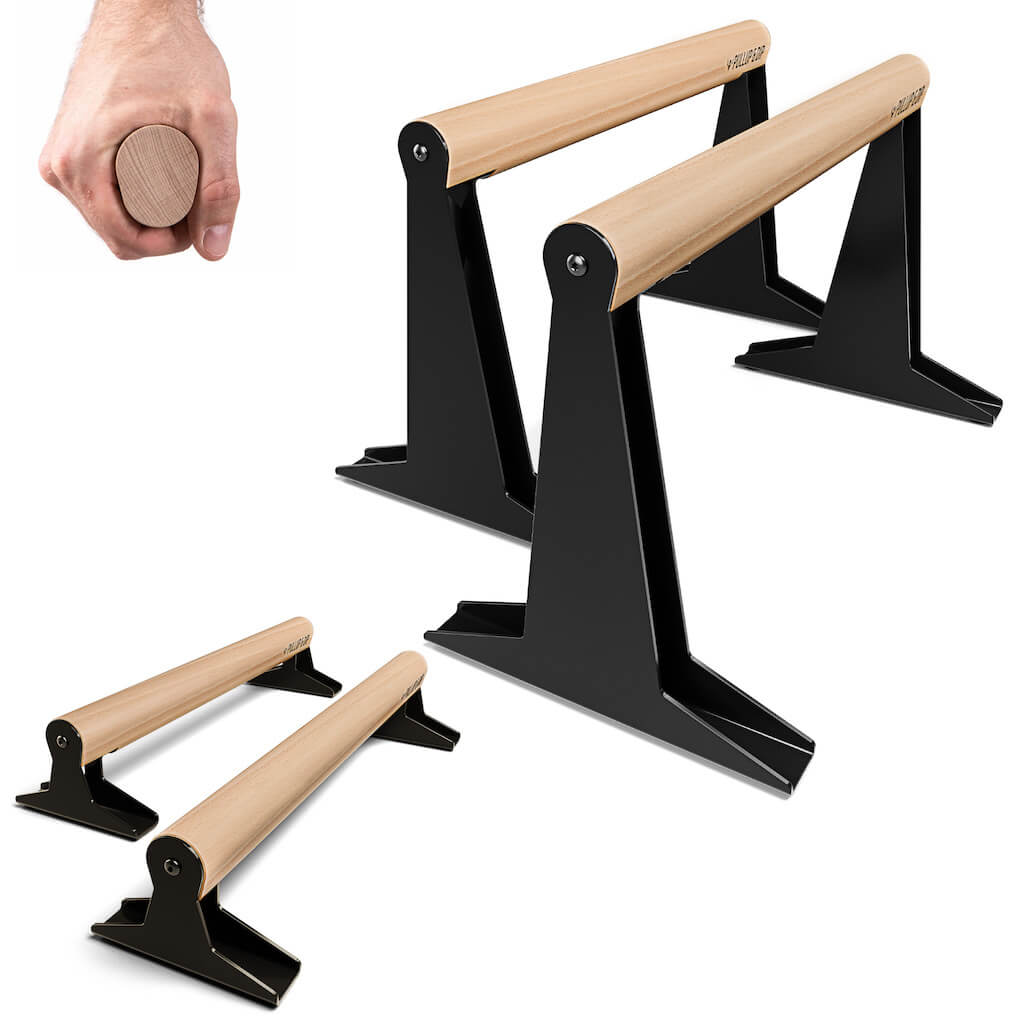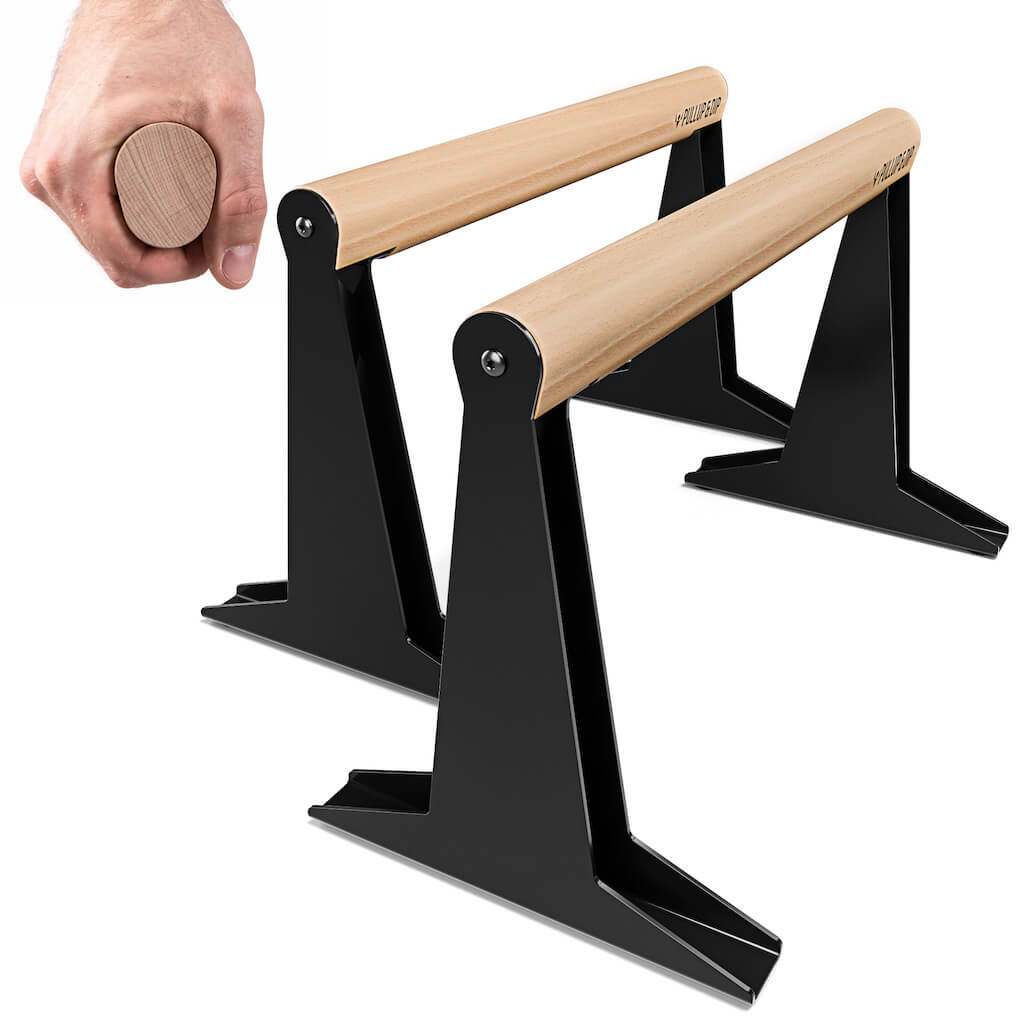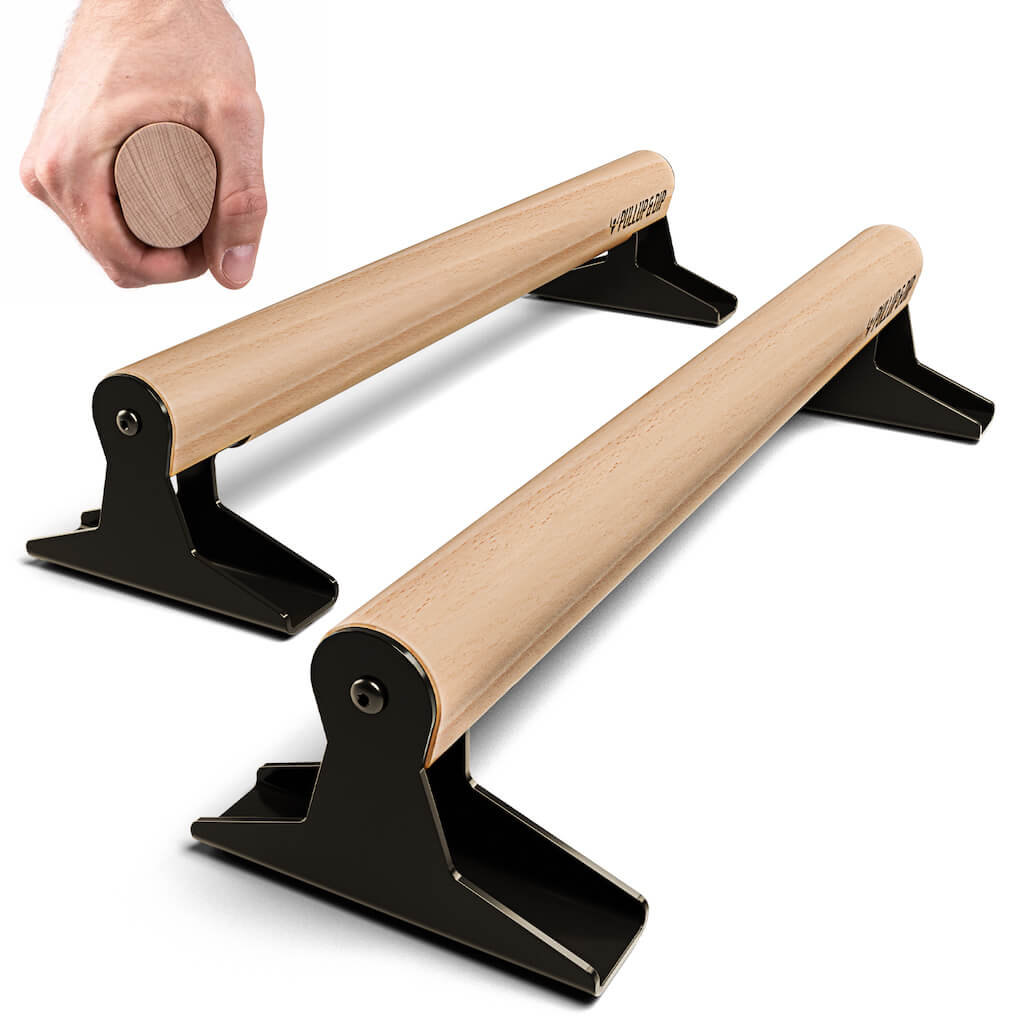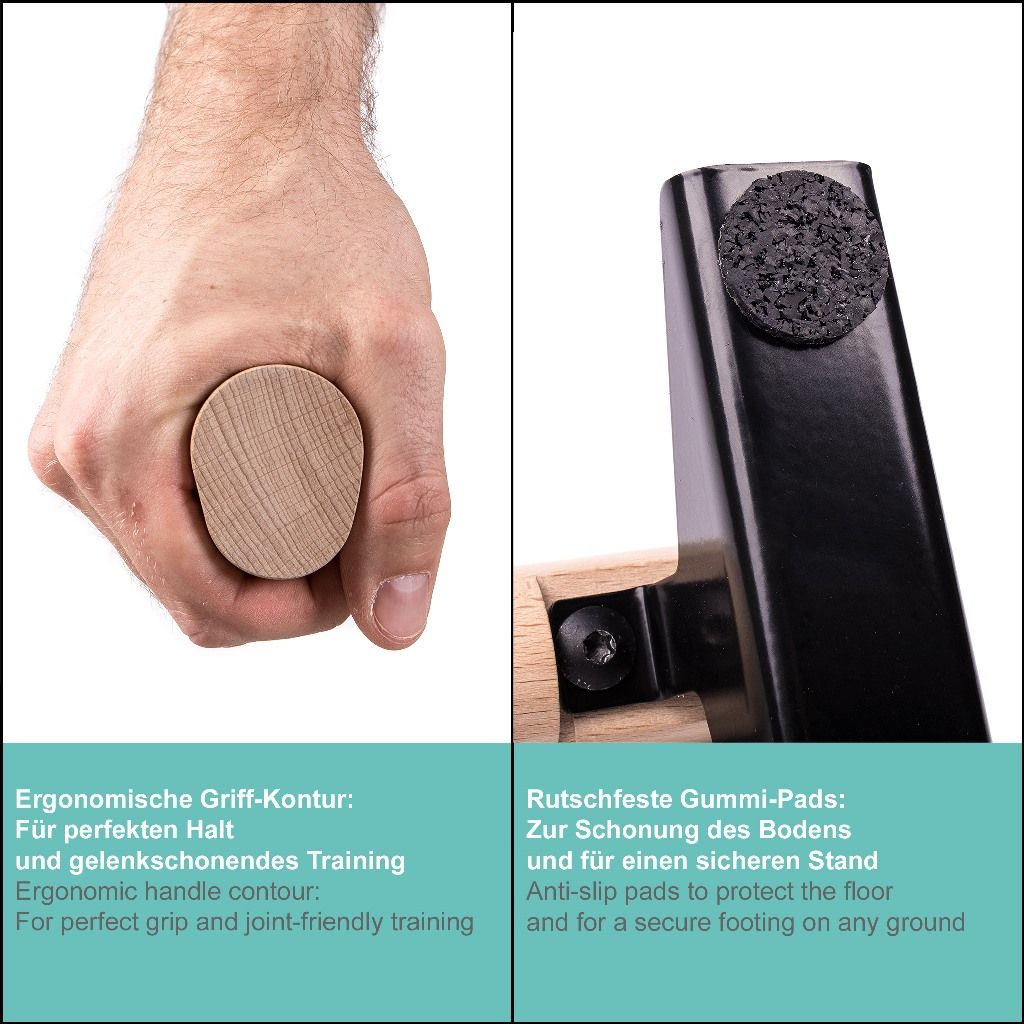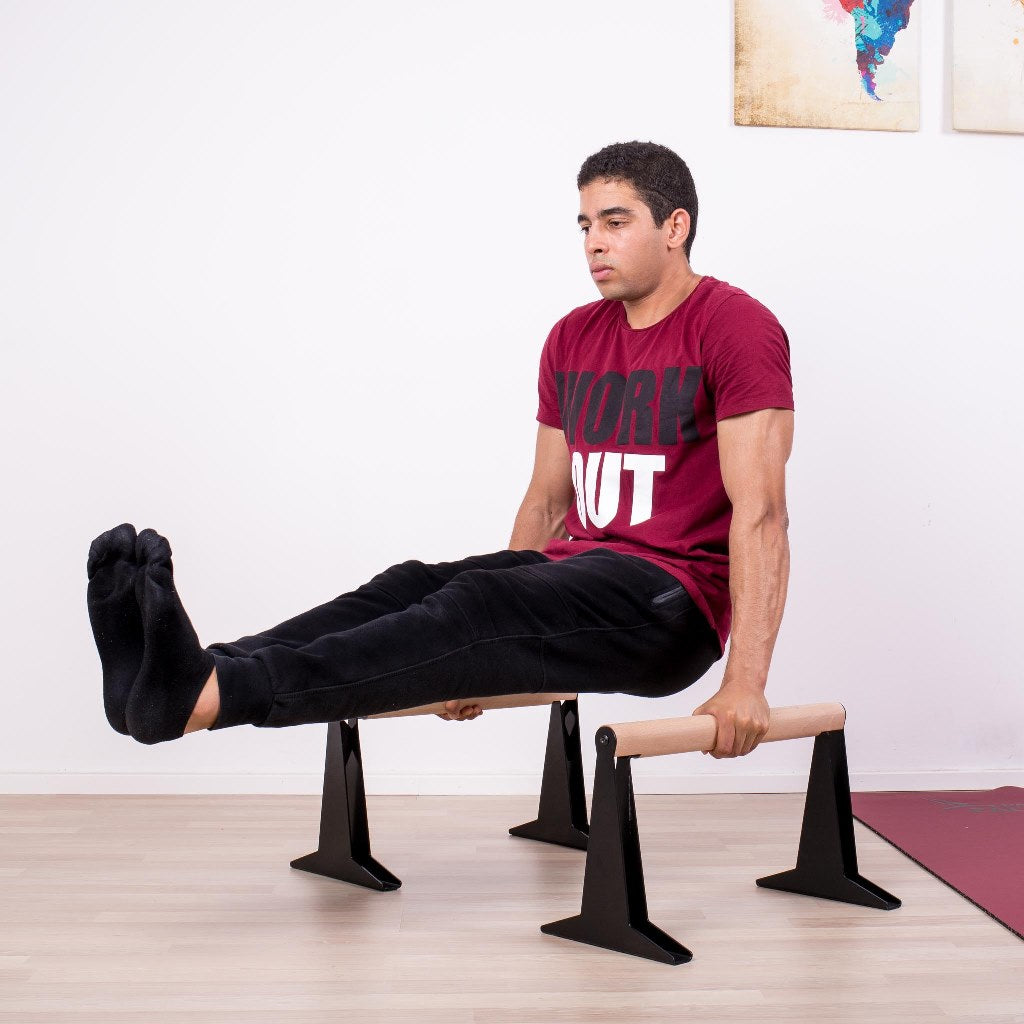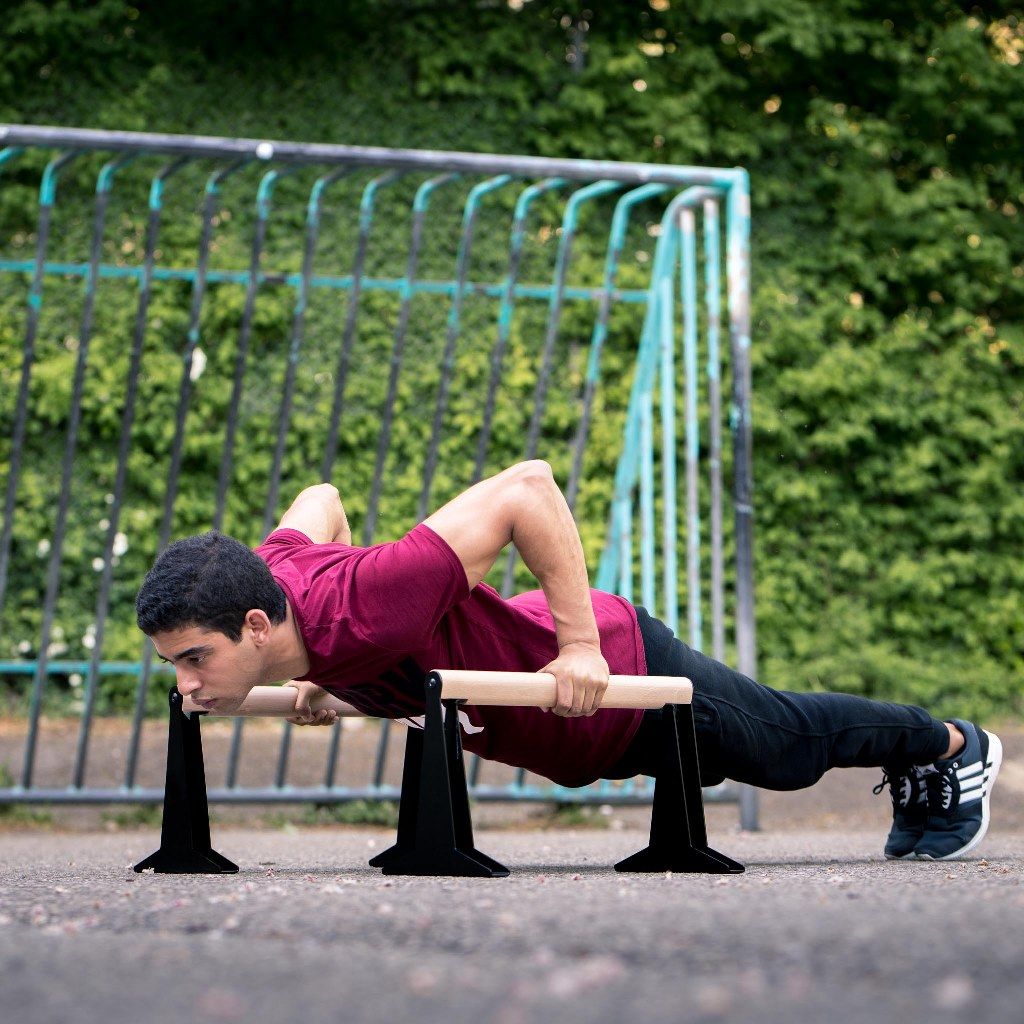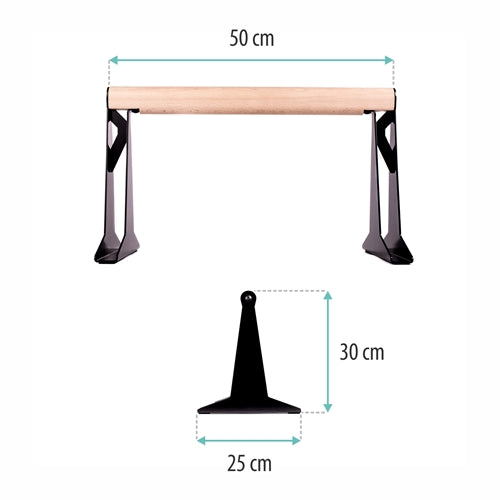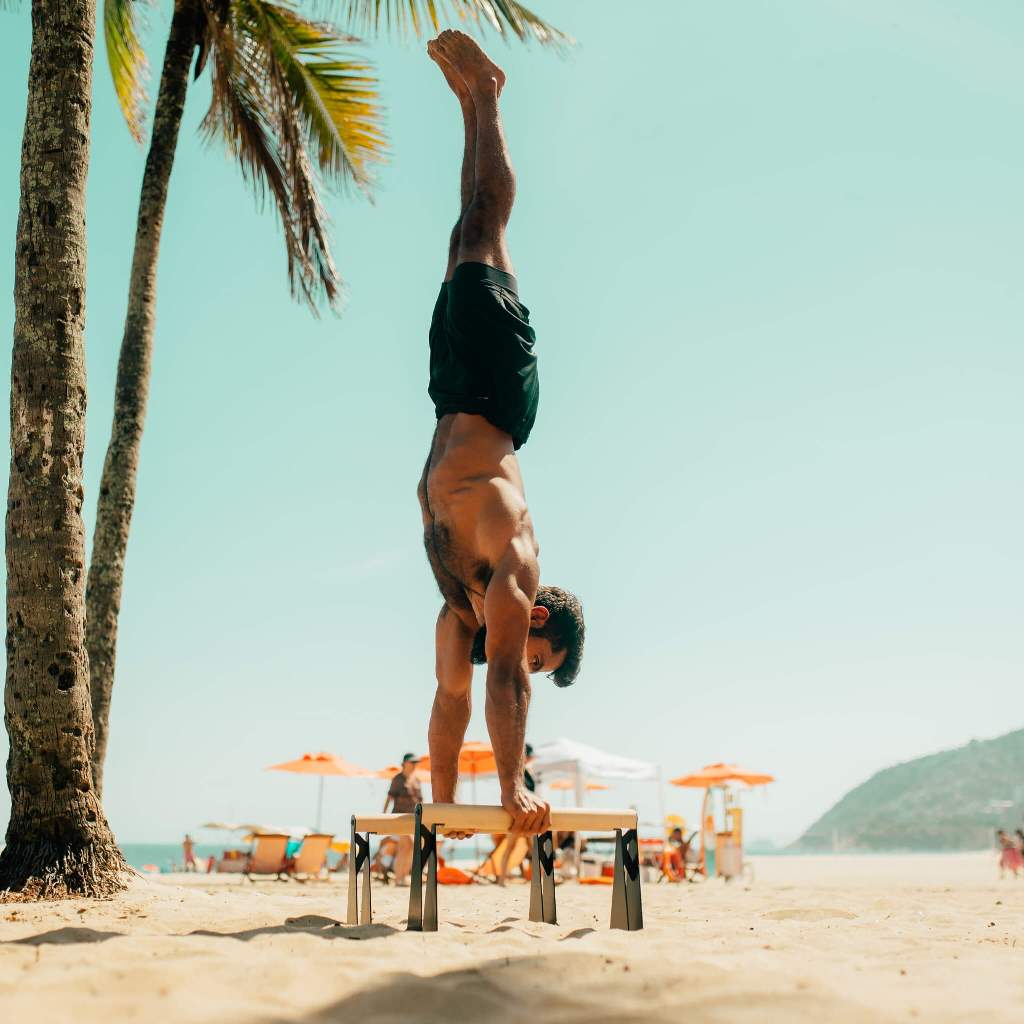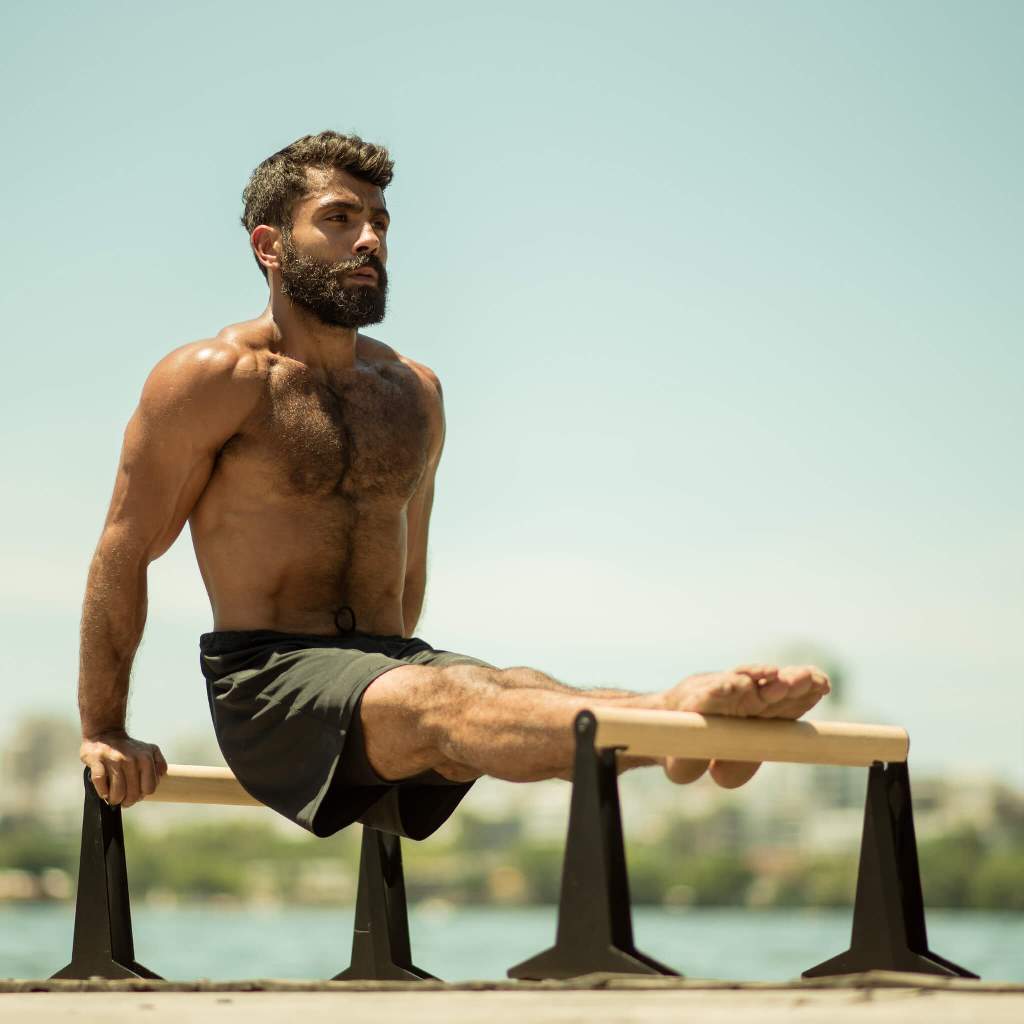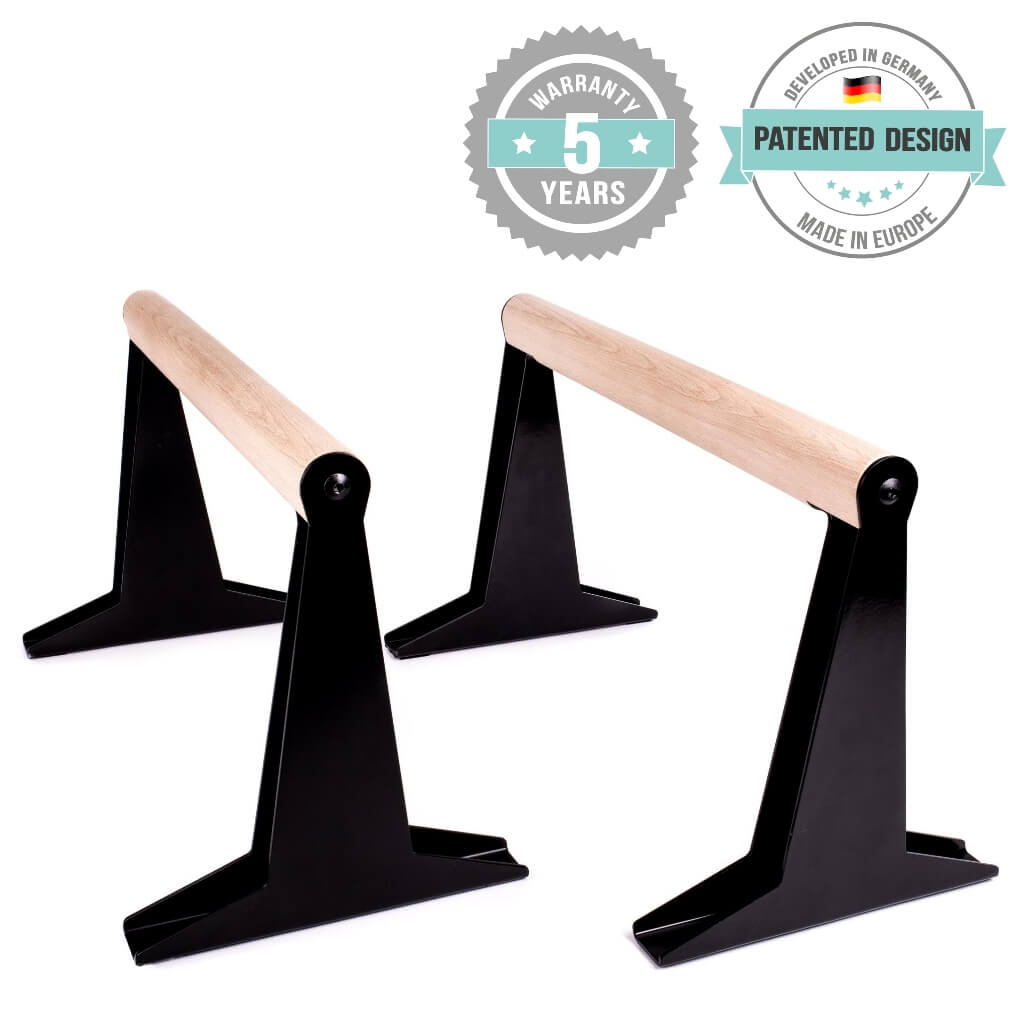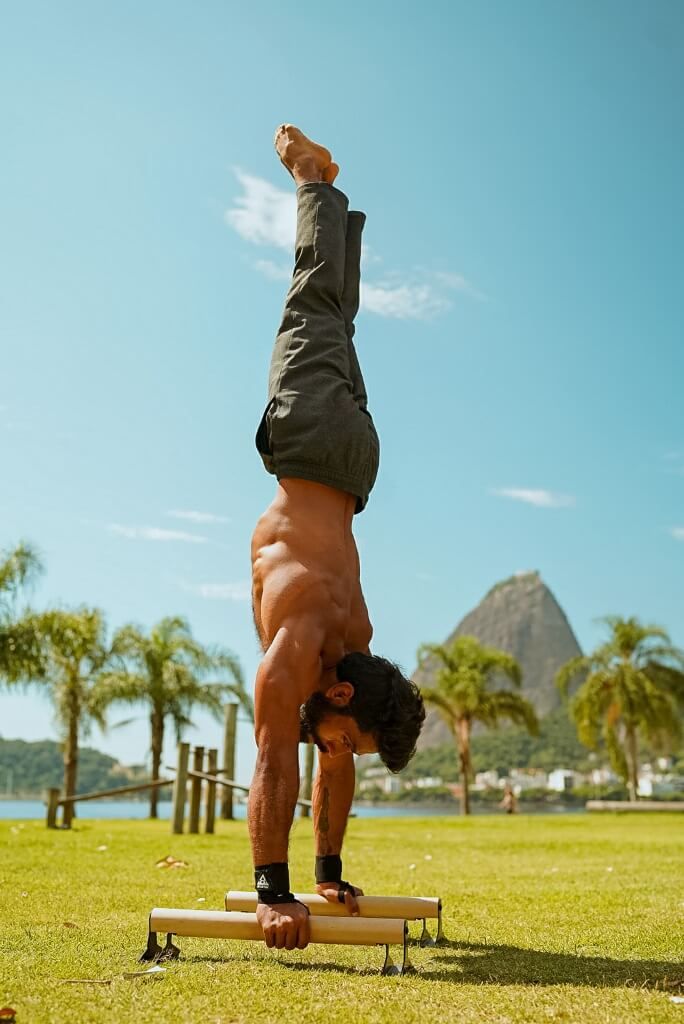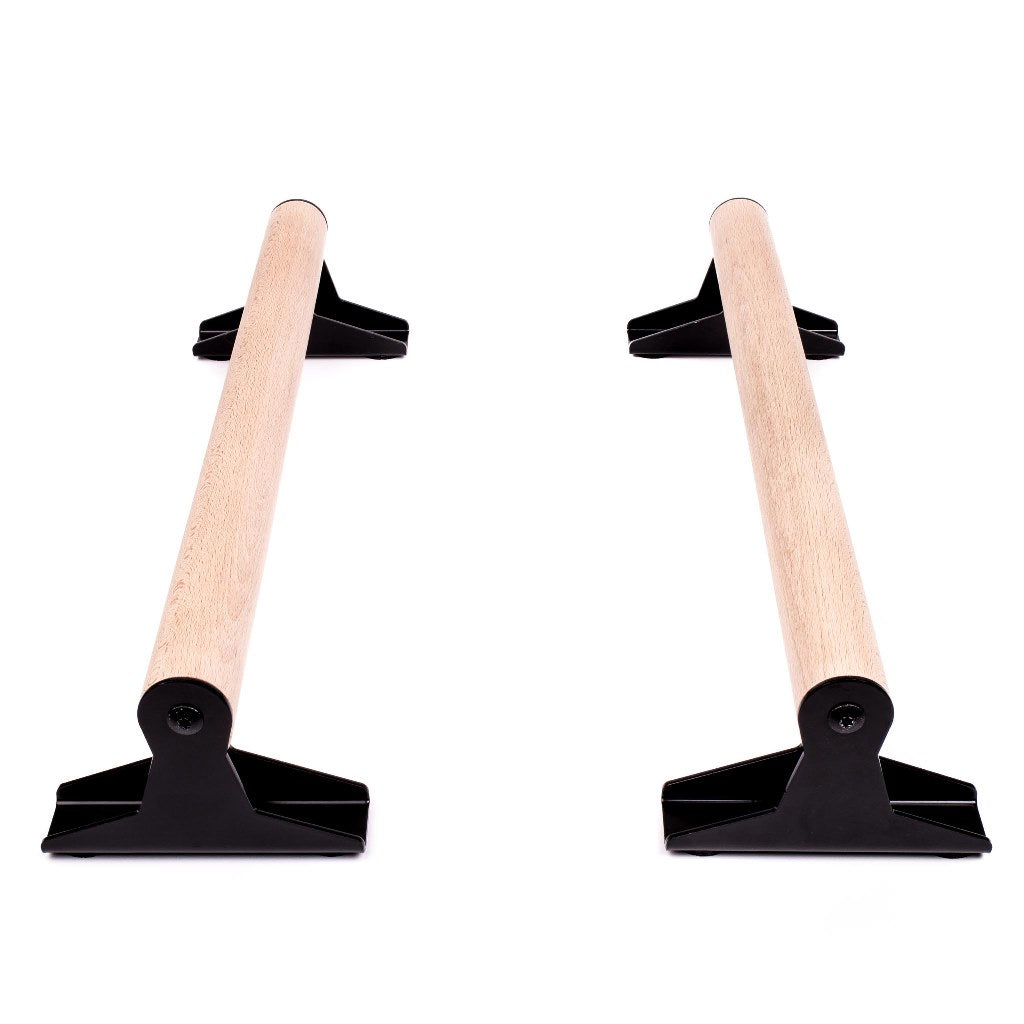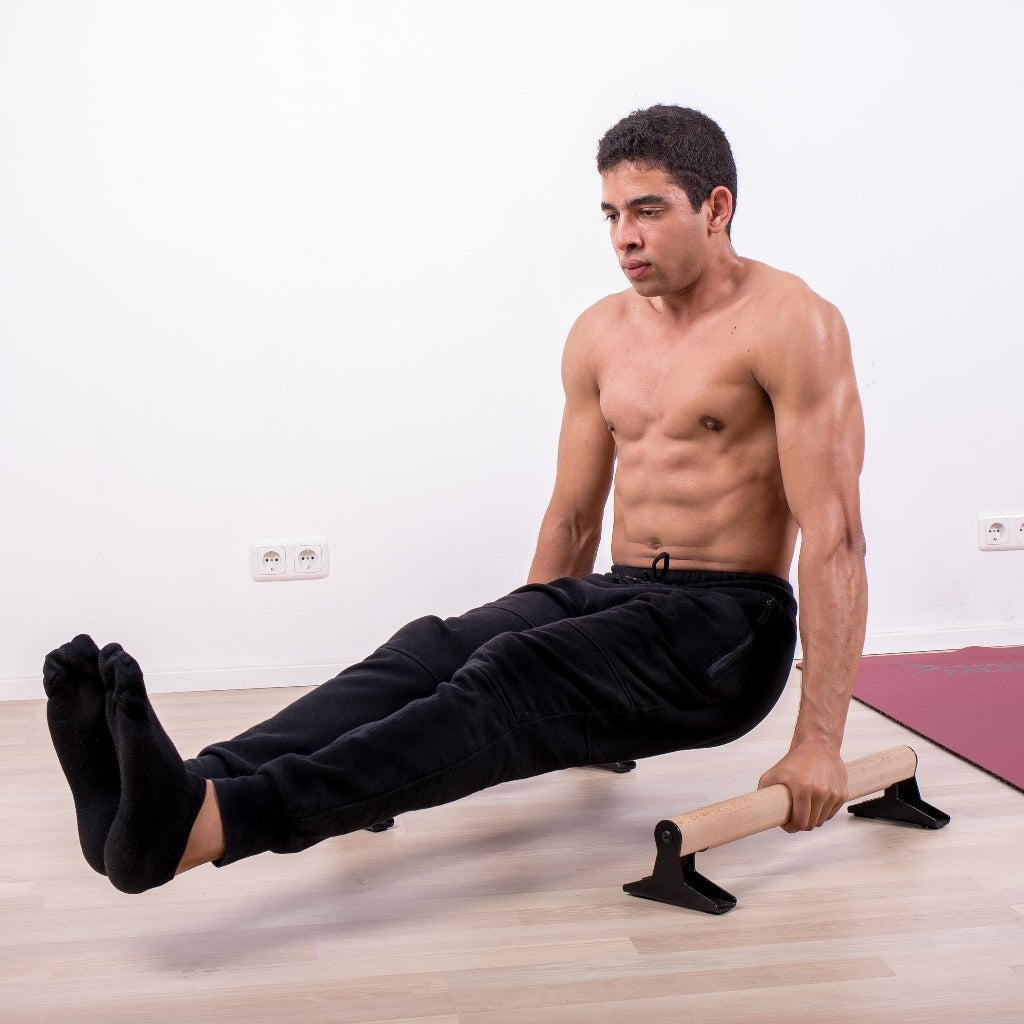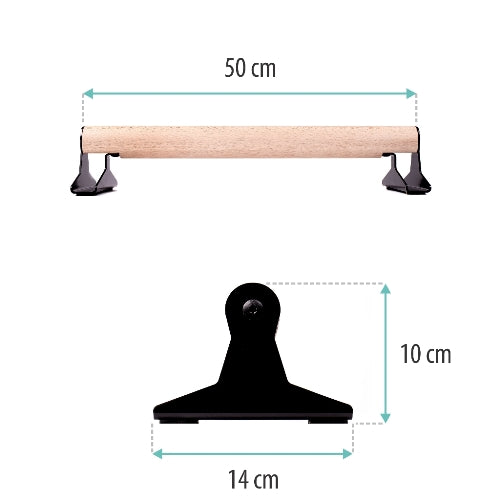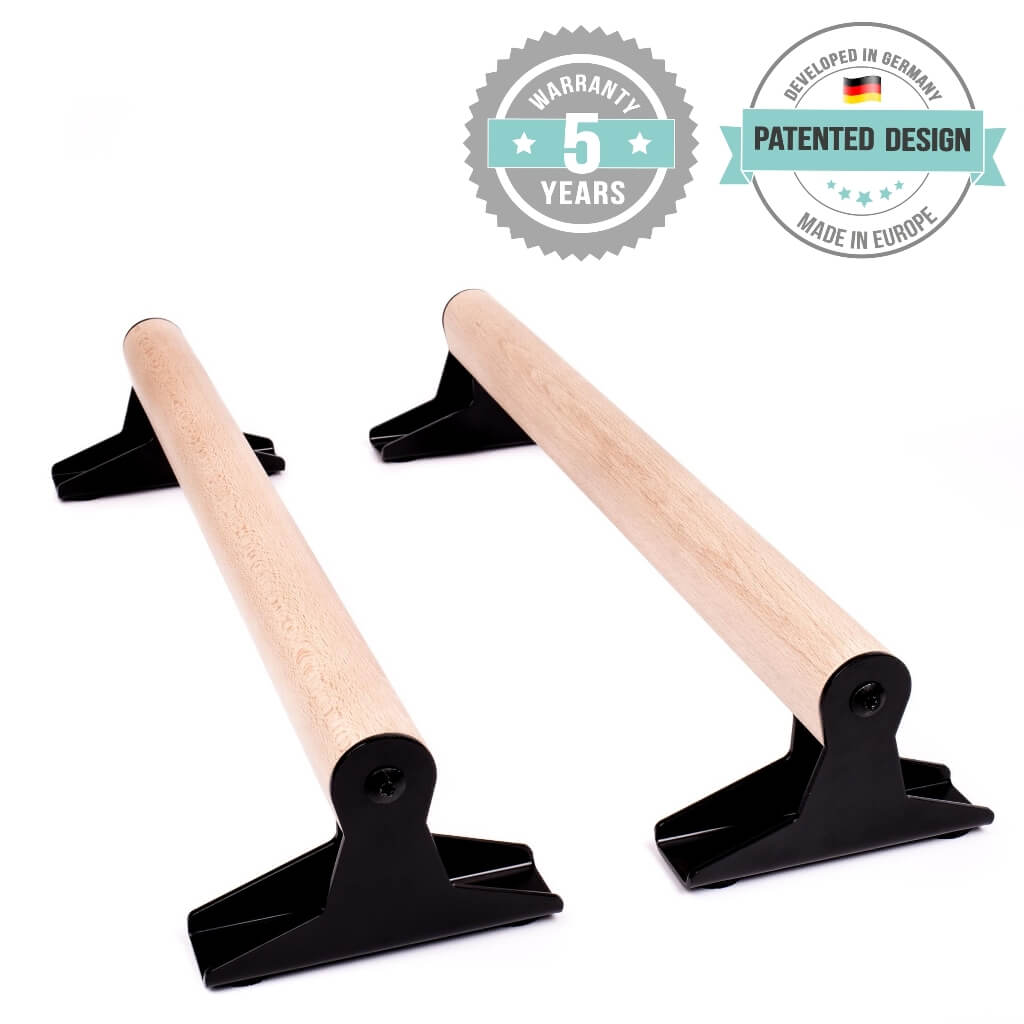 Wooden parallettes with ergonomic handle, low or medium version
Size (please choose):
Medium (30 cm height)
Product advantages at a glance
Ergonomic wooden handle that is easy on the joints
Handle height according to choice: LOW or MEDIUM
No more wrist pain!
Durable, extremely stable & firm stand
Ready to ship, in 2-3 business days with you.
"The Lamborghini of Parallettes"
Parallettes are the perfect accessory for calisthenics, bodyweight training and gymnastics. With our specially developed wooden parallettes from our partner brand Pullup & Dip we offer you the perfect equipment for your indoor and outdoor workout.

The Parallettes are available in two different versions, low and medium.

The wooden mini bars from Pullup & Dip are the ideal training accessory to strengthen your core and upper body muscles and are ideal for exercises such as push-ups, L-sit, V-sit, planche, handstand, handstand push ups, seated dips and many other exercises.
The advantages of wooden parallettes
✔️ Grip height according to your choice: The Parallettes are available in two different versions in LOW and MEDIUM according to your requirements.

✔️ Ergonomic wooden grip that is easy on the joints: The specially made ergonomic wooden grip made of natural beech wood is perfectly adapted to your hand, is easy on your wrists, is injury-preventing and offers a perfect grip even for sweaty hands compared to steel tubes.

✔️ Wrist support: Parellettes support your wrists because you don't have to bend them like in exercises such as push-ups, but perform them in a neutral position.

✔️ Durable and extremely stable: Wooden Parallettes are made of high-quality materials and are extremely stable. The solid heavy duty steel feet combined with high quality beech wood handles provide extreme stability & durability. Designed in Germany and manufactured in Europe.

✔️ Versatile exercises: The Parallettes can be moved freely and independently, giving you a versatile bodyweight workout. They are ideal for exercises such as L-sit, handstand, planche, push-ups, push-ups and many more. Perfect for calisthenics, gymnastics and bodyweight training.

✔️ Firm Stand & Modern Design: Special non-slip and durable anti-slip pads protect the floor and provide a safe and firm stand for your workout. The modern design is very space-saving, so you can easily store them at home.

✔️ Indoor & outdoor training: Thanks to the robust anti-slip pads and the feet, the Parallettes are suitable for training at home or in the studio, as well as for outdoor use.

✔️ No assembly: The wooden Parallettes are already assembled, so you can start training right away.

✔️ Incl. training book: Following your order, you can conveniently download our FREE eBook with 37 Parallettes exercises via email.


Product Details:
Material:

Handles: Beech wood

Feet: Steel (powder coated)

Dimensions:

low variant: 50 x 14 x 10 cm (L x W x H)

medium variant: 50 x 25 x 30 cm (L x W x H)

Weight:

low variant: 2.2 kg

medium variant: 5,8 kg

Handle height (upper edge of wooden handle):

low variant: 10 cm

medium variant: 30 cm

Length of the wooden handle

50 cm

Warranty
5 years, see warranty conditions


Scope of delivery:
A pair of wooden parallettes depending on your choice (low or medium parallettes)
2 additional anti-slip pads as replacement
Free eBook with 37 Parallettes exercises as PDF e-mail download
Fast worldwide shipping
Your order will be shipped within 24h (Mo - Fr). All orders are shipped from Germany with tracking link. Fast worldwide shipping incl. tracking between 3-5 working days within Europe and 5-14 working days outside of Europe. If your country is not yet among our shipping countries in the checkout, please reach out to us at info@clevo-climbing.com and we will try to add it!
The exact shipping costs for your order and country you can calculate in the shopping cart with our shipping costs calculator. Simply add the products you are interested in into the cart and use the shipping costs calculator in the shopping cart.
Special case Switzerland:
Orders to Switzerland and Liechtenstein are shipped with meineinkauf.ch and already include 7.7% Swiss VAT and customs duties, i.e. you will receive your order from Switzerland already duty paid and no additional costs!
Save 19% VAT from outside the EU
Stated prices are gross prices including 19% German VAT. For orders from outside the EU you pay only the net price and save 19% VAT. Once you choose the shipping country in the checkout process you will be shown the final price without VAT. For non-EU countries, local taxes and customs may apply.
Customs duties:
All orders are shipped directly from Germany. For deliveries to non-EU countries (except Switzerland, Lichtenstein), additional duties and taxes may apply. We have no influence on these additional costs and can not provide more detailed information about this. We ask you to please inform yourself about this topic before your order.

The amount of duty depends on the net value of goods, the shipping costs, the gross weight of the package (including the packaging) and the type of goods. The customs fees can be obtained from your local tax office. The HS code for our products is 95069190.
What if I do not like the product?
If you do not love the product for any reason, you have the right to revoke the purchase contract and return the product within thirty days without giving any reason. If you don't love your products, send them back. It's that simple! Further information can be found on our return page or cancellation policy.
Do you have further questions? Then just write us a message to info [at] clevo-climbing.com or just call: +49 89 215300-747