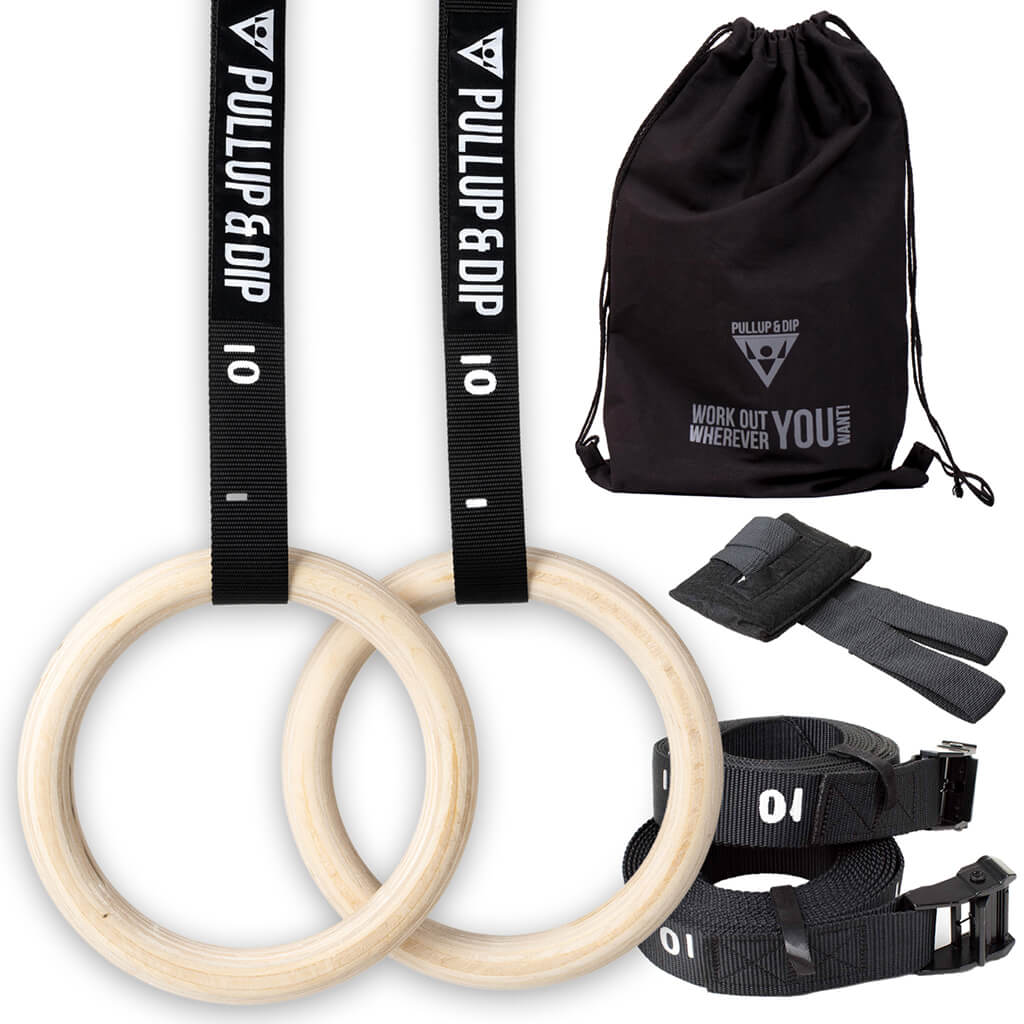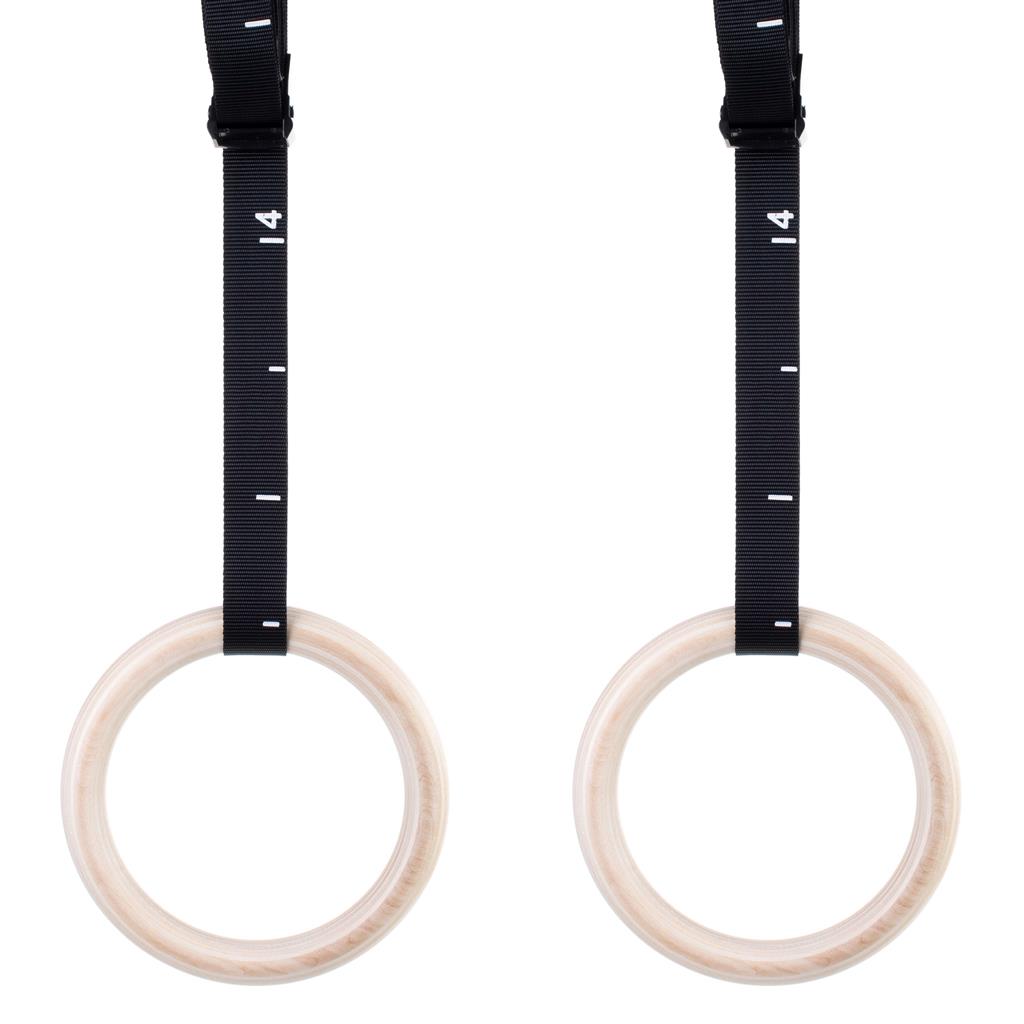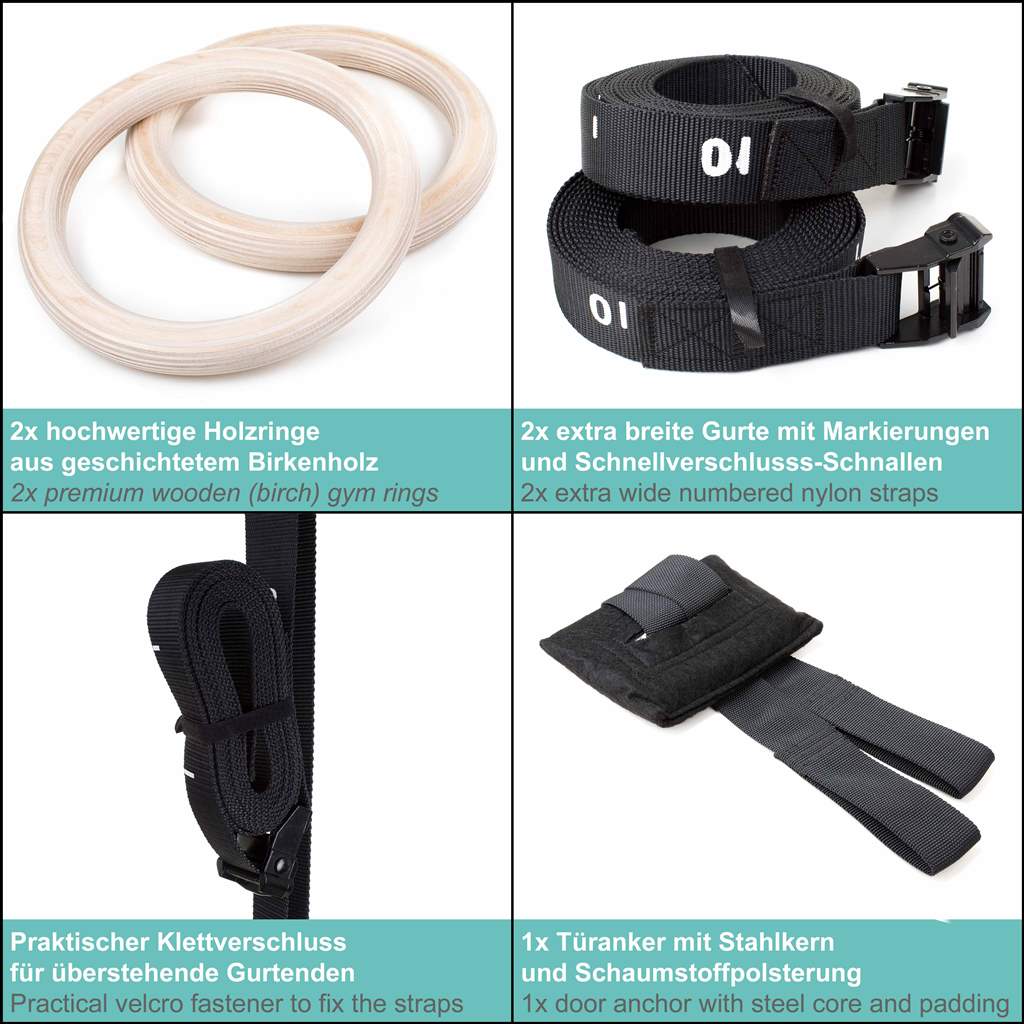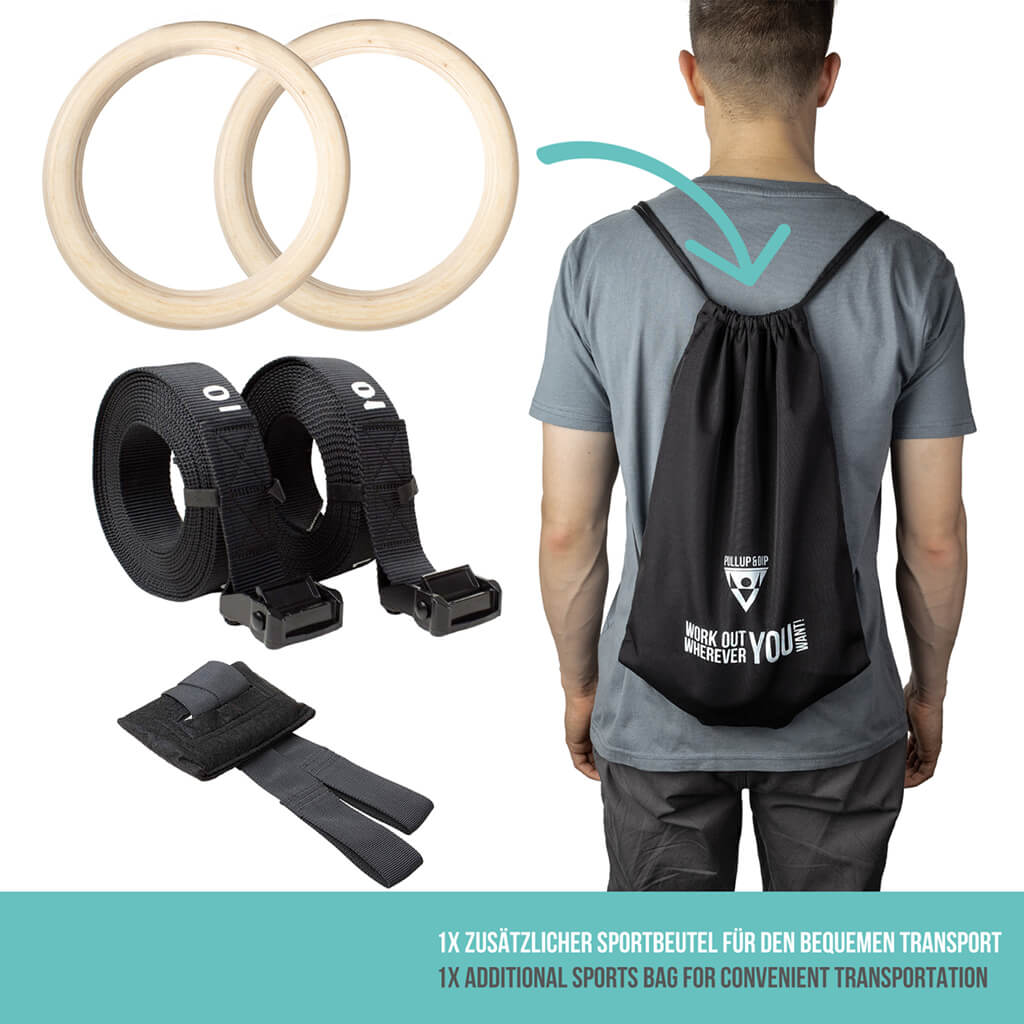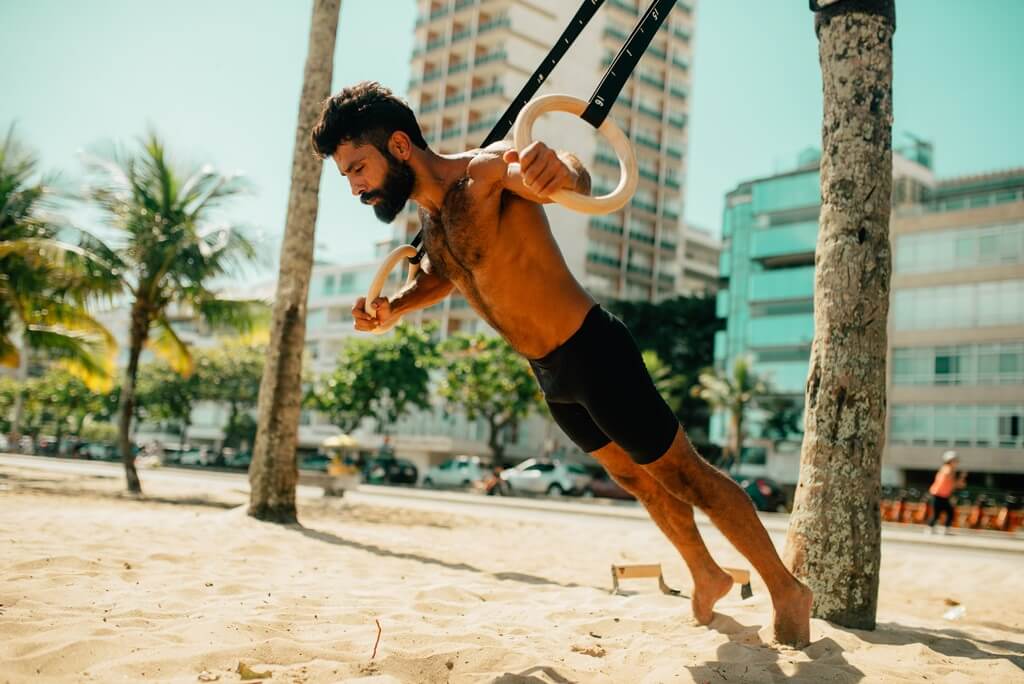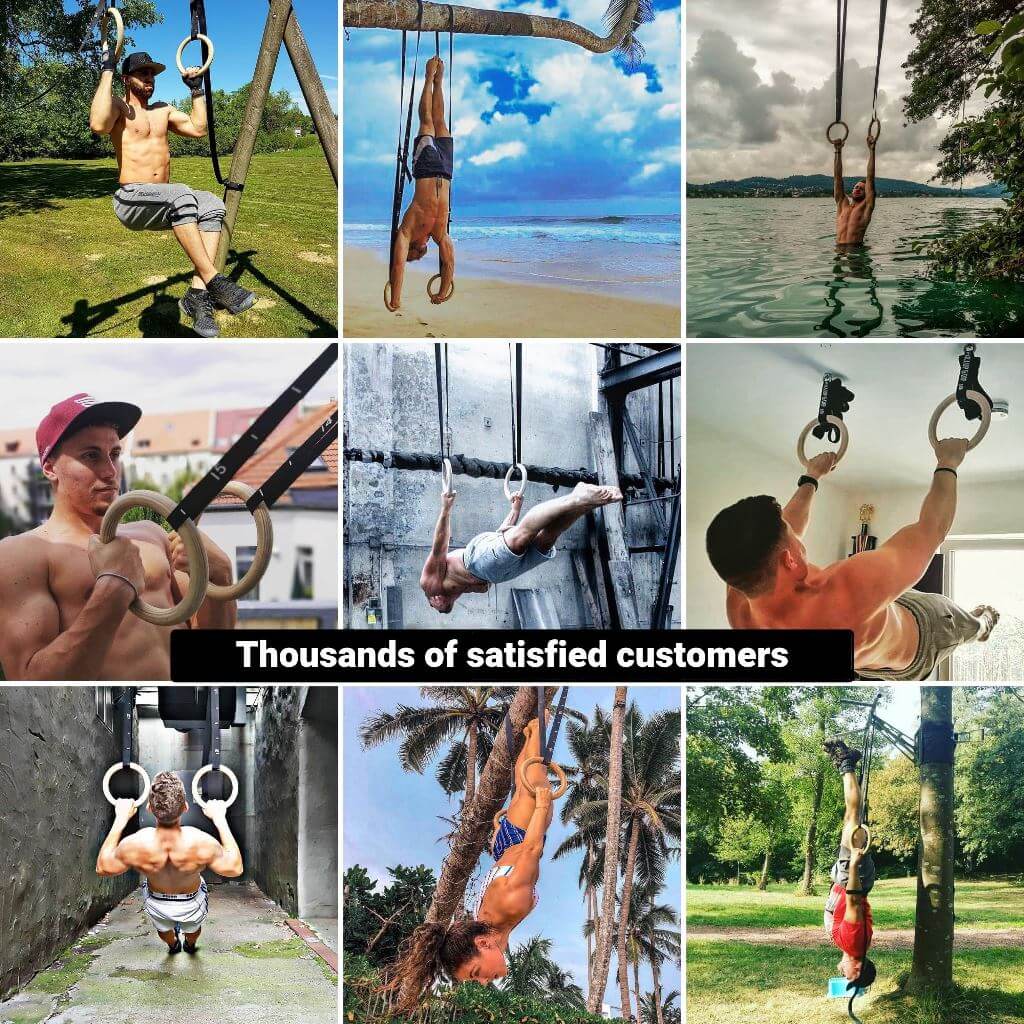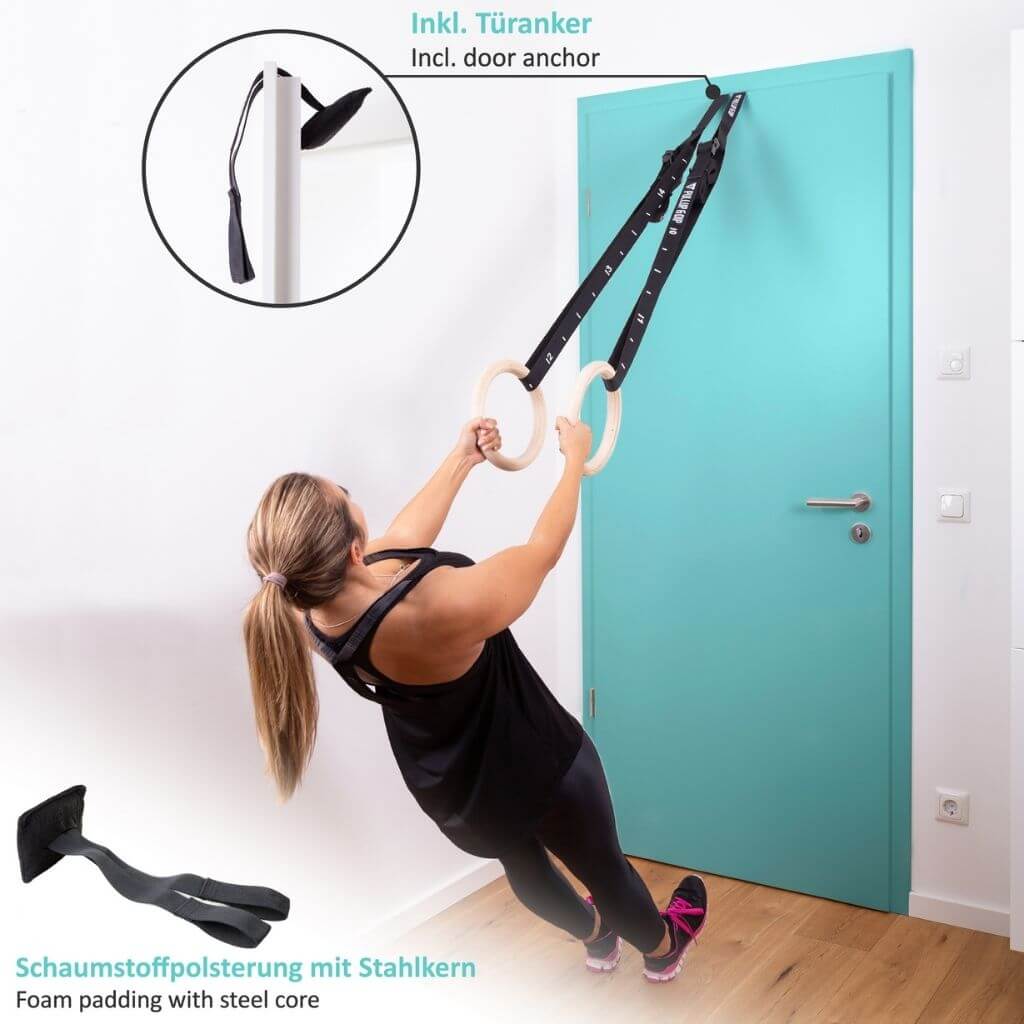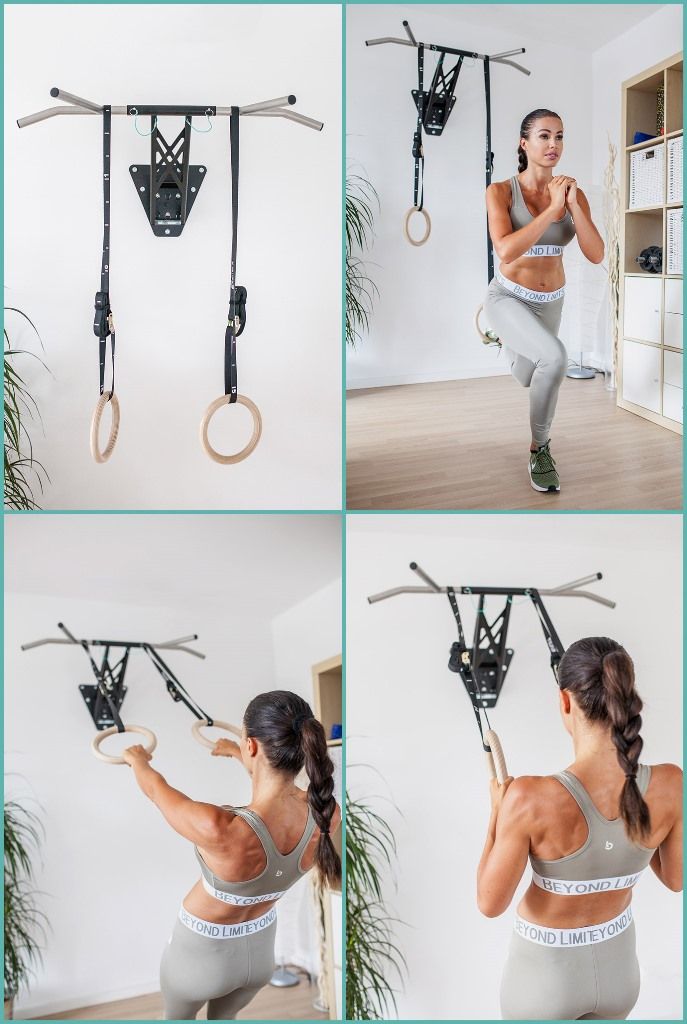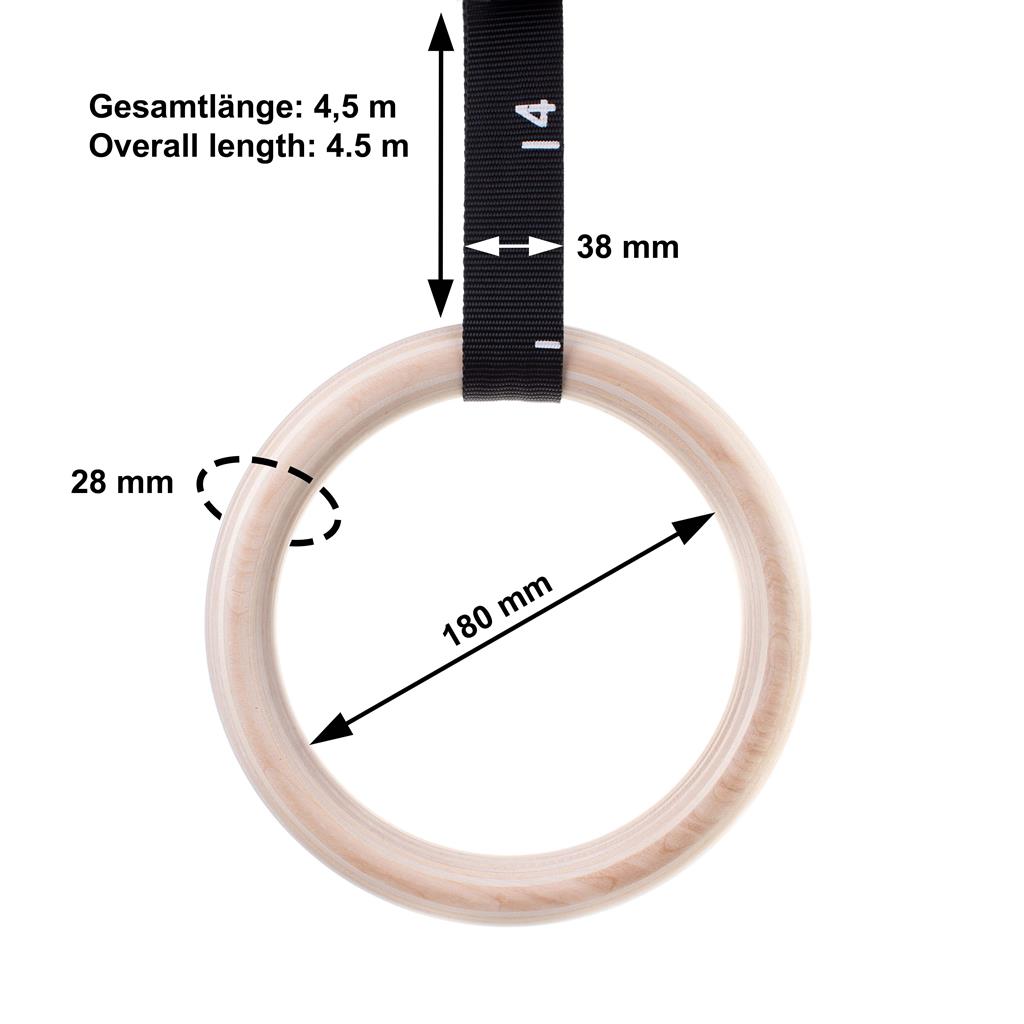 Wooden Gymnastic Rings Incl. Sports Bag, Fastening Straps And Door Anchor
Product advantages at a glance
High quality wood instead of cheap plastic
Extra wide nylon straps with markings
Extremely versatile for over 45 exercises
Incl. door anchor for training at home
Ready to ship, in 2-3 business days with you.
Training on gymnastic rings provides a holistic, functional bodyweight workout, as the muscles have to compensate for instability in all directions due to the freedom of movement of the rings. This gives you an additional training effect compared to training with dumbbells or guided exercises on machines.
The gymnastic rings of our partner brand Pullup & Dip are ideal in combination with the CLEVO climbing modules for a variety of exercises such as pull-ups, dips etc..
Perfect for preparing your muscles for the strain of climbing and bouldering with targeted exercises.

Gymnastics rings are extremely versatile and flexible, as they allow you to do over 40 different exercises and train anywhere, anytime - both at home and outdoors. Because of their versatility, gymnastics rings are ideal for both beginners and professionals.
In addition to upper body and arm muscles, you can also use rings to train the muscles of the abdomen, back, buttocks and legs. You can't get more variety with one and the same piece of training equipment for such a low price!

Advantages of wooden gymnastic rings:
✔️ Indoor & Outdoor Training: train flexibly in the park, garden or while traveling. Thanks to the door anchor, you can also attach the rings to the door at home or in your hotel room.

✔️ Versatility: over 45 different exercises for a varied full-body workout

✔️ The most comprehensive set on the market: includes attachment straps and sports bag for convenient transport.

✔️ Easy transport: Incl. sports bag to transport your gymnastic rings and other training accessories comfortably on your back.

✔️ Perfect grip: high-quality gymnastics rings made of wood (birch wood) instead of cheap plastic

✔️ Save time: high-security quick-release buckles for fast adjustment

✔️ Extra-wide nylon attachment straps with length markings

✔️ Train indoors too: door anchors with solid steel core and foam padding for training at home.

✔️ N o annoying protruding strap ends: includes practical Velcro straps that hold the attachment straps together so they don't get in your way during your workout.

✔️ Extremely safe: load capacity of the rings (or buckles/straps) per strap: 200 kg

✔️ Includes FREE eBook: with over 40 exercises that you can conveniently download by email.
Product Details:
Strap length.
4,5 m
Width of the straps
38 mm
Ring diameter
28 mm
Material

ring: birch wood

Straps: nylon

Weight

1,1 kg

Max. Load capacity

200 kg per ring

Warranty

2 years, see also warranty conditions
Scope of delivery:

2 x wooden gymnastic rings
2 x fastening straps incl. buckles and velcro fastener
1 x sports bag for transport
1 x door anchor
FREE eBook with over 40 exercises
Fast worldwide shipping
Your order will be shipped within 24h (Mo - Fr). All orders are shipped from Germany with tracking link. Fast worldwide shipping incl. tracking between 3-5 working days within Europe and 5-14 working days outside of Europe. If your country is not yet among our shipping countries in the checkout, please reach out to us at info@clevo-climbing.com and we will try to add it!
The exact shipping costs for your order and country you can calculate in the shopping cart with our shipping costs calculator. Simply add the products you are interested in into the cart and use the shipping costs calculator in the shopping cart.
Special case Switzerland:
Orders to Switzerland and Liechtenstein are shipped with meineinkauf.ch and already include 7.7% Swiss VAT and customs duties, i.e. you will receive your order from Switzerland already duty paid and no additional costs!
Save 19% VAT from outside the EU
Stated prices are gross prices including 19% German VAT. For orders from outside the EU you pay only the net price and save 19% VAT. Once you choose the shipping country in the checkout process you will be shown the final price without VAT. For non-EU countries, local taxes and customs may apply.
Customs duties:
All orders are shipped directly from Germany. For deliveries to non-EU countries (except Switzerland, Lichtenstein), additional duties and taxes may apply. We have no influence on these additional costs and can not provide more detailed information about this. We ask you to please inform yourself about this topic before your order.

The amount of duty depends on the net value of goods, the shipping costs, the gross weight of the package (including the packaging) and the type of goods. The customs fees can be obtained from your local tax office. The HS code for our products is 95069190.
What if I do not like the product?
If you do not love the product for any reason, you have the right to revoke the purchase contract and return the product within thirty days without giving any reason. If you don't love your products, send them back. It's that simple! Further information can be found on our return page or cancellation policy.
Do you have further questions? Then just write us a message to info [at] clevo-climbing.com or just call: +49 89 215300-747