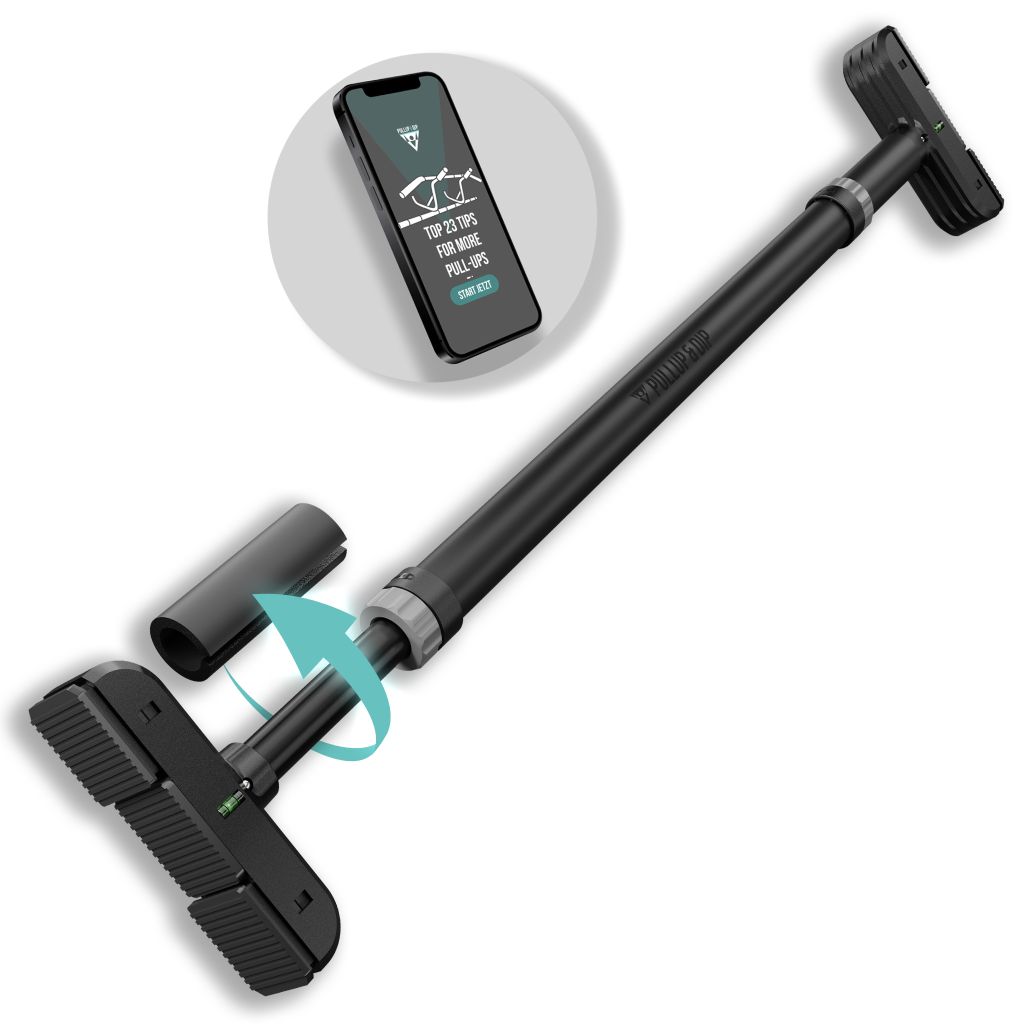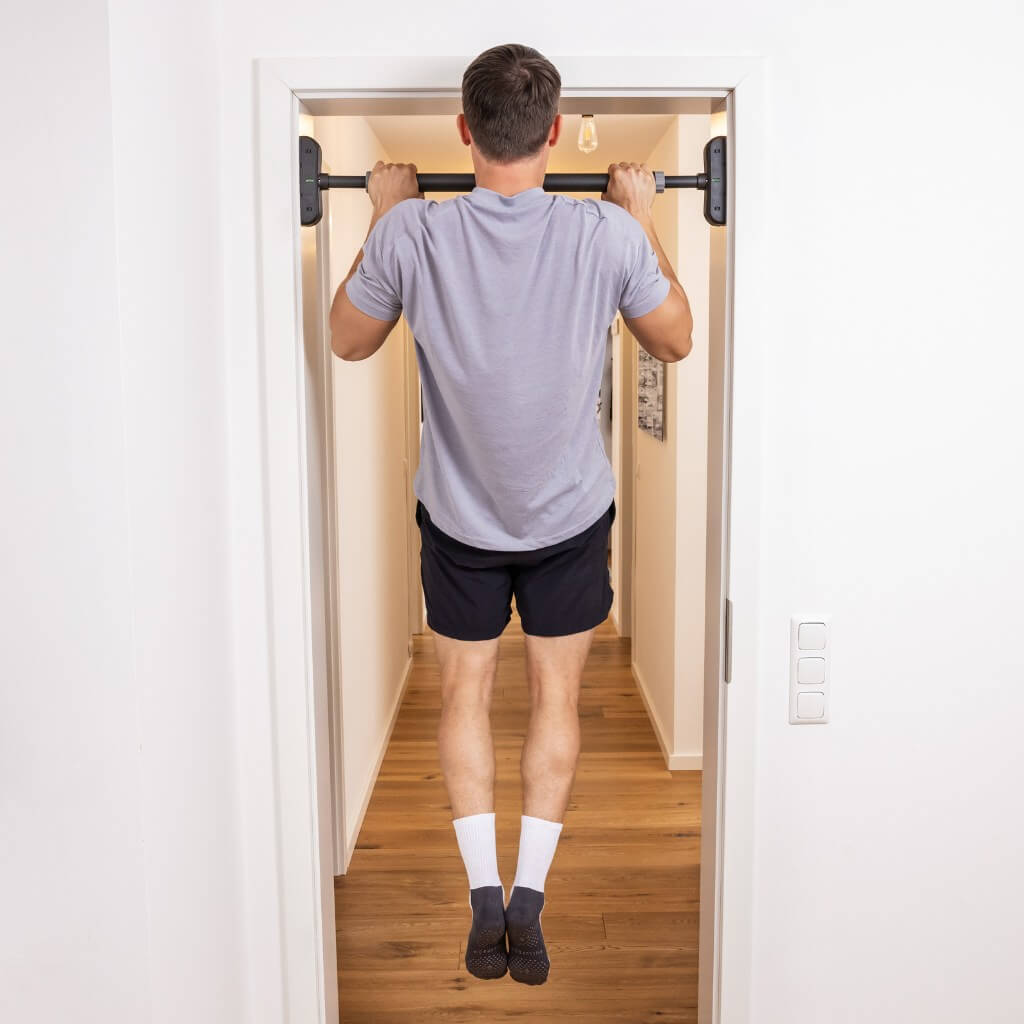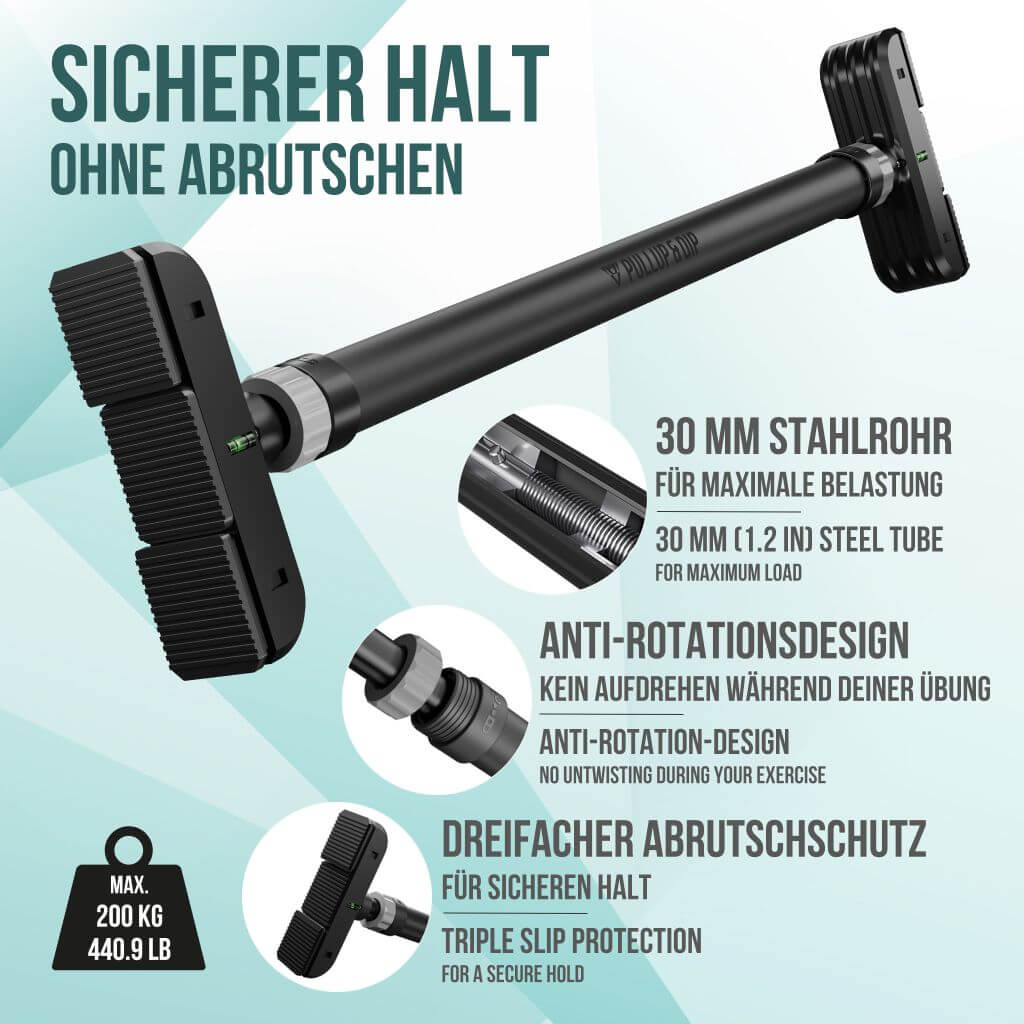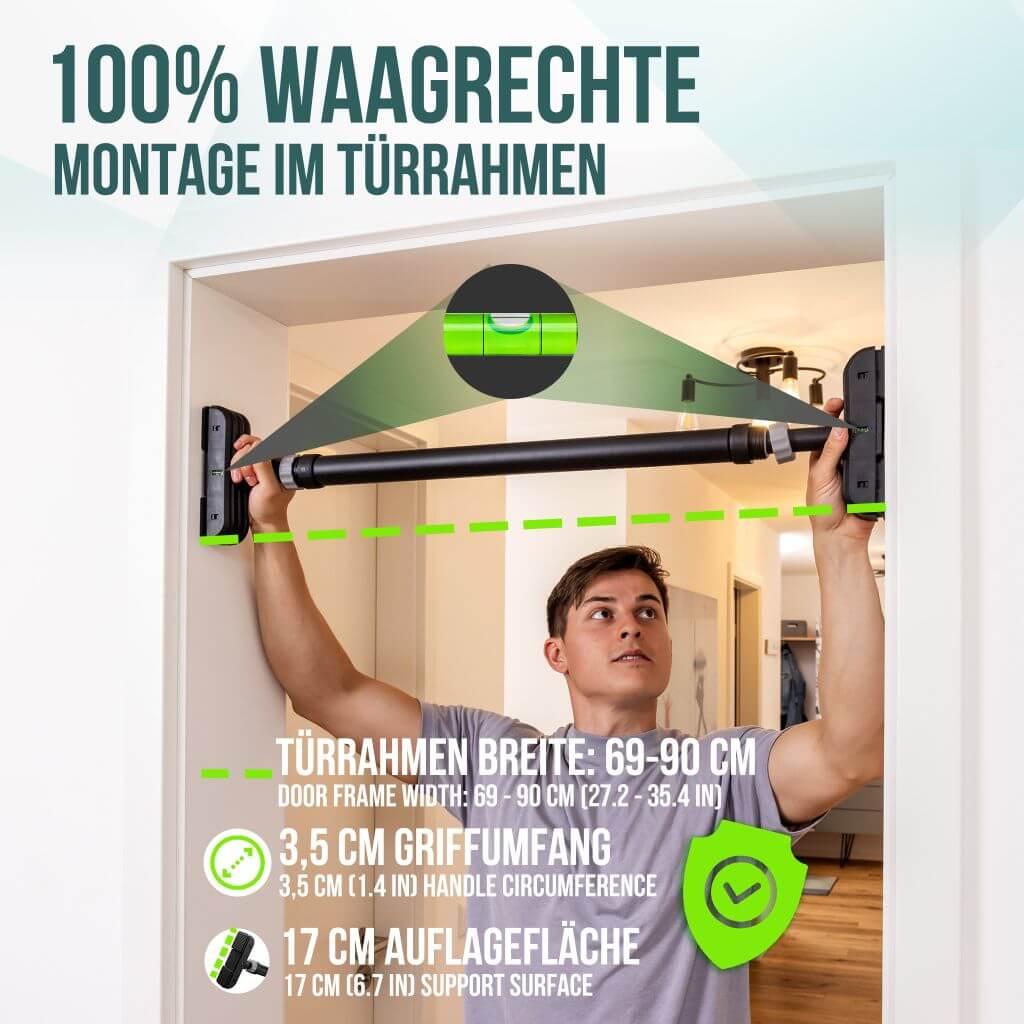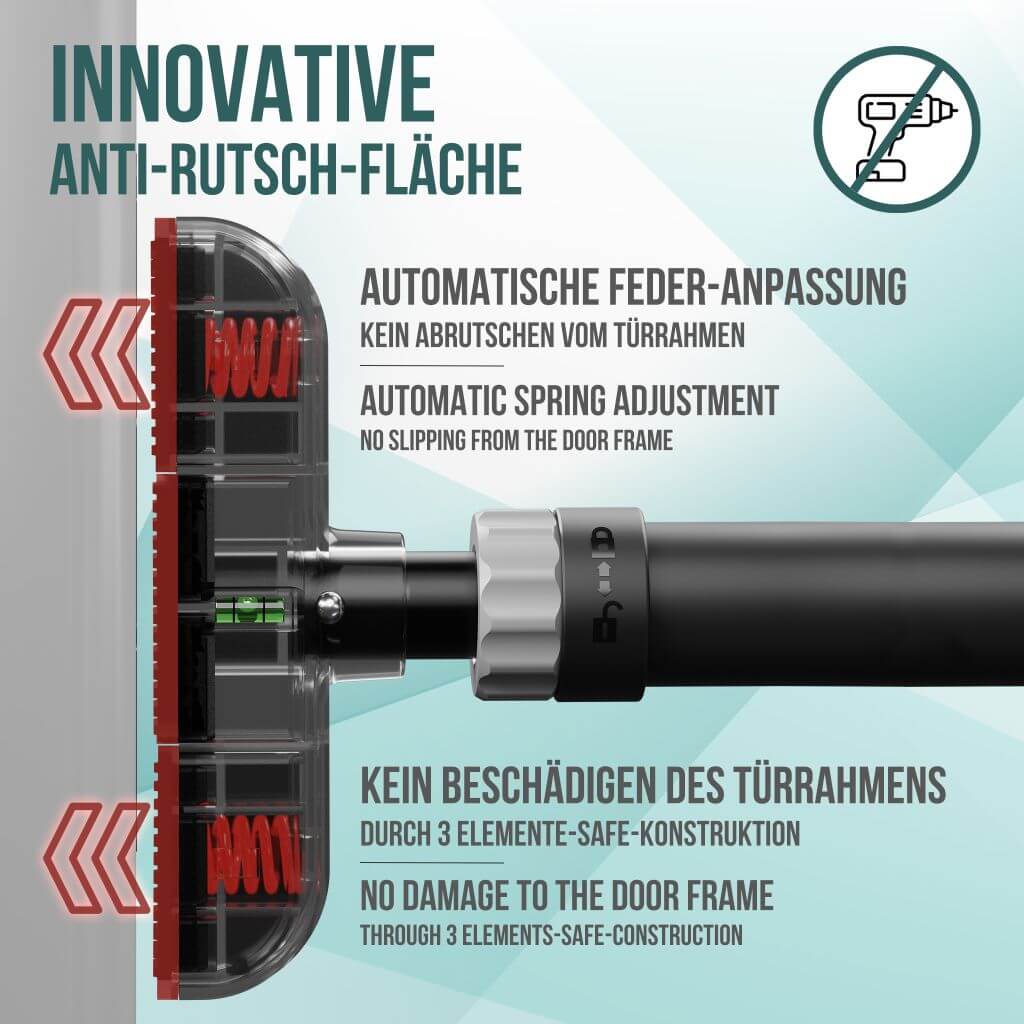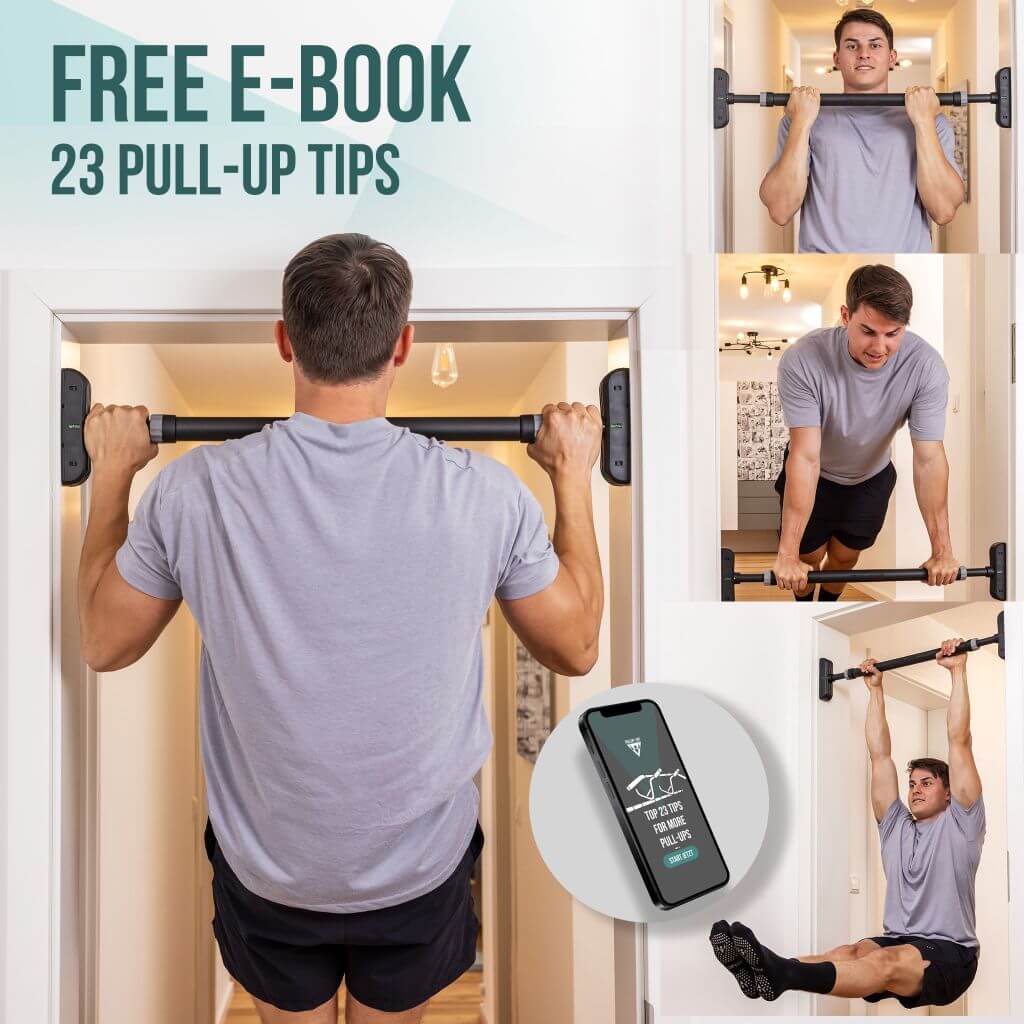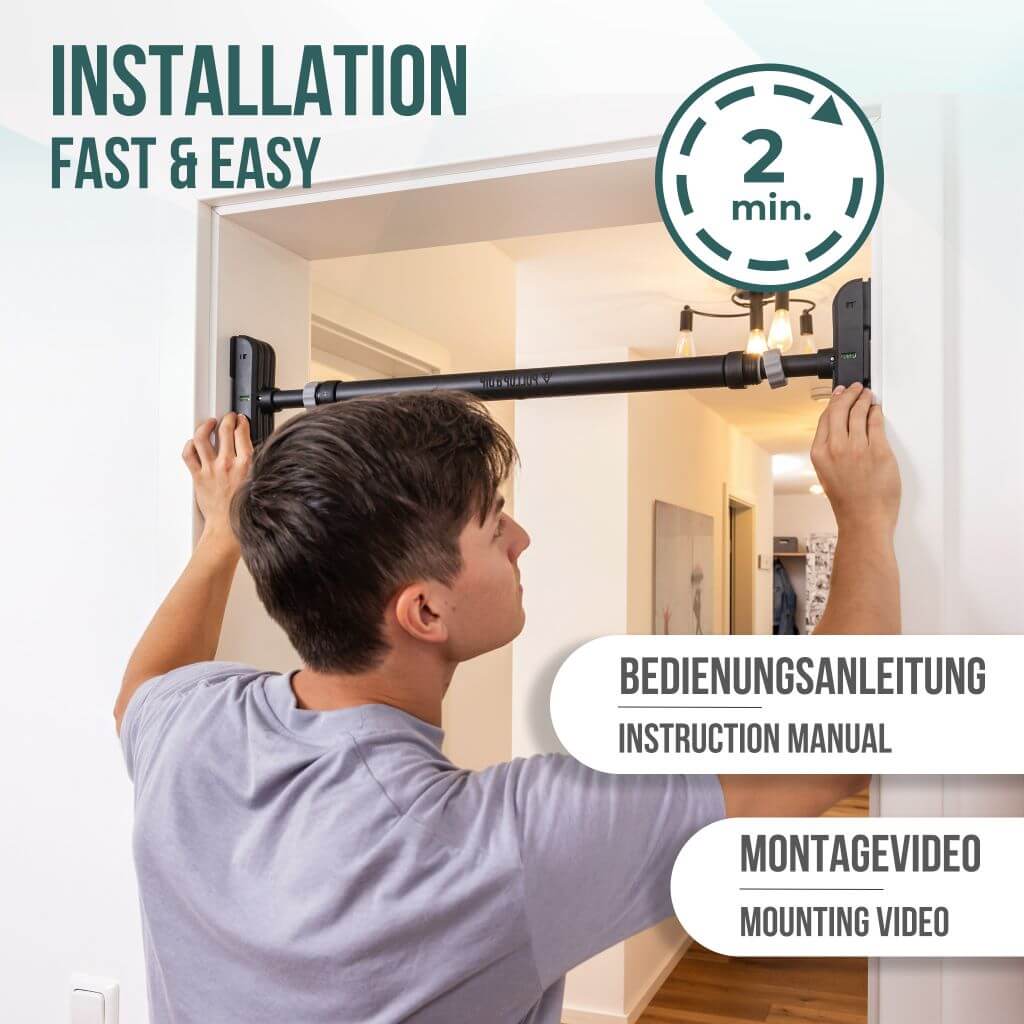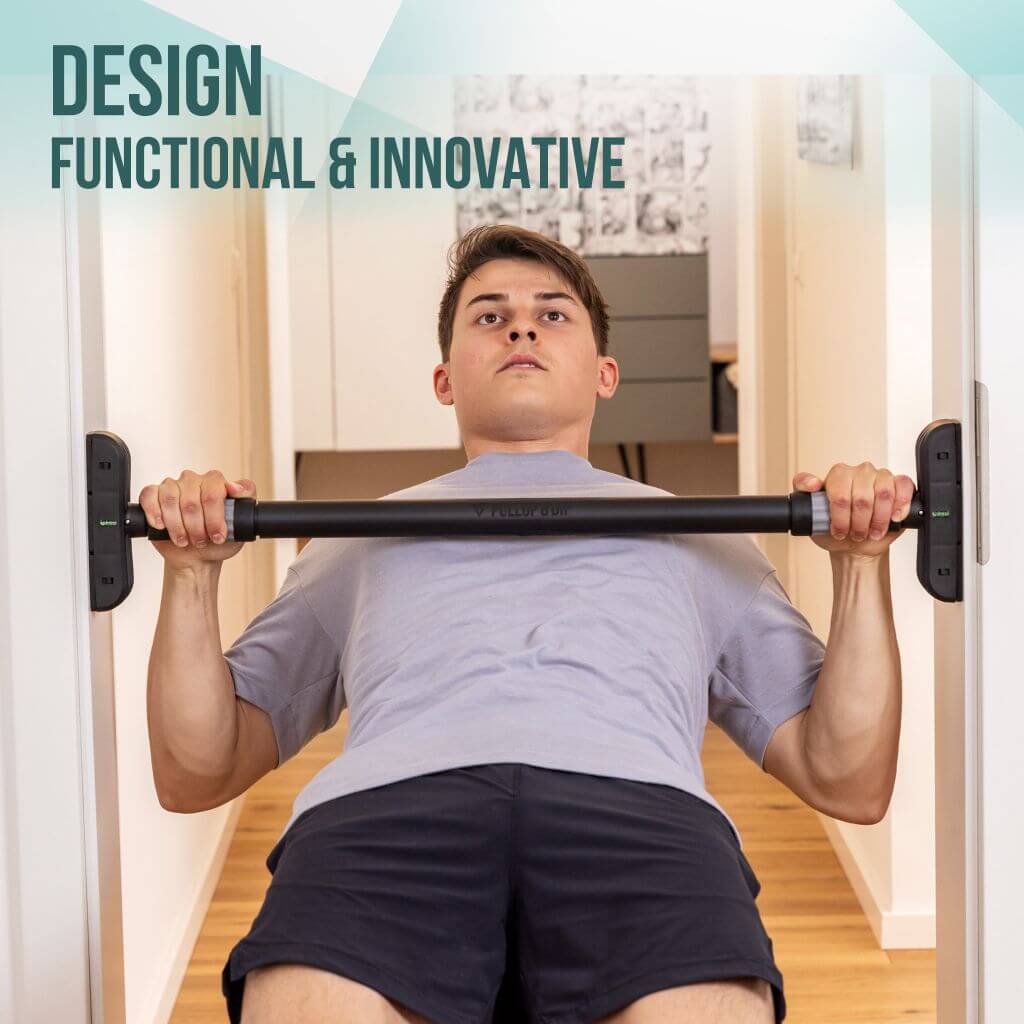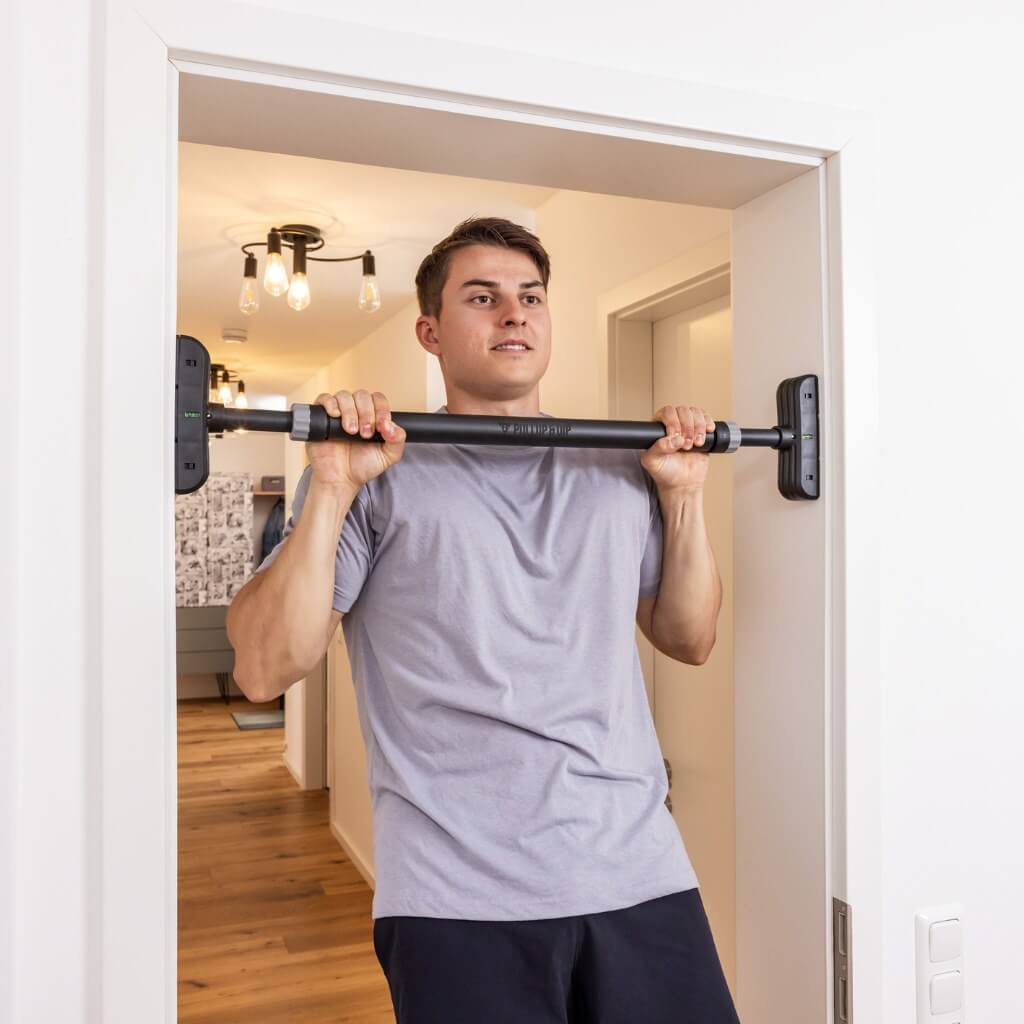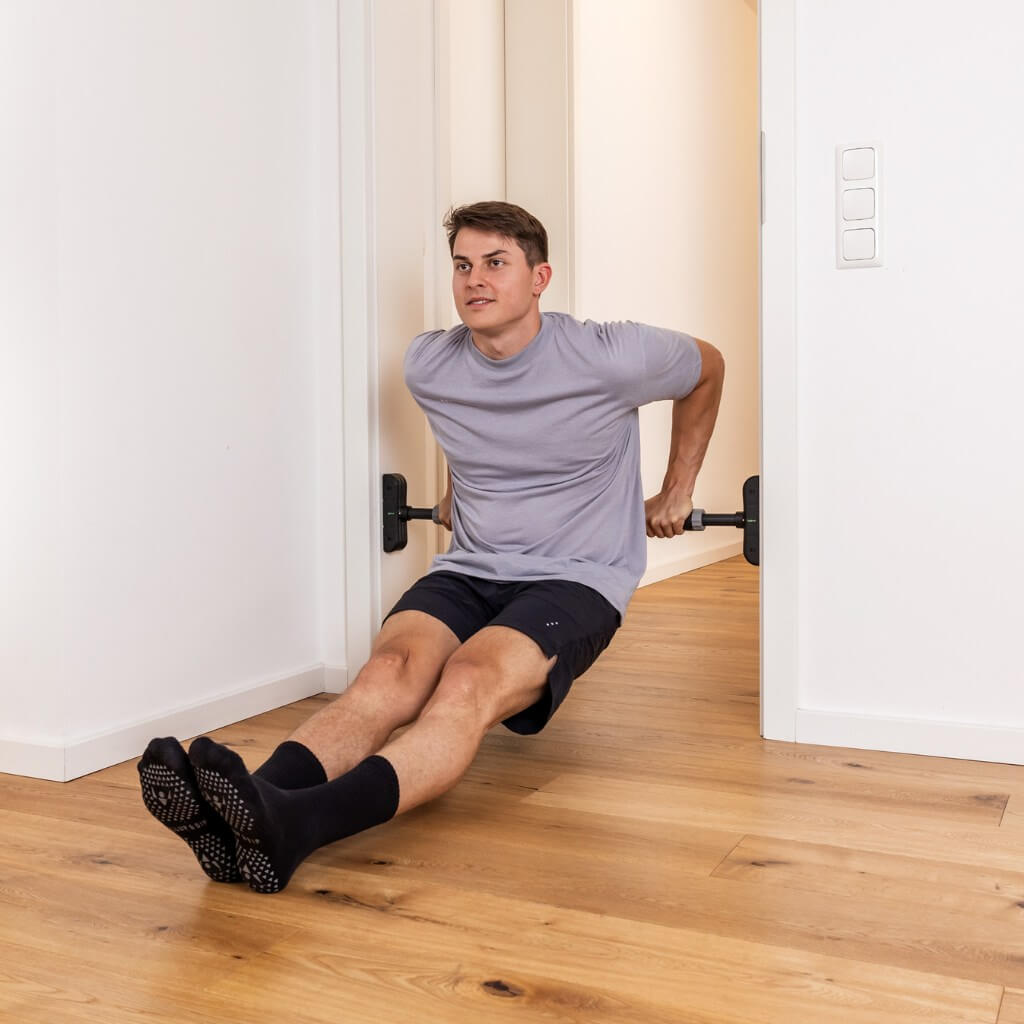 Telescopic Door Pull-up Bar
Product advantages at a glance
No untwisting and slipping during training due to thread lock against rotation
Without drilling, screwing and door frame damage
Quick and safe assembly in seconds
Incl. grip pads for wider grip at the ends
Ready to ship, in 2-3 business days with you.
Telescopic door pull-up bar without screws and slipping.
Probably the best and safest door rack pull-up bar on the market! Our telescopic door pull-up bar can be installed and removed from the door frame in seconds, turning your home into a gym in a fraction of the time.
Train numerous exercises like pull-ups, chin-ups, leg lifts, knee lifts, toes to bar or with low mounting height exercises like dips, push-ups and rowing and design your workout 100% flexible independent from the crowded gym.
And best of all, do it without fear of slipping off with the door bar pull-up bar. The innovative snap-in and anti-rotation design with thread lock prevents a turning out as with conventional telescopic bars and the triple slip protection guarantees a bombproof hold in the door! Plus, it won't get damaged, so you can get your workout in with complete peace of mind.
Integrate your workout into your stressful daily routine and save yourself the time of traveling to the gym by working out from the comfort of your own home. This is the perfect way to keep fit, build muscle and strength, strengthen your back muscles and also save on space-consuming and expensive fitness equipment. The pull-up bar is the perfect alternative if you are looking for a high-quality pull-up bar that you don't want to or can't mount on the wall or ceiling.
Product advantages of the door bar pull-up bar
✅ Absolutely safe and no damage: The revolutionary 3-element mount with smart thread lock for ultimate stability brings safety to any type of workout - without slipping or damaging from the door frame!
✅ Optimal support: Our first-class door rack pull-up bar is infinitely adjustable, fits into any door frame with a width of 73 to 92 cm and supports up to 200 kg weight! Like all our products, the high-quality pull-up bar also impresses with exceptional quality, superior stability and durability - for long-lasting training fun.
✅ Versatile Workout: With our Türreck pull-up bar, you'll experience versatile fitness workouts that go beyond pull-up exercises. Whether it's pull-ups, chin-ups, push-ups, sit-ups, dips, leg lifts or stretching exercises - make your workout more varied than ever with our included pull-up training guide and maximize your training success!
✅ Wider grip thanks to grip pads: Our state-of-the-art pull-up bar not only impresses with its stability and optimal force distribution, but also with its innovative wide grip. Through the included customizable grip pads, you can use the full grip area. Simply cut to the desired length and put on the pull-up bar.
✅ Ideal home gym replacement: no fitness equipment makes your workout as flexible as this pull-up bar. With the extra fast locking mechanism, you can attach your gym to any suitable door or wall and don't need any extra space. And thanks to the compact design, you can take or store the pull-up bar anywhere in no time.
✅ Free eBook: After your order, we will also send you our popular eBook "23 Tips for More Pull-Ups" as a PDF. With this you will learn your first pull-up, learn to do more pull-ups and become a guaranteed pull-up pro.
Product details of the telescopic door pull-up bar
Application range door frame:

Width zw. 73-92 cm

Recommendation:

We recommend to measure the door frame width in advance necessarily, so that the pull-up bar also fits into your door!

Weight of the bar
1,8 kg
Max. Load
200 kg
Material:

Steel

Handles made of HDR (High Damping Rubber)

Dimensions:
ø HDR handles center bar 35 mm
Scope of delivery

Telescopic pull-up bar

2 x additional grip pads (12,5cm long, can be shortened)

eBook with 23 tips for more pull-ups

Warranty

2 years, see warranty conditions
Fast worldwide shipping
Your order will be shipped within 24h (Mo - Fr). All orders are shipped from Germany with tracking link. Fast worldwide shipping incl. tracking between 3-5 working days within Europe and 5-14 working days outside of Europe. If your country is not yet among our shipping countries in the checkout, please reach out to us at info@clevo-climbing.com and we will try to add it!
The exact shipping costs for your order and country you can calculate in the shopping cart with our shipping costs calculator. Simply add the products you are interested in into the cart and use the shipping costs calculator in the shopping cart.
Special case Switzerland:
Orders to Switzerland and Liechtenstein are shipped with meineinkauf.ch and already include 7.7% Swiss VAT and customs duties, i.e. you will receive your order from Switzerland already duty paid and no additional costs!
Save 19% VAT from outside the EU
Stated prices are gross prices including 19% German VAT. For orders from outside the EU you pay only the net price and save 19% VAT. Once you choose the shipping country in the checkout process you will be shown the final price without VAT. For non-EU countries, local taxes and customs may apply.
Customs duties:
All orders are shipped directly from Germany. For deliveries to non-EU countries (except Switzerland, Lichtenstein), additional duties and taxes may apply. We have no influence on these additional costs and can not provide more detailed information about this. We ask you to please inform yourself about this topic before your order.

The amount of duty depends on the net value of goods, the shipping costs, the gross weight of the package (including the packaging) and the type of goods. The customs fees can be obtained from your local tax office. The HS code for our products is 95069190.
What if I do not like the product?
If you do not love the product for any reason, you have the right to revoke the purchase contract and return the product within thirty days without giving any reason. If you don't love your products, send them back. It's that simple! Further information can be found on our return page or cancellation policy.
Do you have further questions? Then just write us a message to info [at] clevo-climbing.com or just call: +49 89 215300-747