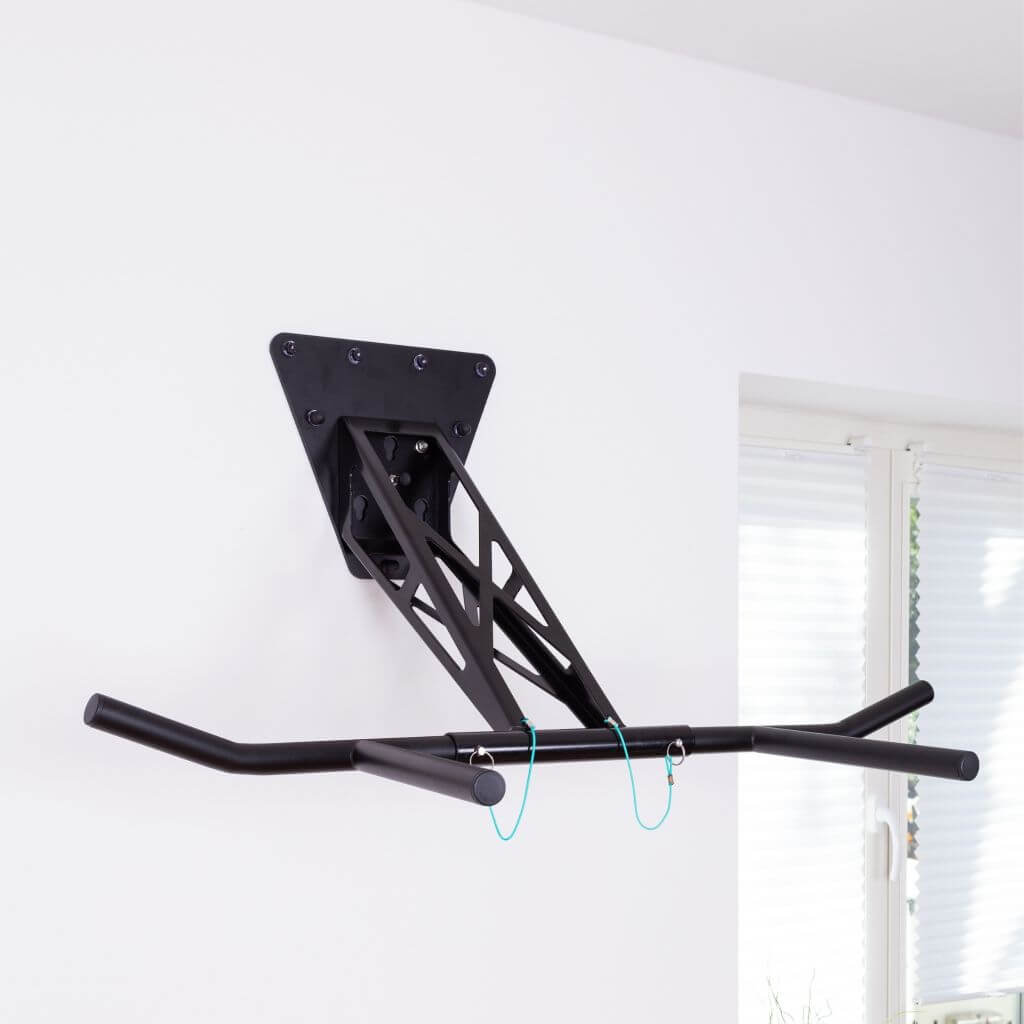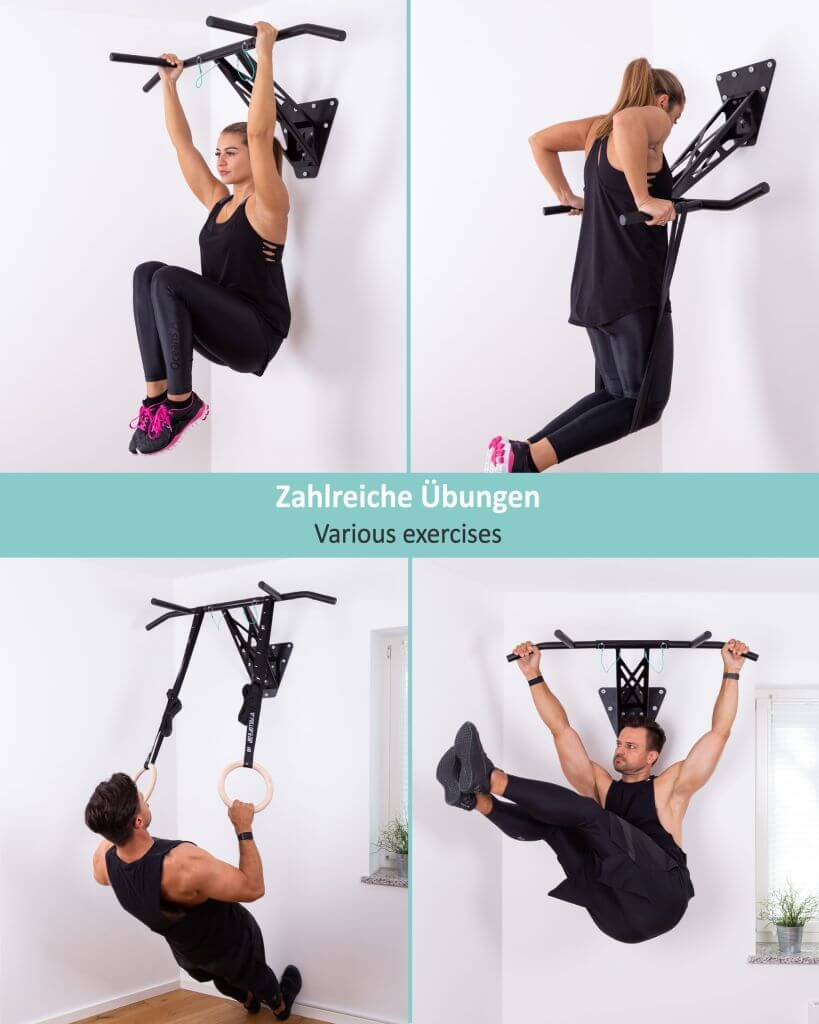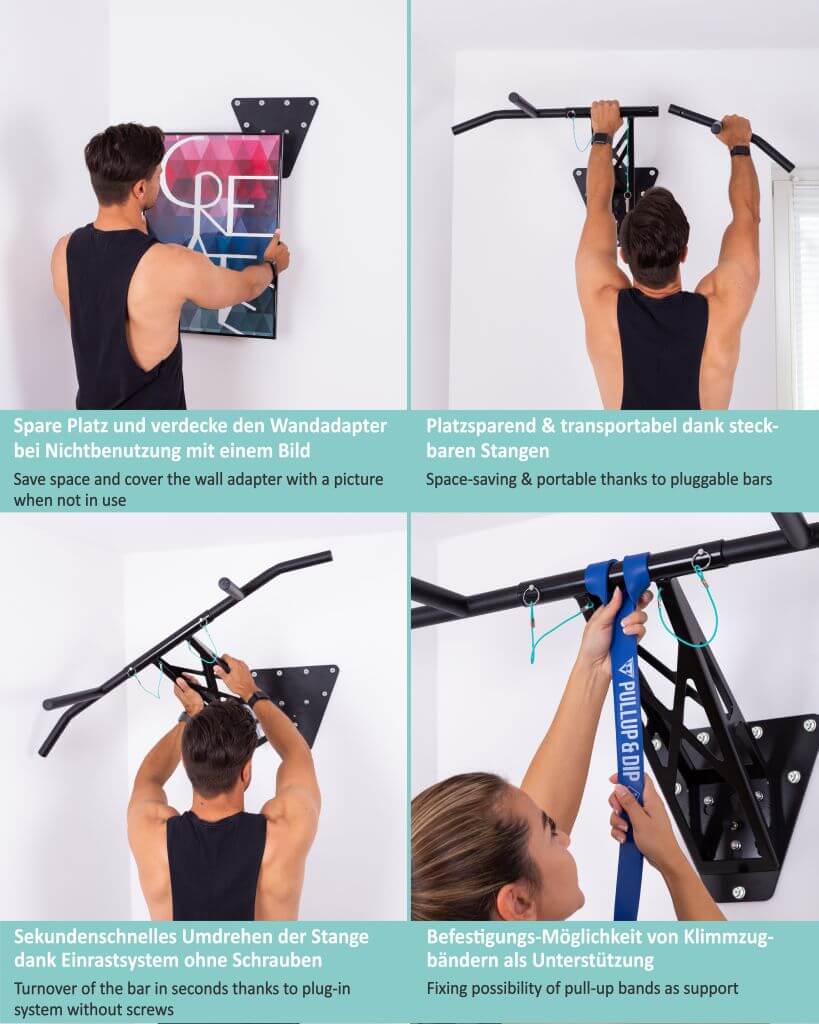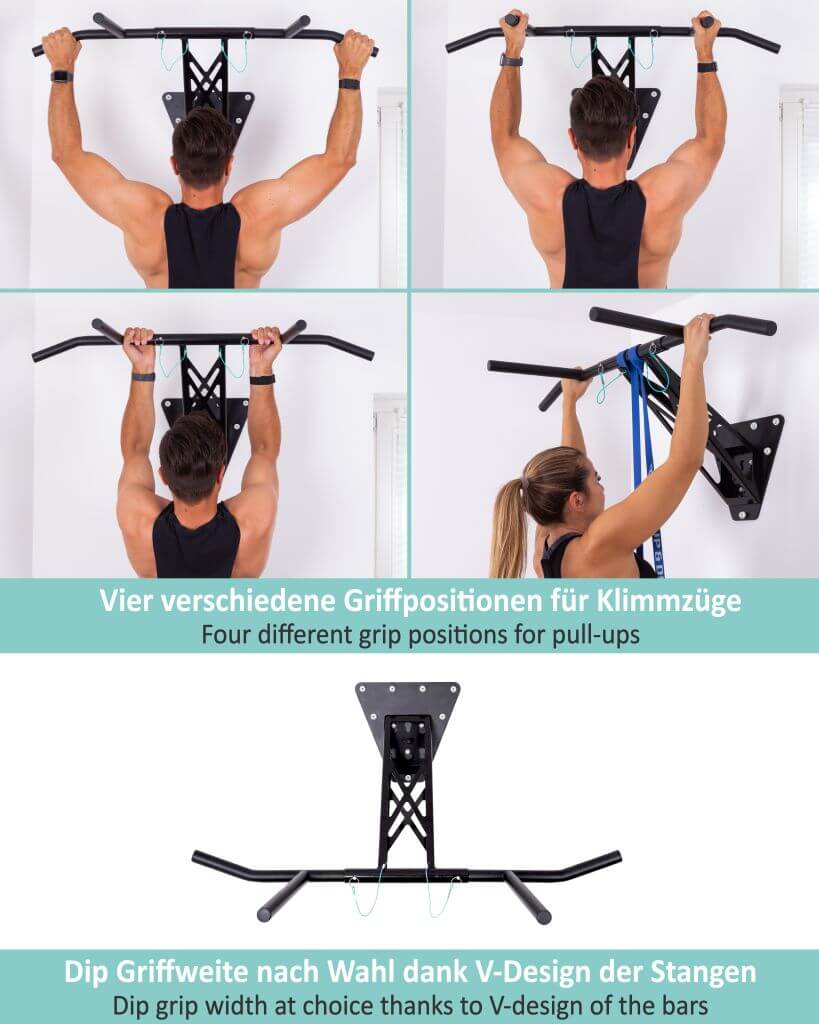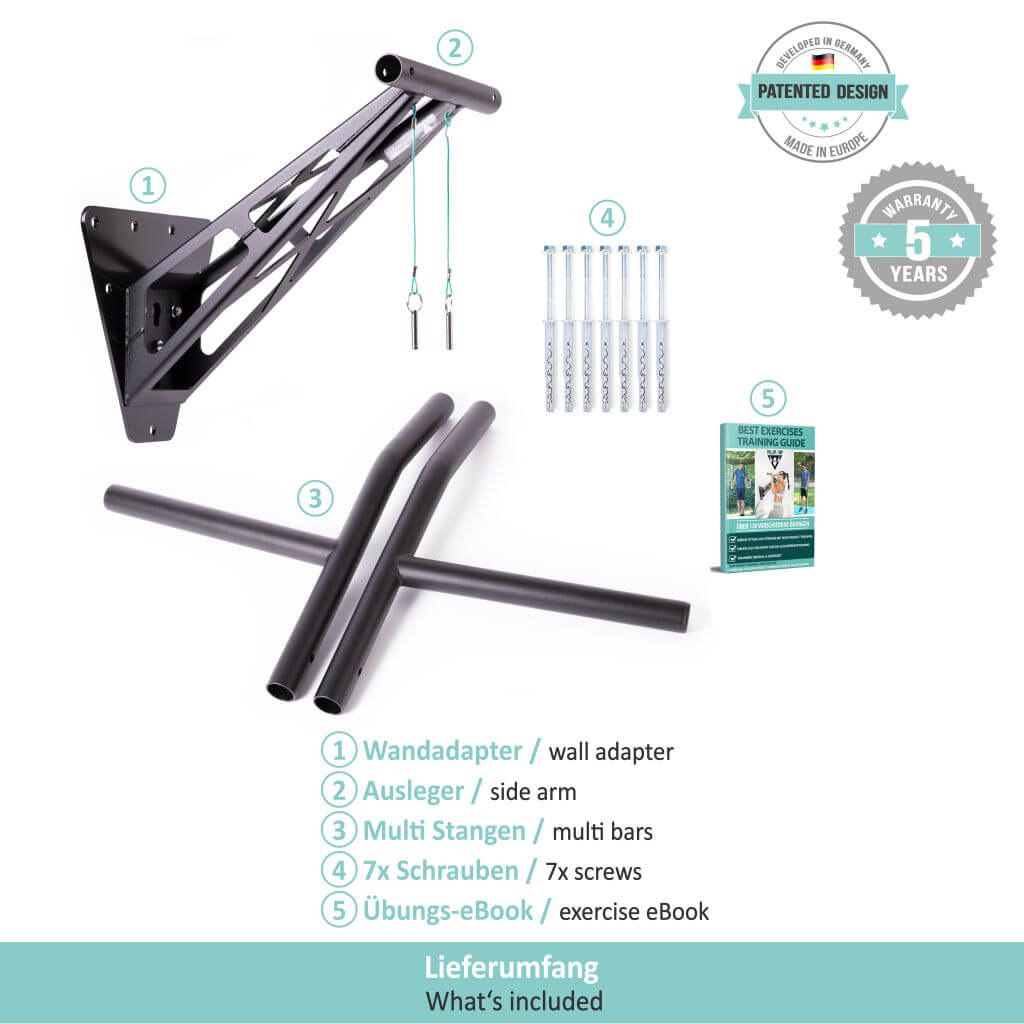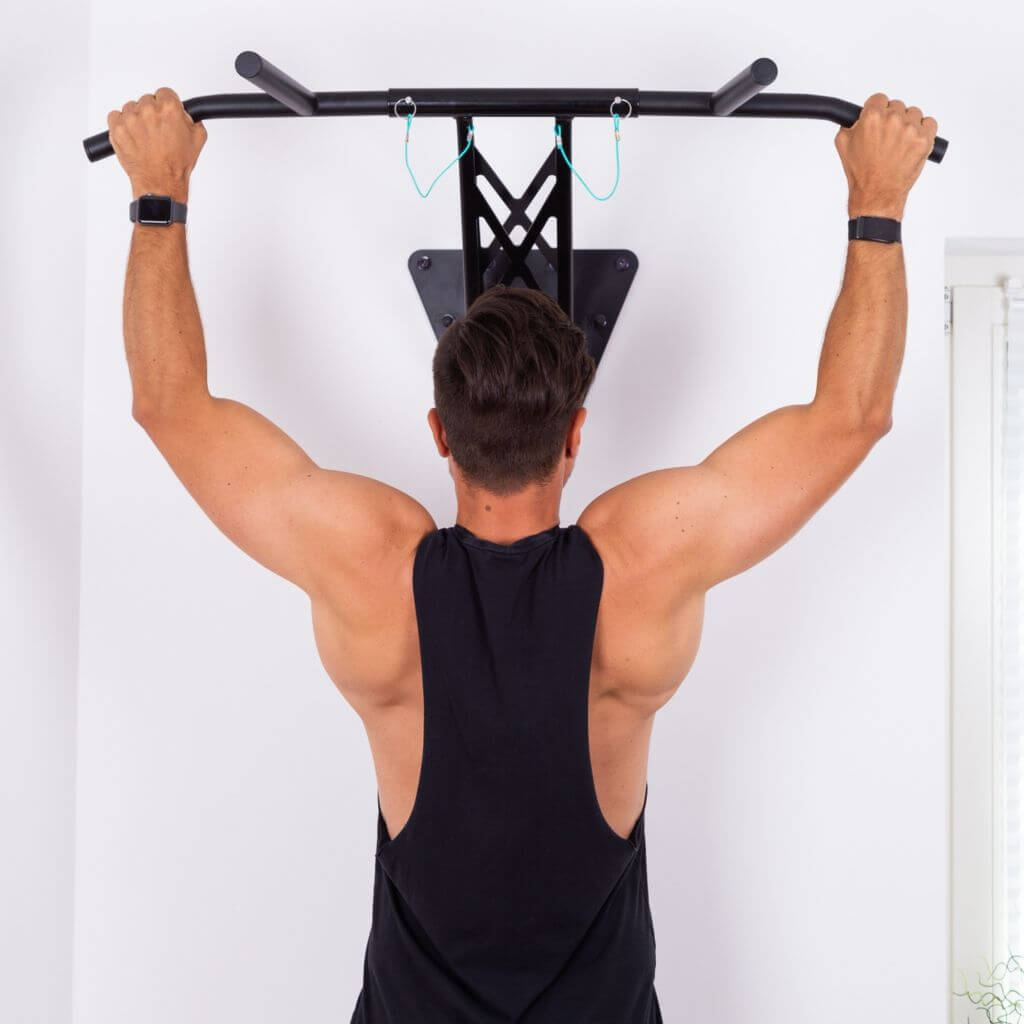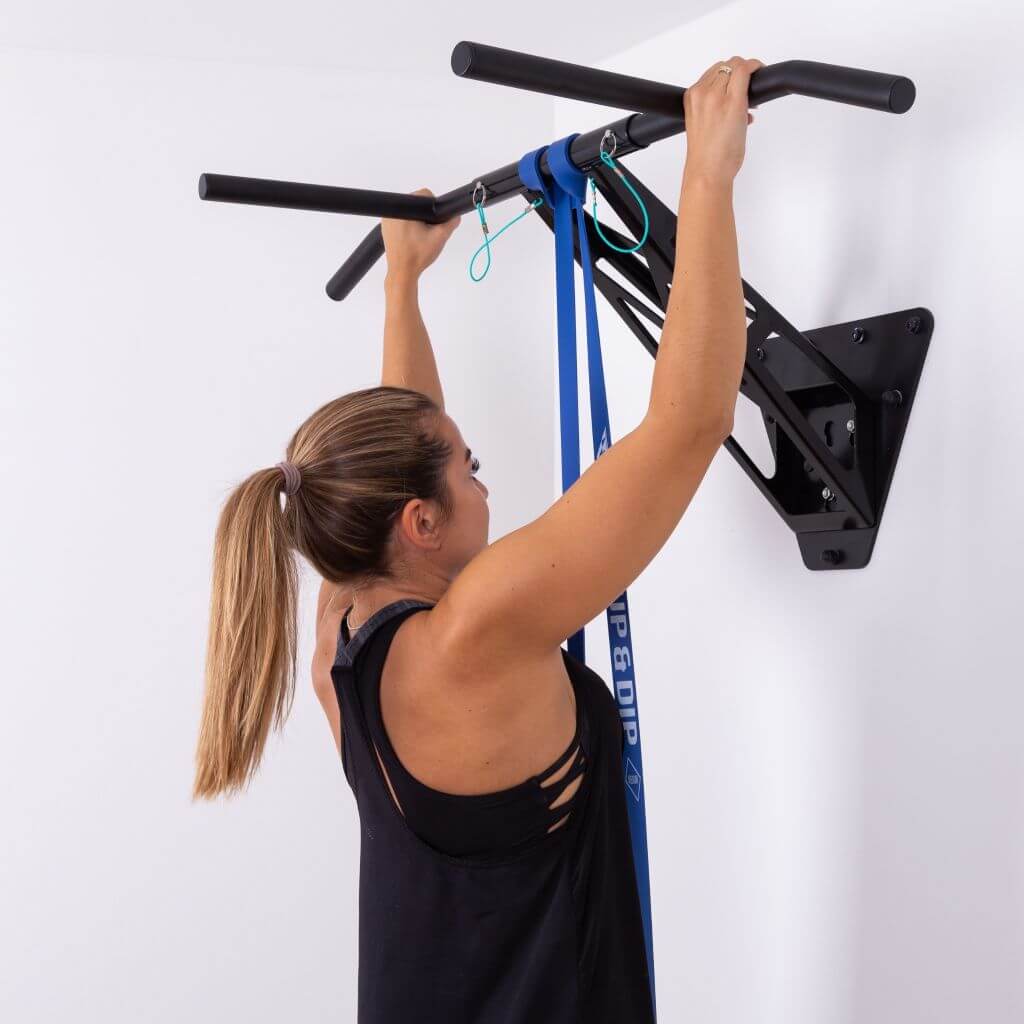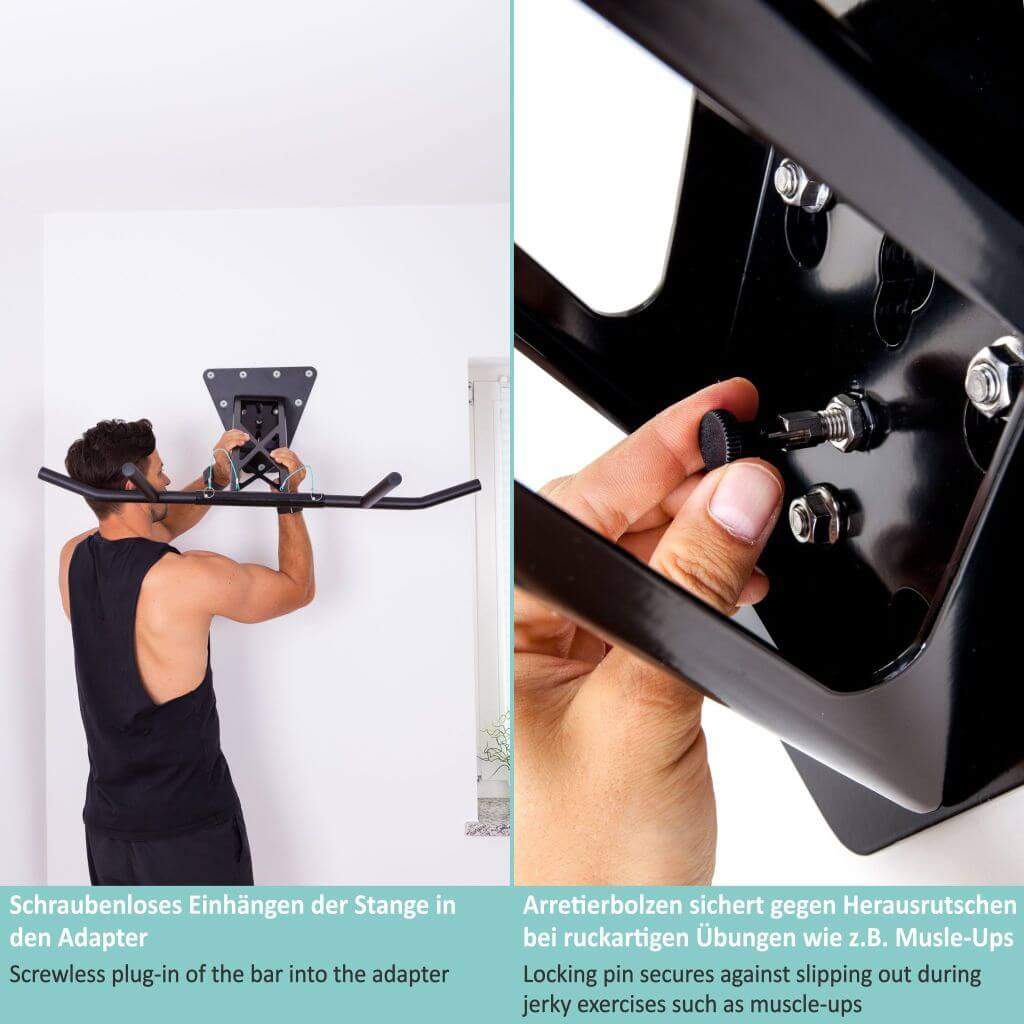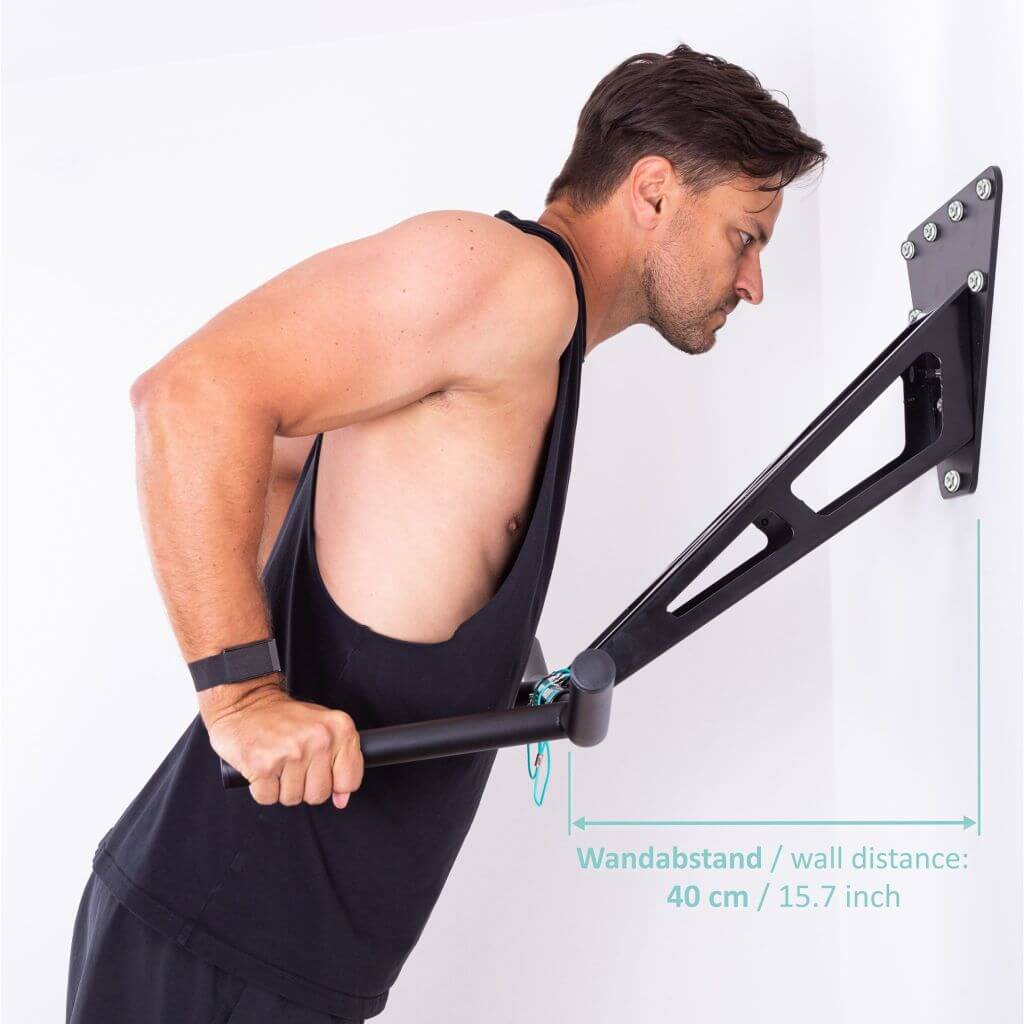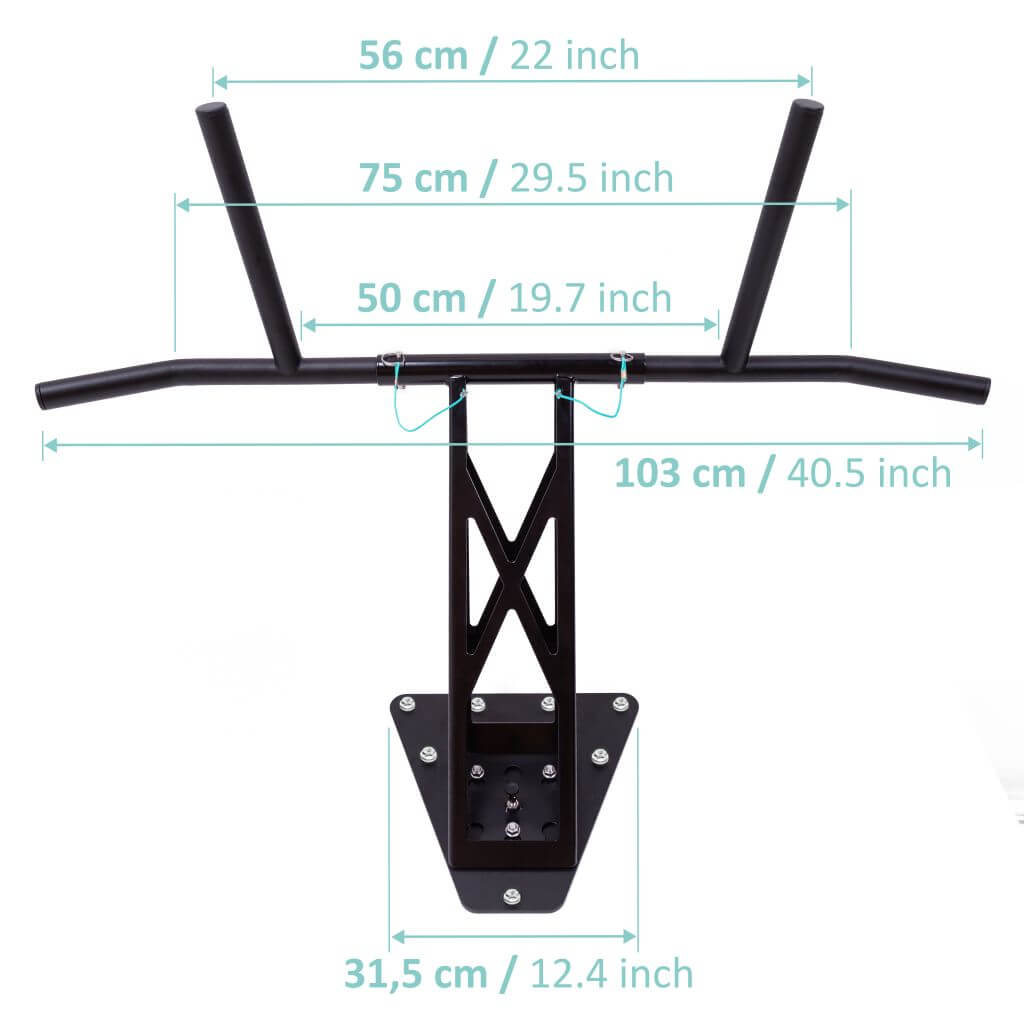 Pull-up and dip bar for wall mounting on interior and exterior wall
Product advantages at a glance
Train 100% flexible indoor or on an outdoor wall
Premium quality: buy once, train for life
Over 20 different exercises
Welded steel construction for extreme stability
Ready to ship, in 2-3 business days with you.
Unique pull-up and dip bar for indoor and outdoor wall mounting
Worldwide unique pullup and dip bar from our partner company Pullup & Dip for a 100% flexible training at home.
The advantages of our pull-up and dip bar
✔️ 100% flexibility: Train 100% independent of a gym indoor at home or outdoor on an outdoor wall.
✔️ Total Body Workout: The pull-up and dip bar gives you a varied total body workout for pull-ups, dips, muscle-ups, leg raises and over 20 other exercises, all with just one piece of equipment!
✔️ Optimal training stimulus: The multi-grip bar allows pull-ups with different grip positions for optimal training stimulus and lots of variety.
✔️ No more back pain: pull-ups strengthen your back muscles, relieve pressure on your intervertebral discs and ensure an upright posture.
✔️ Selectablegrip width: Choose the dip grip width according to your preference thanks to the V-arrangement of the dip bars for more load on the triceps or on the chest
✔️ Save money: A gym costs an average of 450€ a year -buy our pull-up and dip bar once and train with it for a lifetime.
✔️ Save time: unique design allows to switch inseconds between pull-ups and dips
✔ ️ Space-saving: Detachable from wall after workout and stowable. The wall adapter can be covered when not in use, e.g. by a picture
✔️ Safety: A locking pin protects against slipping out during jerky exercises such as muscle.ups.
✔️ Buy once, train for a lifetime: Thanks to the high quality materials you only buy this pull-up and dip bar once.
✔️ Easy installation: With drilling template for super fast wall mounting of the pull-up and dip bar
✔️ Unique patented technology: File number: 20 2015 107 050.0
✔️ Incl. training guide: FREE eBook with over 35 descriptive exercises for a varied full-body workout
Product details:
| | |
| --- | --- |
| Material | Steel powder coated (black) |
| Weight (incl. all accessories) | 8,1 kg |
| Color | black |
| Load capacity | up to 150 kg |
| Grip types pull-ups | 5 different |
| Total width | 103 cm |
| Distance to wall | 40 cm |
| Rod diameter | 30 mm |
| Max. Dip grip width | 70 cm |
| Total length boom | 56 cm |
| Max. Width outrigger (at tube) | 30 cm |
| Boom height | 14,5 cm |
| Wall adapter dimensions | 31.5 x 29.5 x 0.7 cm (W x H x D) |
| Fixing material wall mounting | 7 x fischer screws + dowels included |
| Wall mounting | we recommend only brick and concrete walls for wall mounting |
| Warranty | 5 years s. Warranty conditions |
Scope of delivery:
Wall adapter
Side arm
2 x multi bar for pull-ups and dips
7 x fischer screws + dowels 10 x 80 mm + drilling template
FREE eBook with 35 exercises (email download)
Fast worldwide shipping
Your order will be shipped within 24h (Mo - Fr). All orders are shipped from Germany with tracking link. Fast worldwide shipping incl. tracking between 3-5 working days within Europe and 5-14 working days outside of Europe. If your country is not yet among our shipping countries in the checkout, please reach out to us at info@clevo-climbing.com and we will try to add it!
The exact shipping costs for your order and country you can calculate in the shopping cart with our shipping costs calculator. Simply add the products you are interested in into the cart and use the shipping costs calculator in the shopping cart.
Special case Switzerland:
Orders to Switzerland and Liechtenstein are shipped with meineinkauf.ch and already include 7.7% Swiss VAT and customs duties, i.e. you will receive your order from Switzerland already duty paid and no additional costs!
Save 19% VAT from outside the EU
Stated prices are gross prices including 19% German VAT. For orders from outside the EU you pay only the net price and save 19% VAT. Once you choose the shipping country in the checkout process you will be shown the final price without VAT. For non-EU countries, local taxes and customs may apply.
Customs duties:
All orders are shipped directly from Germany. For deliveries to non-EU countries (except Switzerland, Lichtenstein), additional duties and taxes may apply. We have no influence on these additional costs and can not provide more detailed information about this. We ask you to please inform yourself about this topic before your order.

The amount of duty depends on the net value of goods, the shipping costs, the gross weight of the package (including the packaging) and the type of goods. The customs fees can be obtained from your local tax office. The HS code for our products is 95069190.
What if I do not like the product?
If you do not love the product for any reason, you have the right to revoke the purchase contract and return the product within thirty days without giving any reason. If you don't love your products, send them back. It's that simple! Further information can be found on our return page or cancellation policy.
Do you have further questions? Then just write us a message to info [at] clevo-climbing.com or just call: +49 89 215300-747