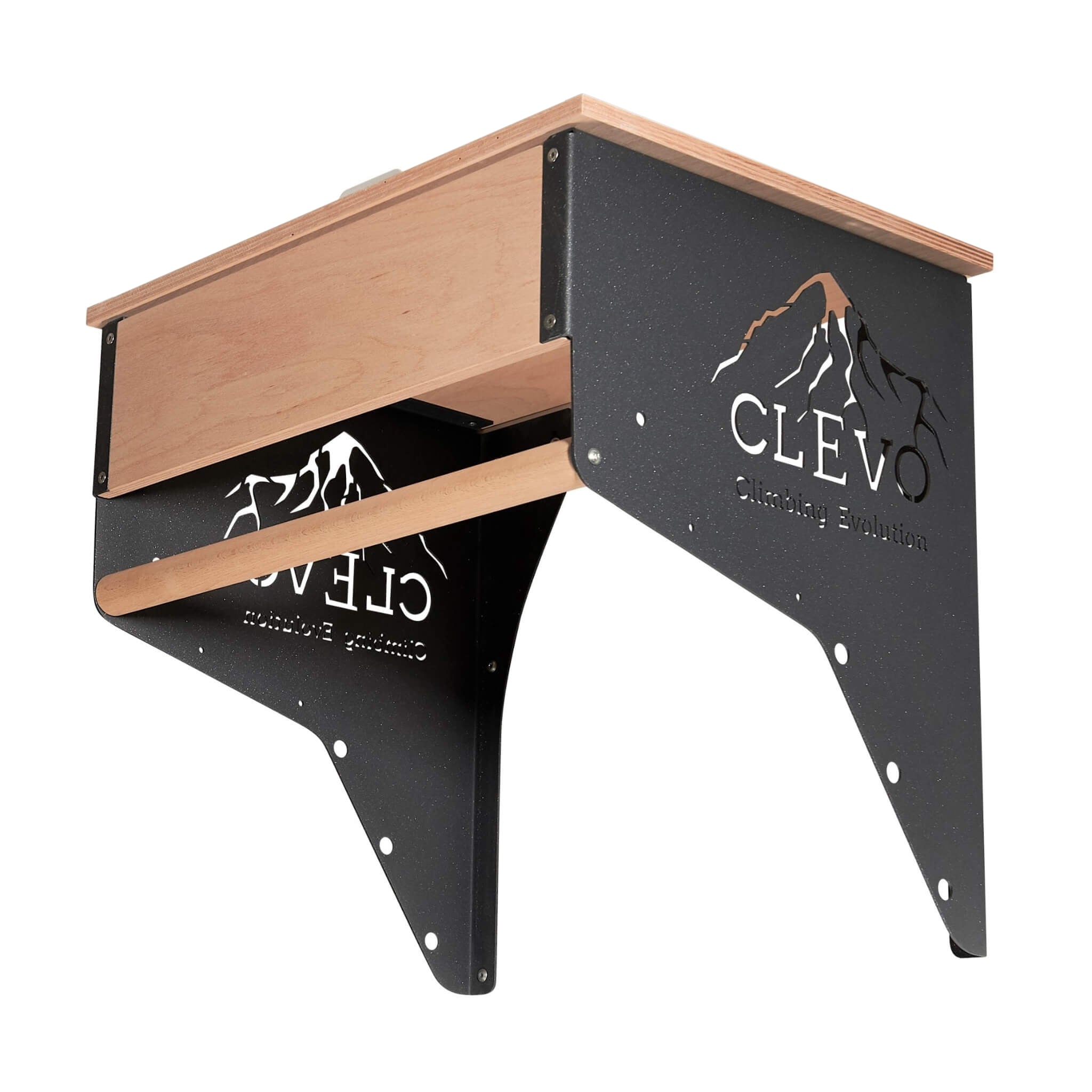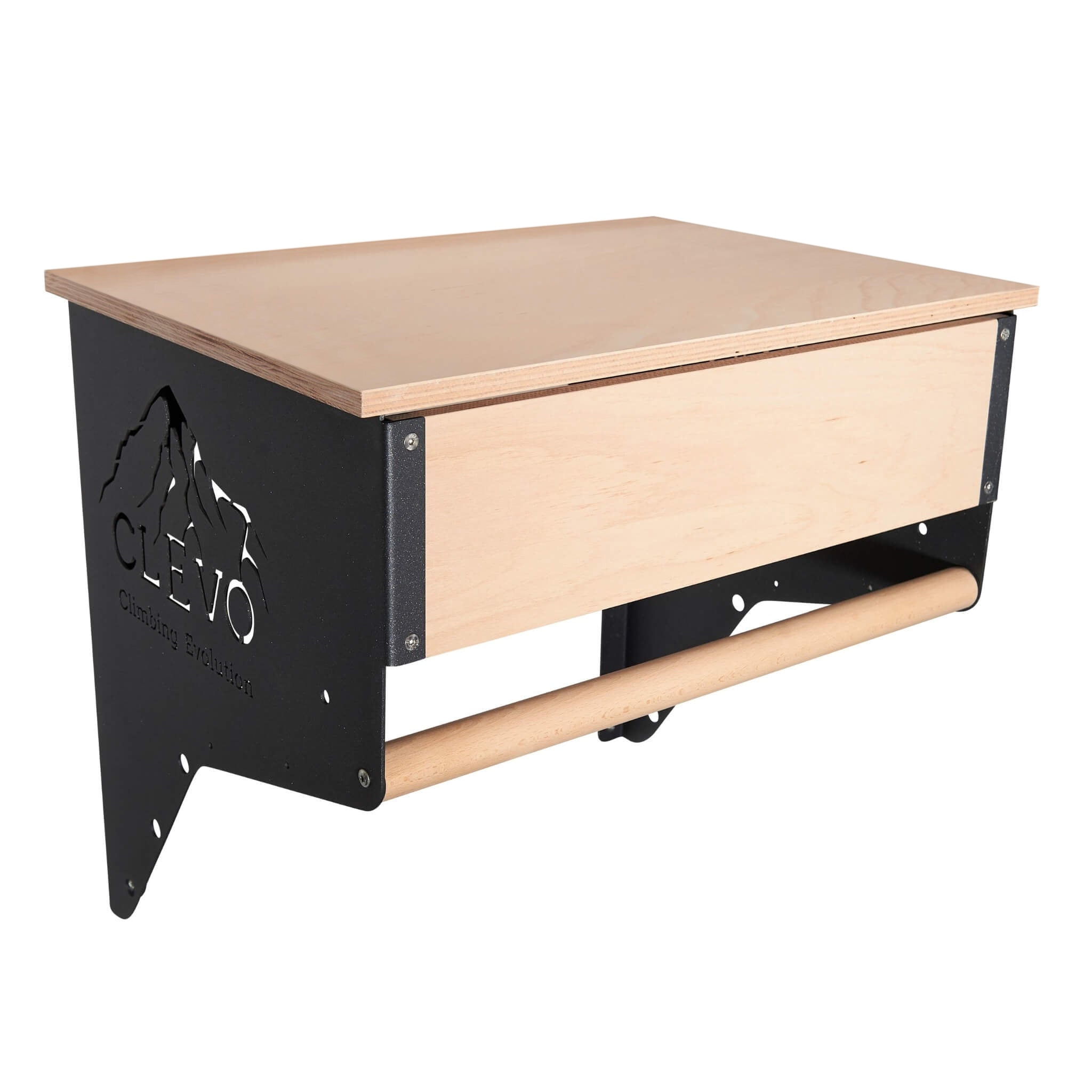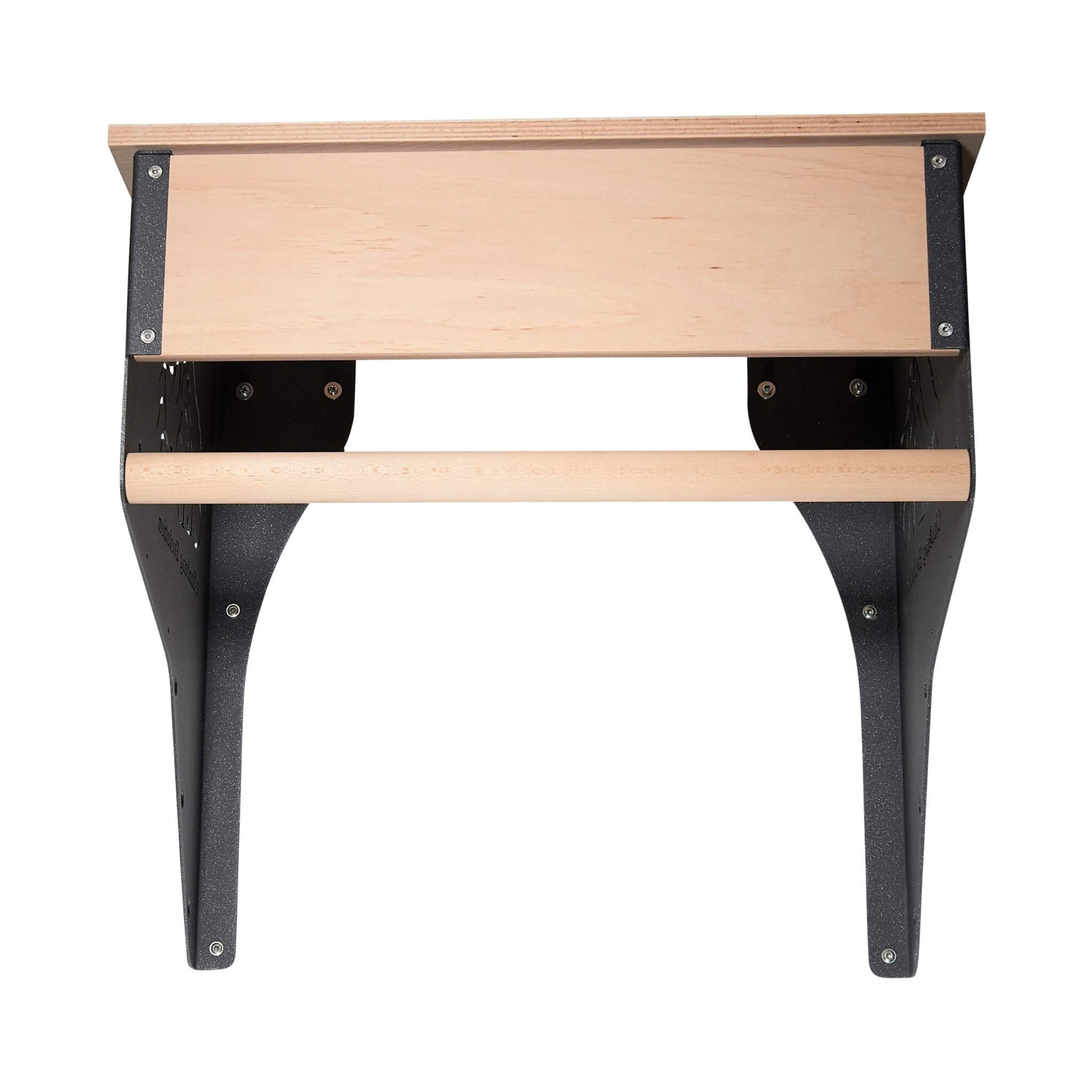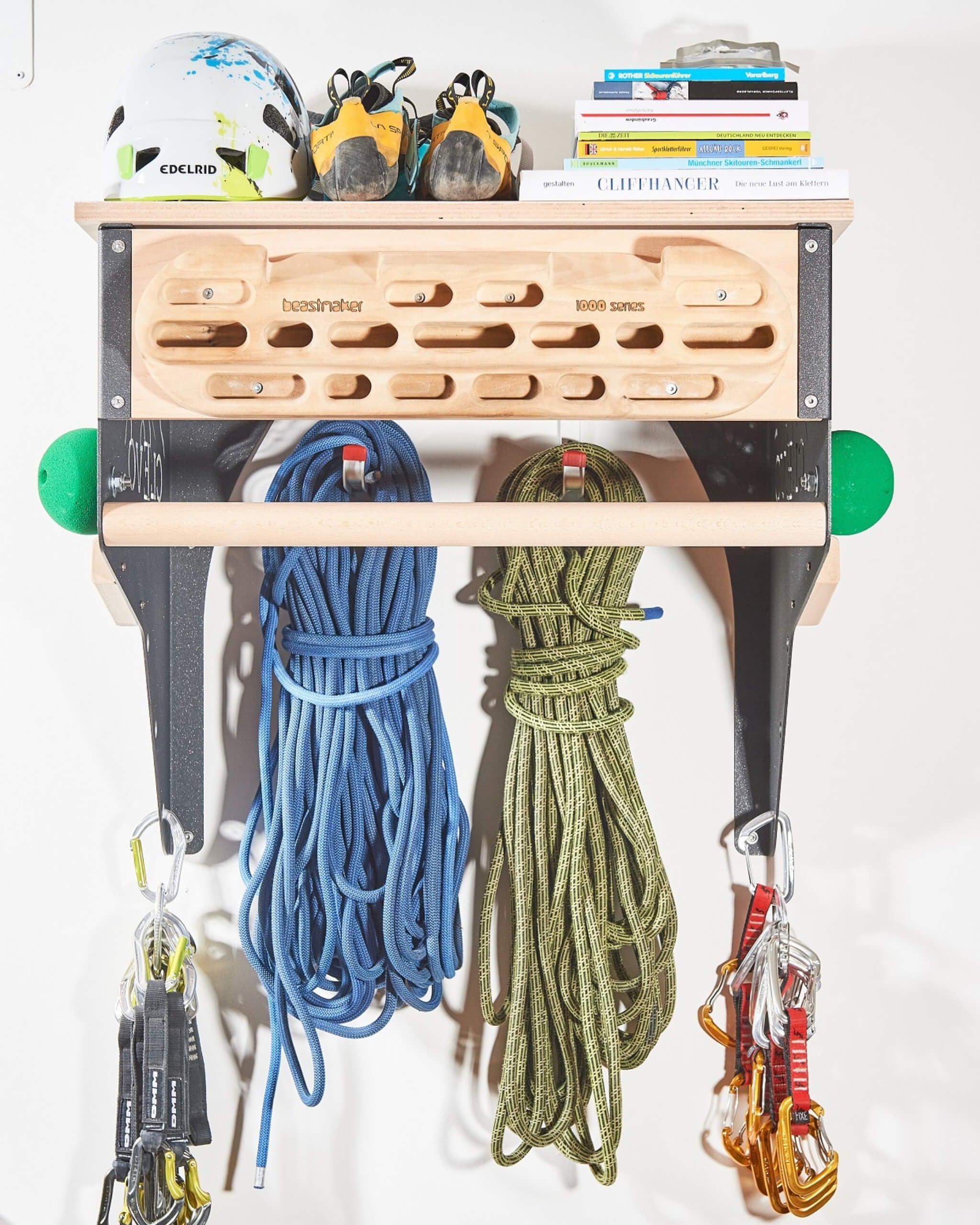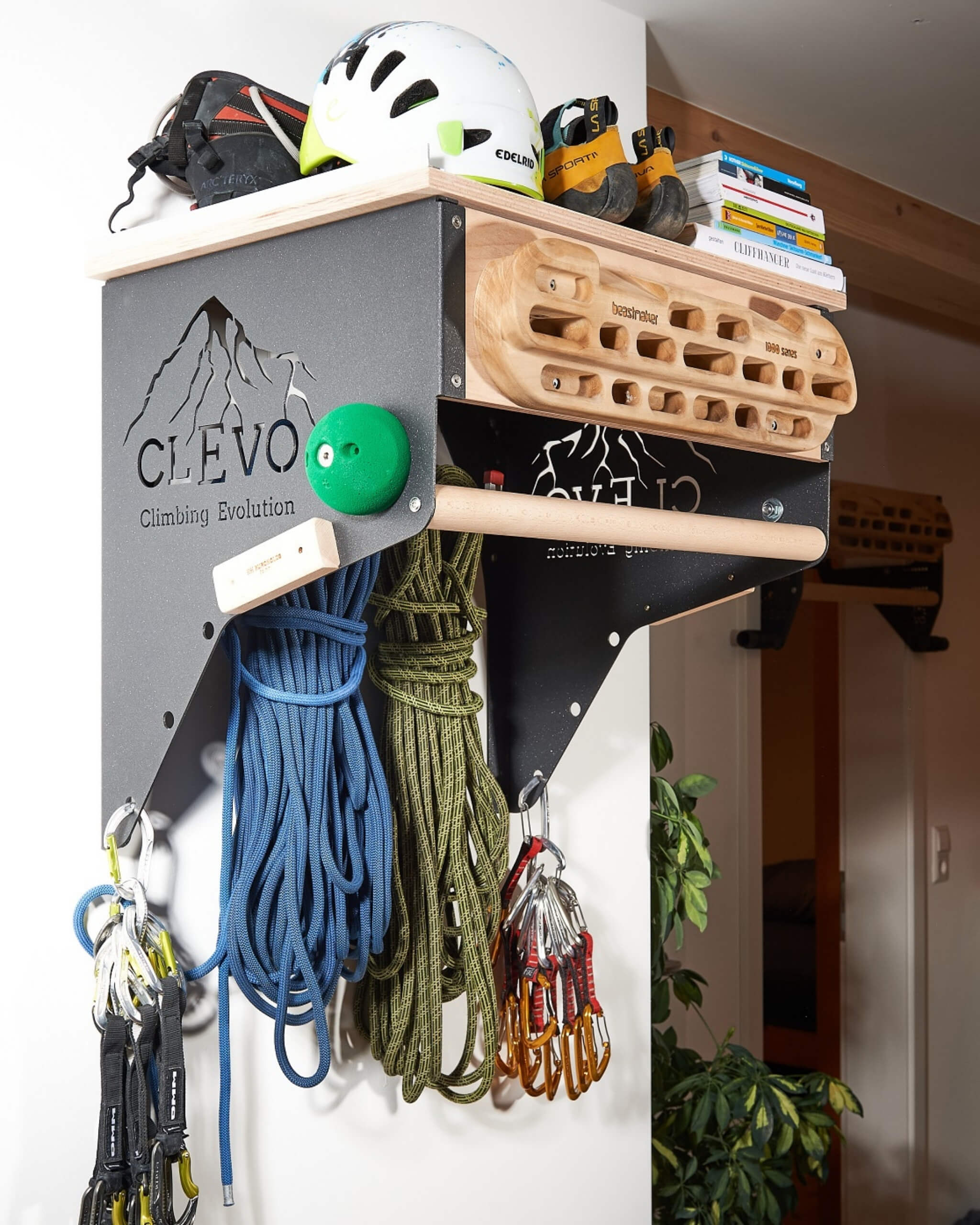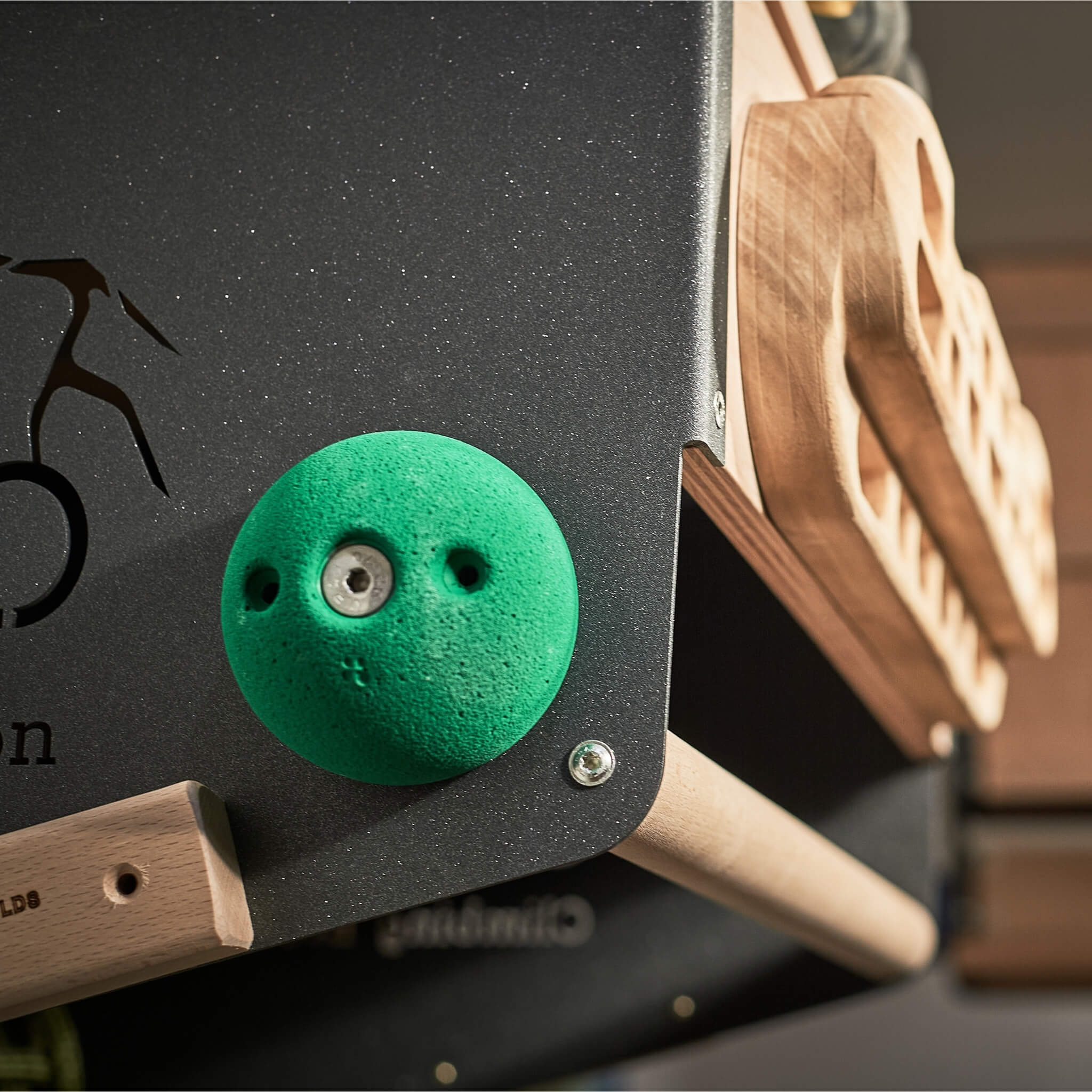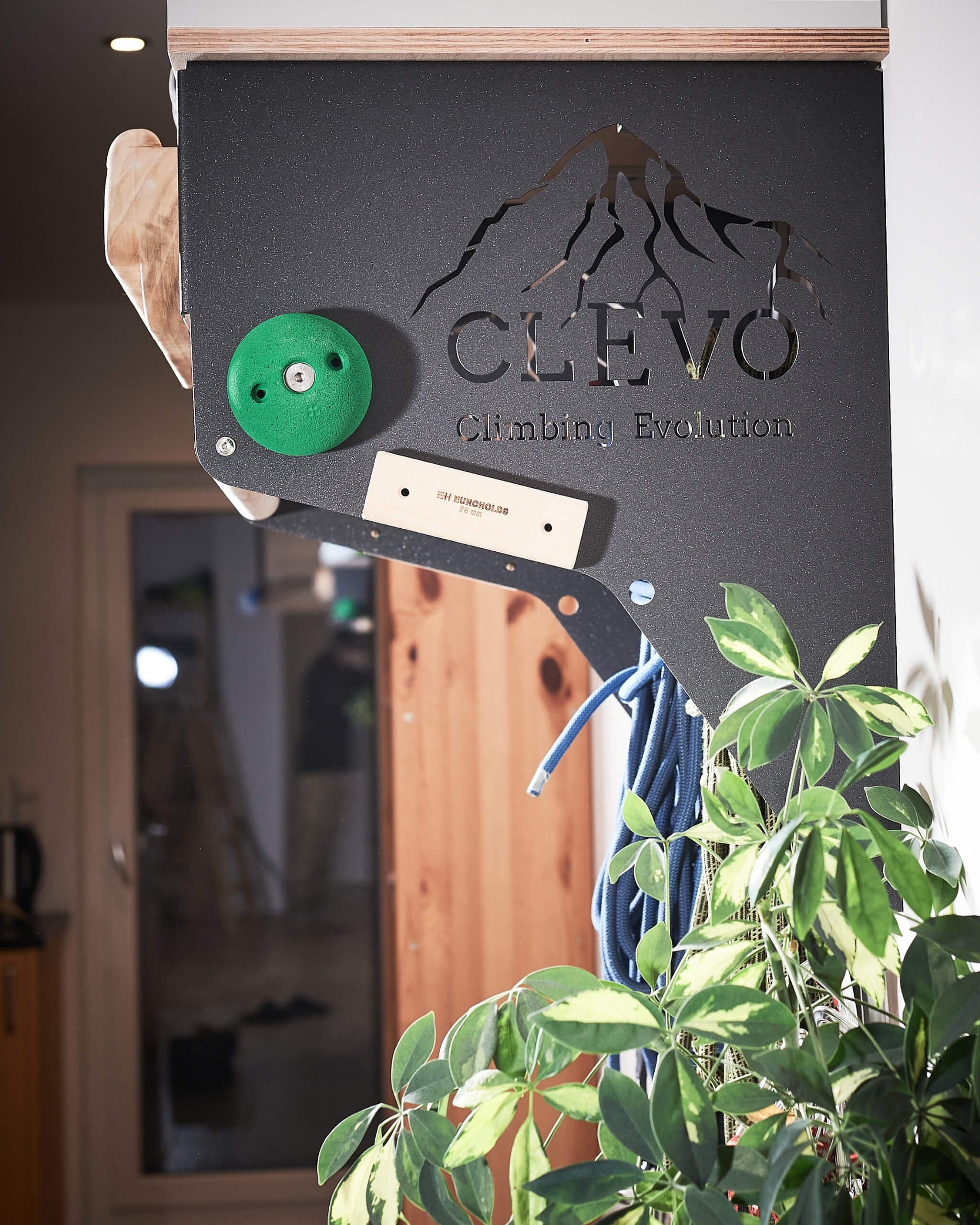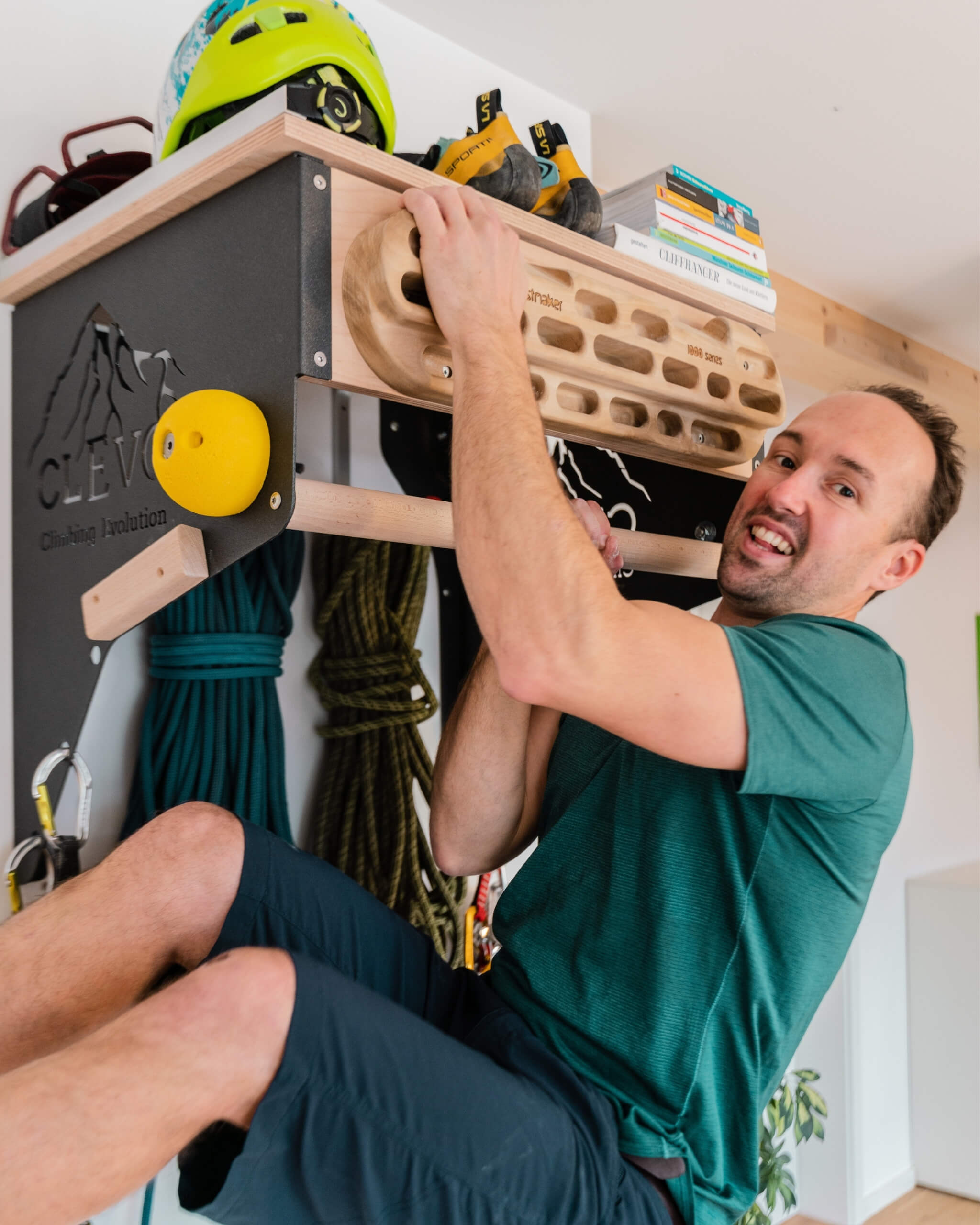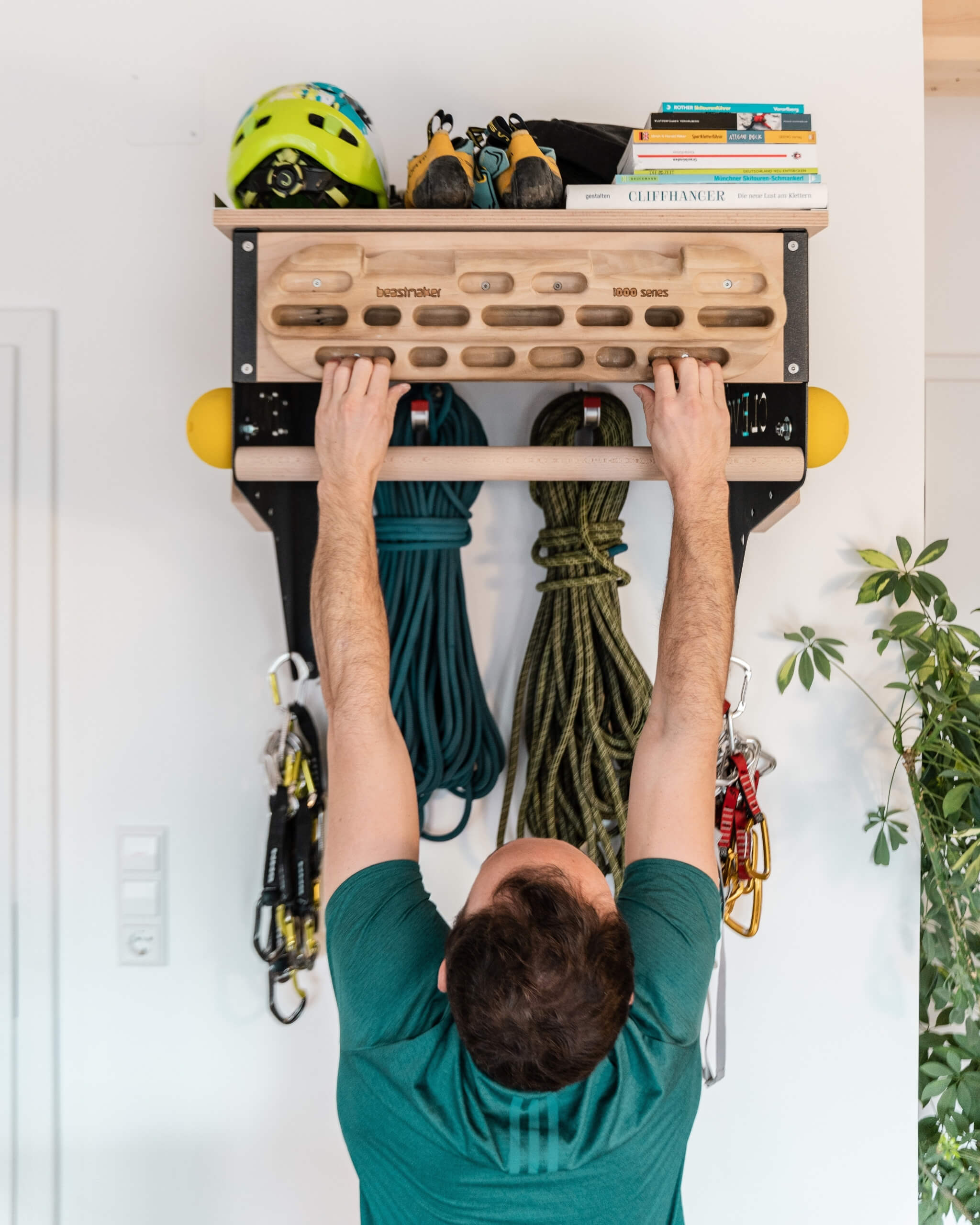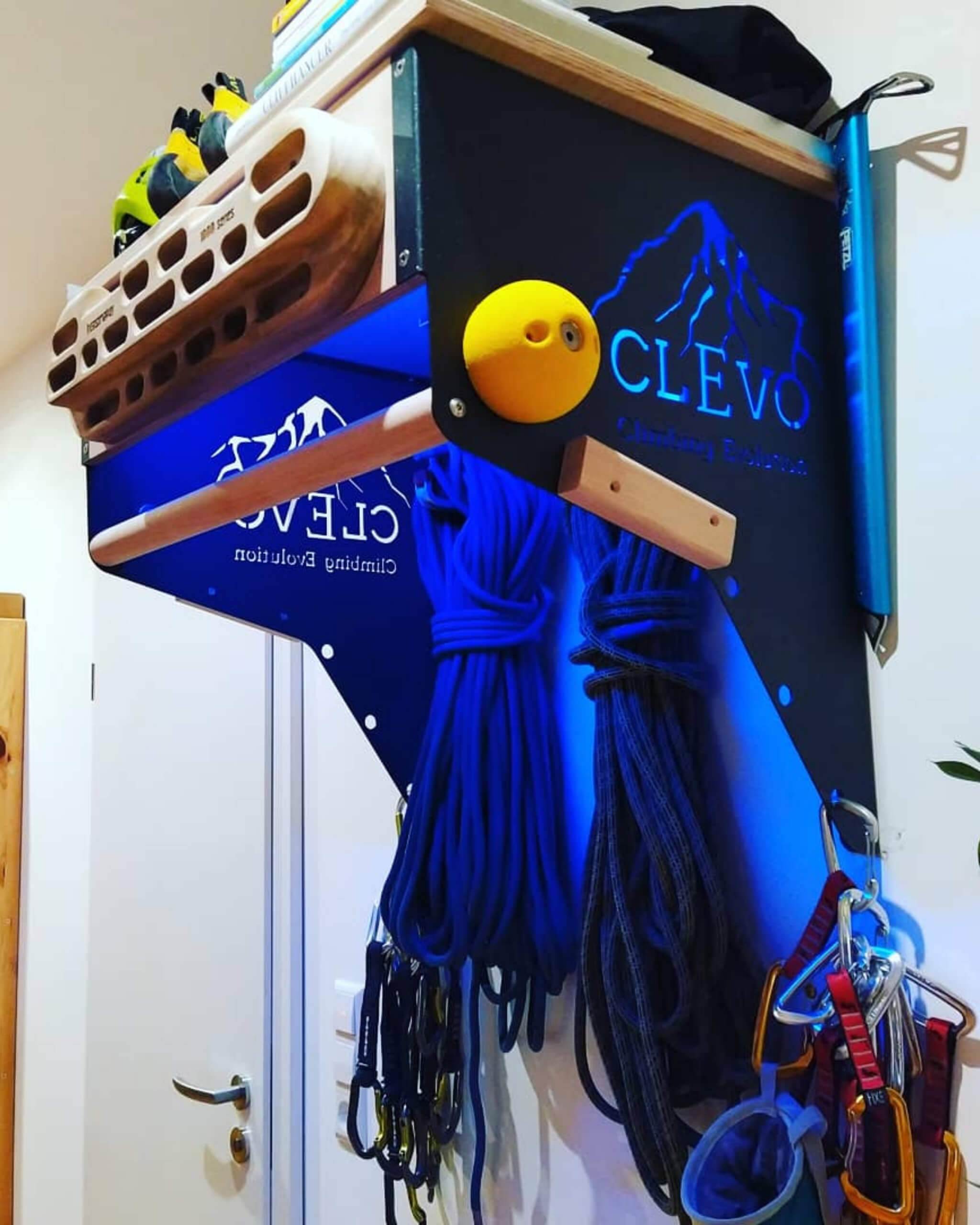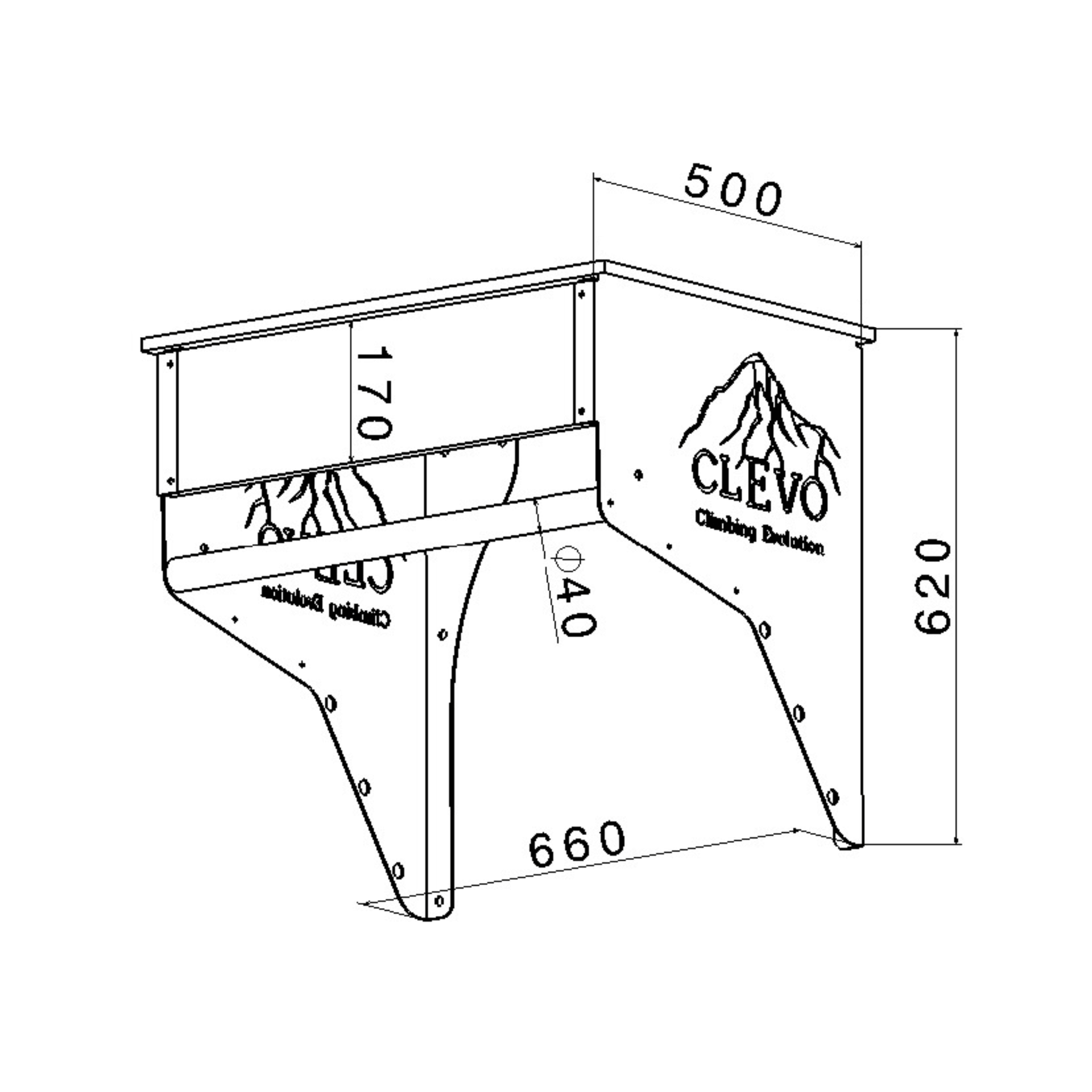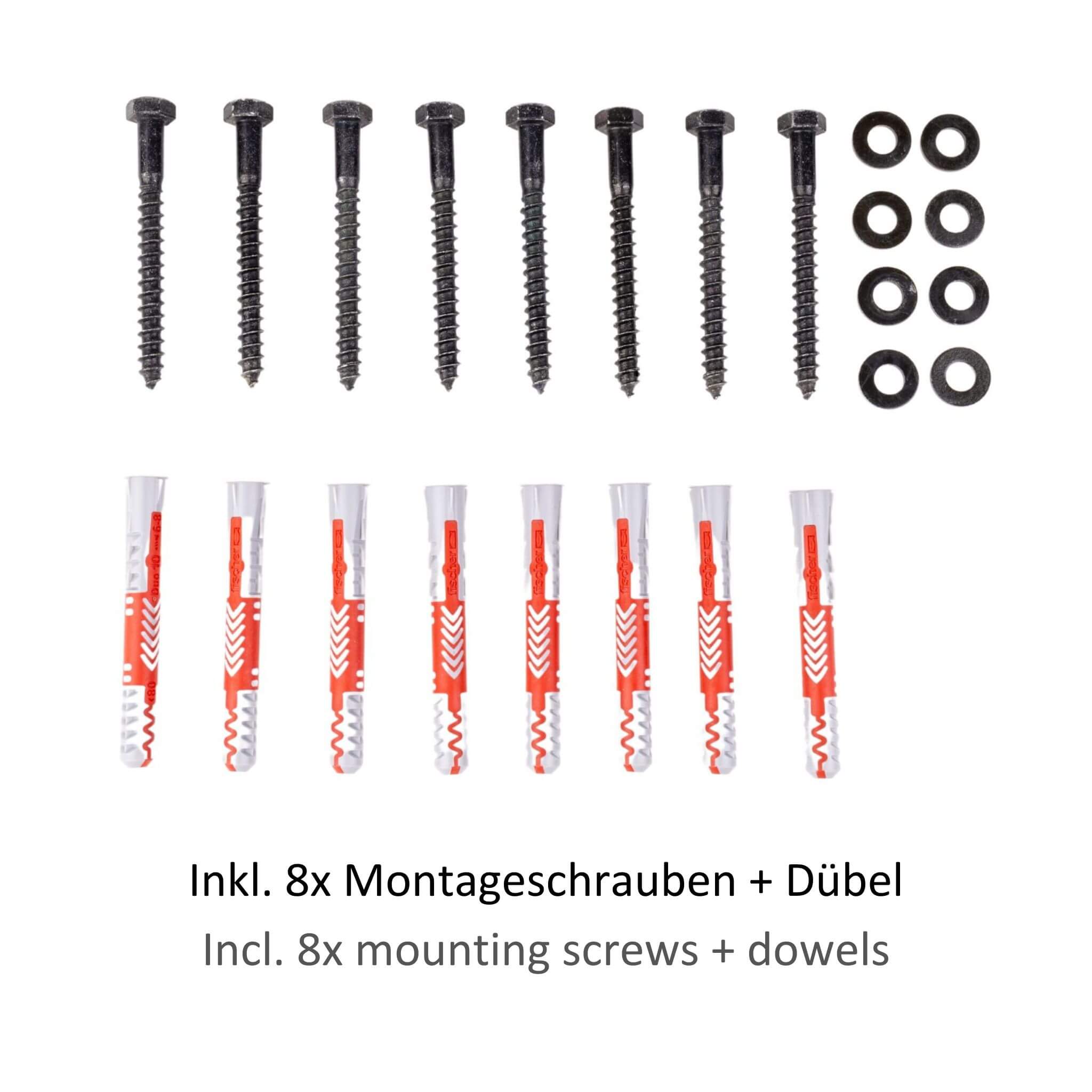 CLEVO WALL: Climbing wall for at home for hangboard, campus rungs and climbing accessories
Product advantages at a glance
Climbing training on the hangboard incl. accessories storage.
Multifunctional incl. pull-up bar for finger and back training.
Modern design, unique in the world and an absolute eye-catcher.
Highest premium quality for high safety and lifelong training.
Ready to ship, in 2-3 business days with you.
Wall mount for hangboard and climbing holds incl. equipment storage
The perfect sparring partner! Wall mount for one hangboard (training board), two side holds, two campus bars and one pull-up bar.
Storage for ropes, exes, carabiners plus large storage area. Best use of space with practical and chic design.

Product Advantages at a glance:
✅ Climbing training at home incl. storage: the CLEVO climbing module for the wall allows you to attach your hangboard, fingerboard, climbing board, climbing holds, side holds, campus bars and other climbing accessories. So you can perfectly do your climbing training at home. In addition, it also serves you as a convenient storage for climbing ropes, carabiners, climbing shoes, etc.

✅ Multifunctional incl. pull-up bar: The climbing module comes with a wooden pull-up bar, on which you can perfectly train pull-ups for a strong back and more grip strength. In addition, you can also attach climbing accessories such as wooden balls, exes, climbing rings and other accessories or place them on the storage surface.

✅ Modern design and absolute eye-catcher: The Clevo wall module is unique worldwide, patented and a real eye-catcher in your home. The envy of other climbers is guaranteed! Best use of space through practical design for both training and storage.

✅ Highest premium quality for high safety: For the module, we use only high-quality material such as wood and steel to ensure a lifetime of use. Maximum stability due to high-strength bolted connections for safe climbing training without wobbling. Loadable up to 100kg and five-year warranty.

✅ Strengthen grip and finger strength: Finger strength is essential when climbing. Not only because you can hold onto smaller holds, but also because strong fingers reduce the risk of injury. Perfect to train on the hangboard.

Product Details:
Dimensions
66 x 50 x 62 cm (length x width x height)
Height fingerboard mounting surface
17,0 cm
Diameter pull-up bar
4,0 cm
Weight
20,9 kg
Material

steel (powder coated), wood (beech)

Load capacity

100 kg

Fixing material for wall mounting

included (8x fischer DUOPOWER incl. screws)

universal dowel for concrete, stone, brick

Mounting

Module is delivered disassembled. Mounting screws included (module itself as well as for the wall).

We recommend mounting only on brick walls, concrete walls and solid wooden walls.

Warranty
5 years, see warranty conditions
30 days money back! Not convinced yet? Then test our module now without obligation for 30 days. If for some reason you don't like it, you can send it back without any problems and we will refund you the full purchase price!
Note: Aluminum strips on the shelf are for illustration purposes only and are not included.
Fast worldwide shipping
Your order will be shipped within 24h (Mo - Fr). All orders are shipped from Germany with tracking link. Fast worldwide shipping incl. tracking between 3-5 working days within Europe and 5-14 working days outside of Europe. If your country is not yet among our shipping countries in the checkout, please reach out to us at info@clevo-climbing.com and we will try to add it!
The exact shipping costs for your order and country you can calculate in the shopping cart with our shipping costs calculator. Simply add the products you are interested in into the cart and use the shipping costs calculator in the shopping cart.
Special case Switzerland:
Orders to Switzerland and Liechtenstein are shipped with meineinkauf.ch and already include 7.7% Swiss VAT and customs duties, i.e. you will receive your order from Switzerland already duty paid and no additional costs!
Save 19% VAT from outside the EU
Stated prices are gross prices including 19% German VAT. For orders from outside the EU you pay only the net price and save 19% VAT. Once you choose the shipping country in the checkout process you will be shown the final price without VAT. For non-EU countries, local taxes and customs may apply.
Customs duties:
All orders are shipped directly from Germany. For deliveries to non-EU countries (except Switzerland, Lichtenstein), additional duties and taxes may apply. We have no influence on these additional costs and can not provide more detailed information about this. We ask you to please inform yourself about this topic before your order.

The amount of duty depends on the net value of goods, the shipping costs, the gross weight of the package (including the packaging) and the type of goods. The customs fees can be obtained from your local tax office. The HS code for our products is 95069190.
What if I do not like the product?
If you do not love the product for any reason, you have the right to revoke the purchase contract and return the product within thirty days without giving any reason. If you don't love your products, send them back. It's that simple! Further information can be found on our return page or cancellation policy.
Do you have further questions? Then just write us a message to info [at] clevo-climbing.com or just call: +49 89 215300-747
Climbing training and accessories storage in one
Climbing wall for home
Climbing training at home on pull-up bar, fingerboard and handholds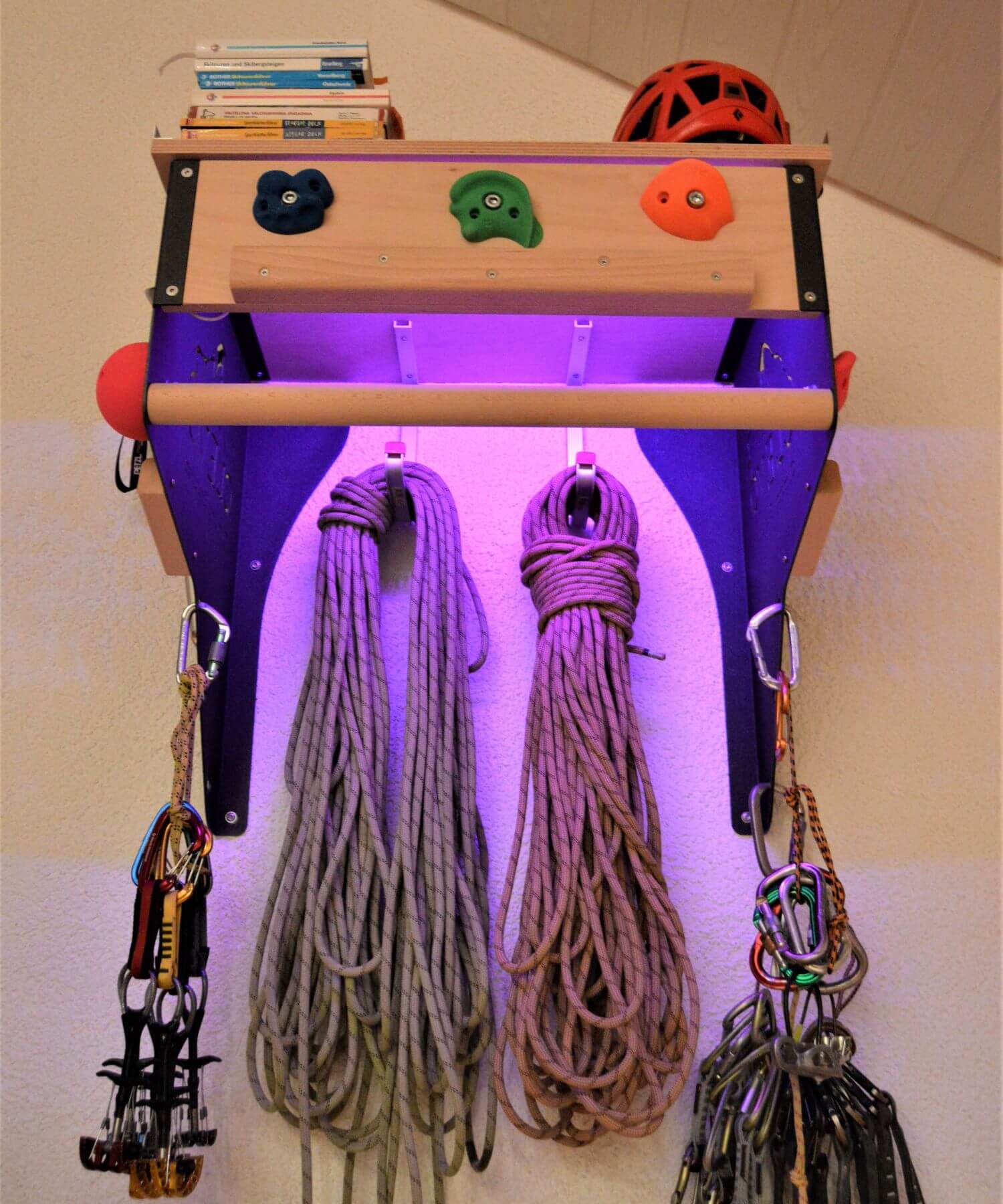 Stowage of ropes and climbing accessories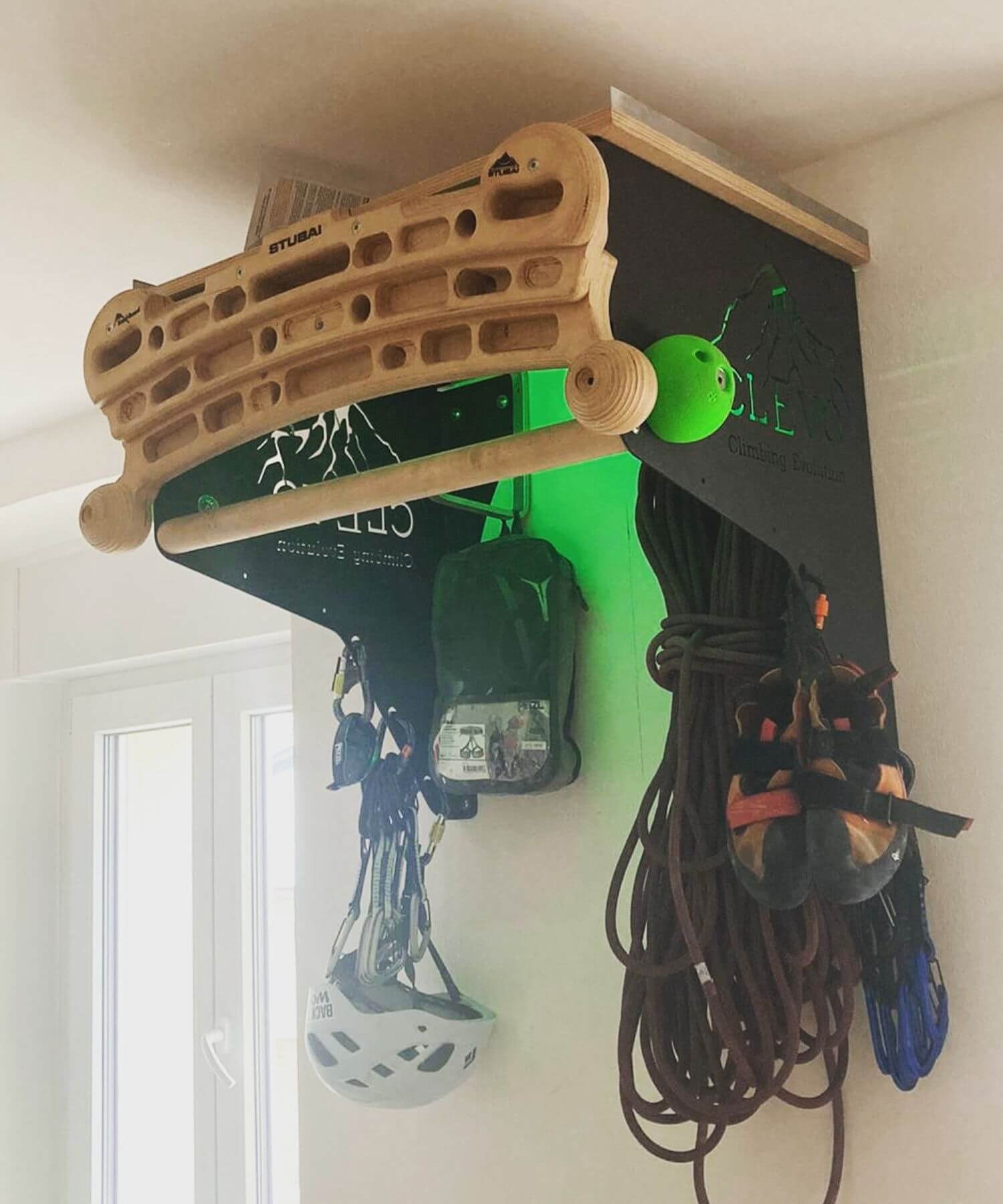 Arbitrarily equipable according to your wishes
Customer pictures from over 500 satisfied customers worldwide